Planning a Ruffed Grouse Hunting Trip: Where to Go?
My mission is to help you have a healthier dog and breeders to raise healthier Llewellin Setters puppies through educational content based on over twenty years raising, training, and breeding Llewellin Setters. To help support these efforts, this page may contain affiliate links. I may earn a small commission for qualifying purchases at no cost to you.
I know, the title might sound a little nuts coming from a person that moved to the UP for the wild bird hunting opportunities for our Llewellin Setters. But, I still love to plan a hunting trip and I love to hunt other states and areas. Plus, it gets so polluted with hunters here that I can barely stand to be here, let alone hunt here during the 2-3 week peak of the invasion. But, hey, I was a nonresident traveling hunter that invaded this area once, too. I try to scout for new spots all the time and not hunt the same place, unlike some that hunt the same area over and over and take all their buddies there, too. Whatev. Eyes roll. You know who you are. Nonresident hunters bring lots of much-need money to the area, so I'm all for it. Come, do your thing, run your dogs, spend your money. The local businesses, run by very hard-working wonderful people, depend on it!
Don't get me wrong, here, I love people, bird dogs, and seeing those people actually hunting their dogs. I also want to help people find places to hunt their Llewellins. But, I have a few weeks a year, just like everyone else, to work dogs. I have a lot of dogs. And, I like to hunt remote areas and alone. I absolutely prefer to work my dogs and hunt alone. My concentration is on my dogs and the magic of the Northwoods hunting experience. Sorry, I don't want to hear other hunters screaming for their dogs, blowing whistles, or the beepers. I want to hear the rustle of the leaves, my dog's bell, and a grouse drumming. Scott usually goes off with friends one way, and I'll go the opposite direction, if I am with them at all. We can all chat and share experiences back at the truck or camp later.
But, back to the point, I plan on getting out of Dodge when the invasion hits next week. And as much as I would like to take off to the wilds of Northern Minnesota, Montana, or dreamy locations in Utah, Idaho, Wyoming, Kansas, etc., I have puppies and a bazillion projects, so I have to limit my trips to local, less-expensive, day-trips. So, I'll be heading to Wisconsin and maybe some close areas in Minnesota. The nonresident small game license fees for Wisconsin are just $85 for the entire season (which is also a month longer than MI's season) or just $55 for a nonresident small game 5-day license. Not bad in comparison to Michigan's nonresident fees of $151 or $80.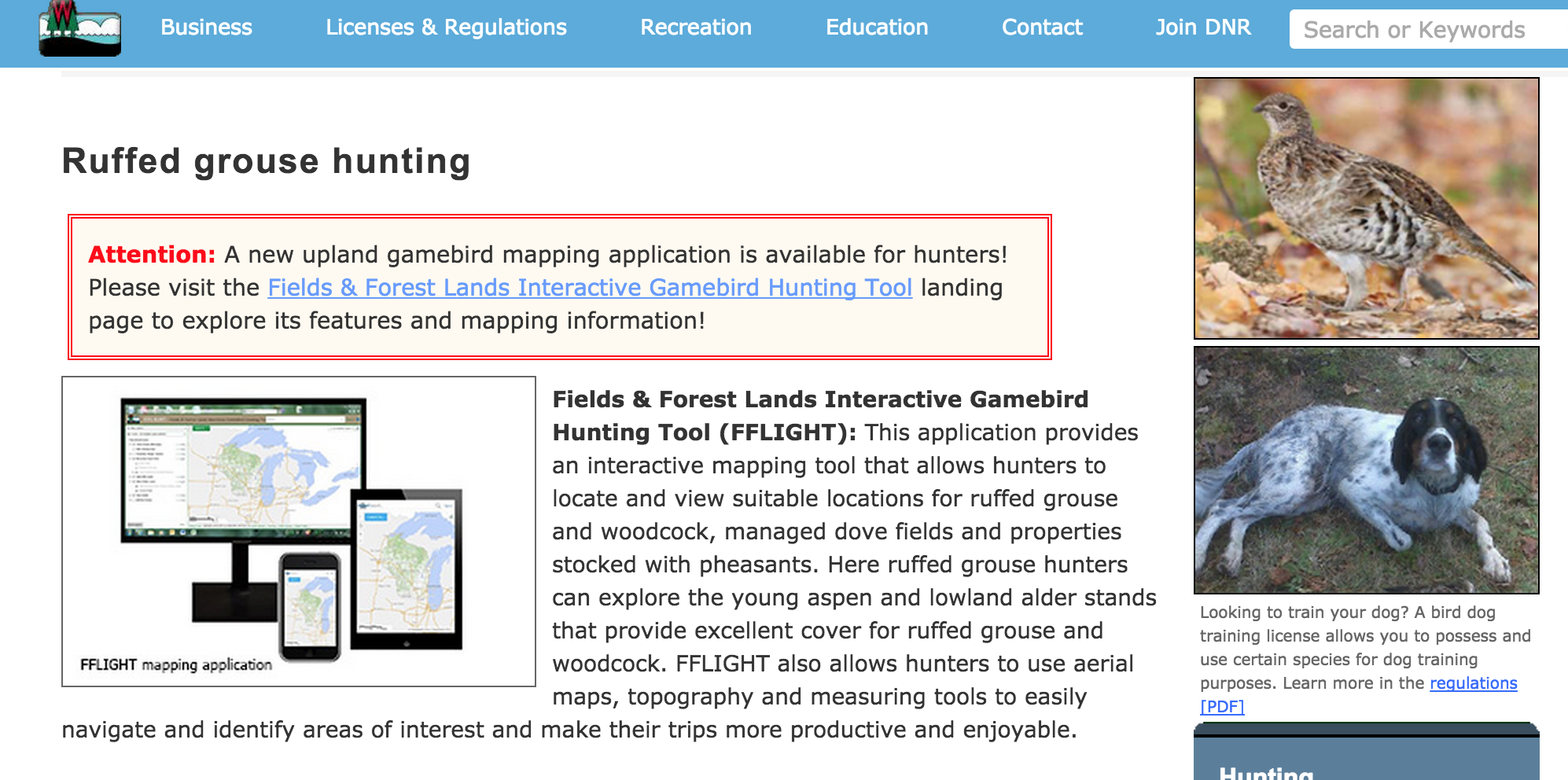 Now, where to go? How do I find public hunting lands in Wisconsin that may hold birds? Well, the first thing I do is check out the Wisconsin DNR website to see if they have anything to offer Ruffed Grouse hunters. And, yep, they sure do. In fact, it seems the Wisconsin DNR has launched something they call FFLIGHT (The Fields & Forest Lands Interactive Gamebird Hunting Tool, "designed to help upland gamebird hunters locate cover suitable for ruffed grouse and woodcock, managed dove fields and properties stocked with game farm pheasants." Hmm… very cool. Let's check this out, eh? Here is a handy link.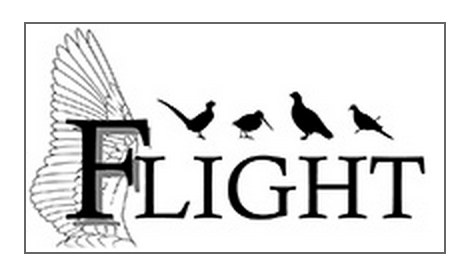 I had to do a quick install of Silverlight to run the mapping system, but as soon as that was handled, I'm off to checking things out. The system is fairly easy to jump right on in and have public hunting–state and county lands, which are usually managed better for upland hunting habit than federal public hunting lands, anyway–and grouse habitat map in front of you in no time.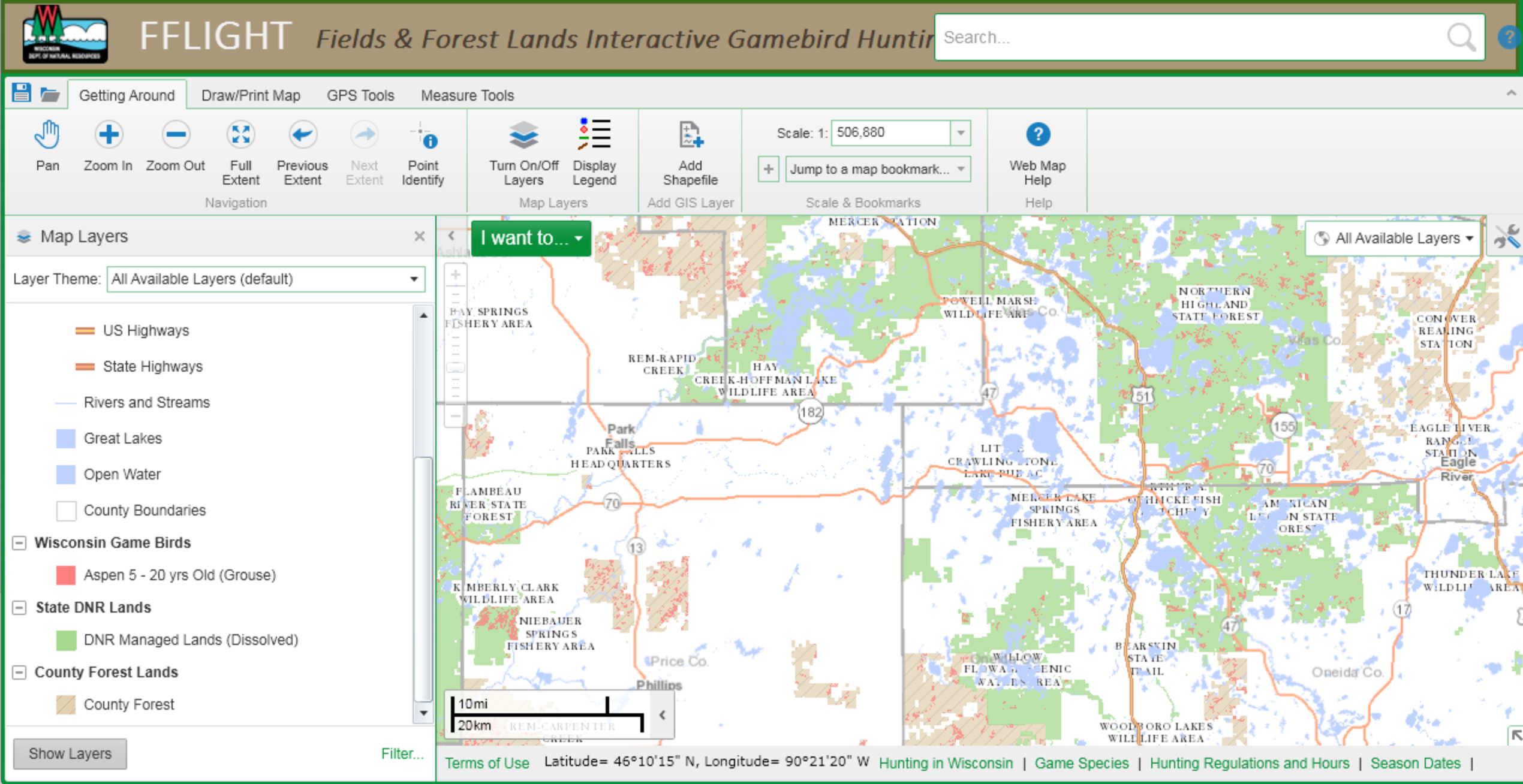 The color legend is easy to understand. I can easily see state and county lands (tan and green) and the Aspen areas (red).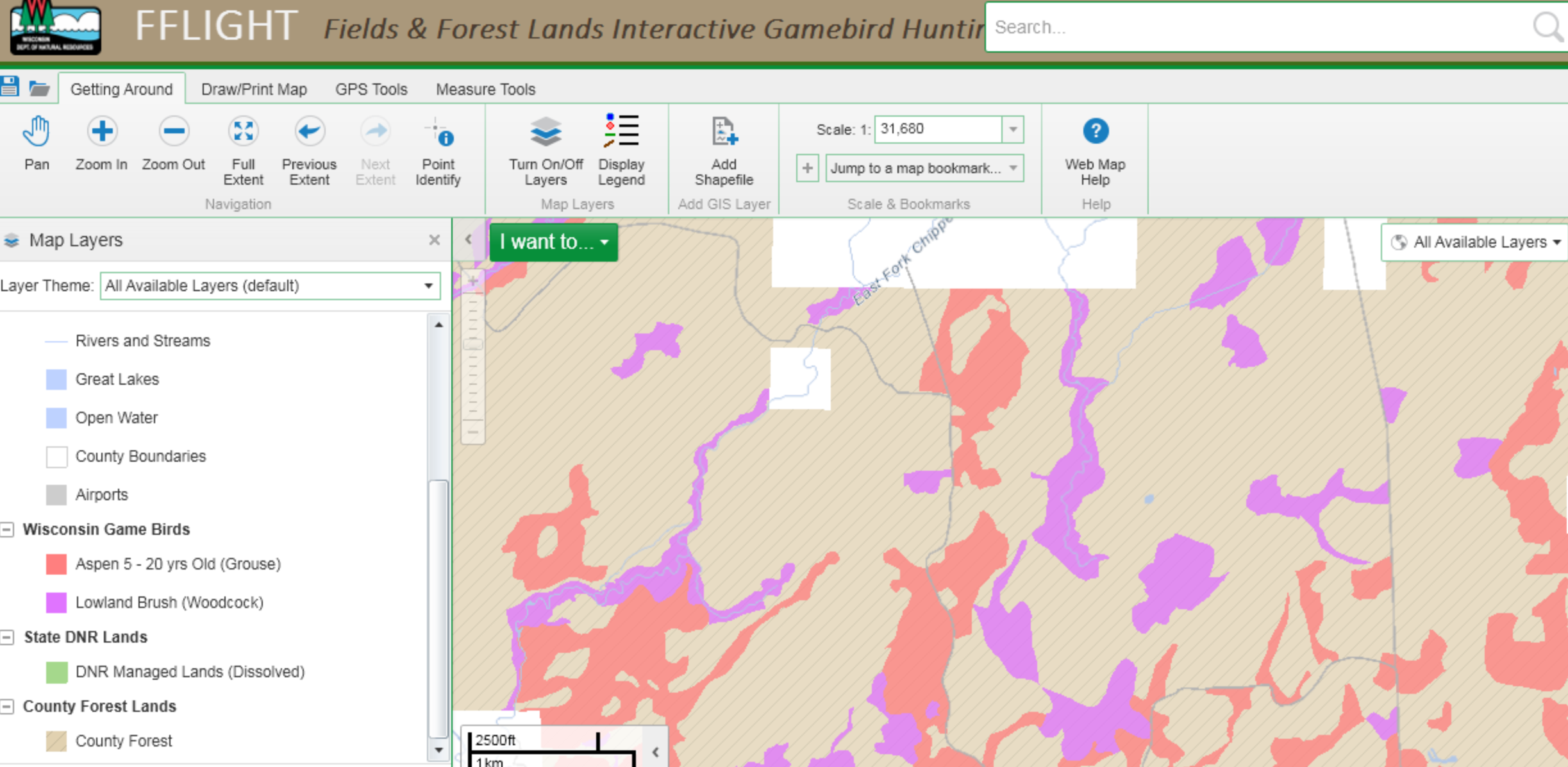 Zooming in on an area shows the lowland brush and aspen areas in more detail. I like areas than include all the types of cover and I have easily found some for free! Thank you, Wisconsin DNR.
So, in a matter of minutes, I have found areas that are likely to hold birds. I can even print this out if I want. Nice. Now, I copy the provided GPS coordinates for the area I think I want to hunt, paste the coordinates into Google Earth and further investigate the topography, find places to park, gas stations, local businesses, an emergency vet, get directions and tada! I've planned a day of upland hunting that is likely to produce birds all from the comfort of my home in my jammies for free. 🙂
Now, if I was traveling very far for a hunt, I would do a bit more research to help my chances of finding birds. For example, I would probably check the weather/temperatures during the hatch period in spring. You can usually find weather history information for just about anywhere. I'll look for warm and dry weather in June. I would also see if there is any drumming count information for the area. I did a quick search and found the information. Click here for the link to the Wisconsin Ruffed Grouse Drumming Survey.
I'll share how I attempt to do the same thing in Michigan and Minnesota in an upcoming post.
That's all for tonight.
Hug your Llewellin Setter and go plan your hunting trip (to Wisconsin)!
-M.