A Break in the Ruffed Grouse Hunting Season
My mission is to help you have a healthier dog and breeders to raise healthier Llewellin Setters puppies through educational content based on over twenty years raising, training, and breeding Llewellin Setters. To help support these efforts, this page may contain affiliate links. I may earn a small commission for qualifying purchases at no cost to you.
Hello All,
I hope this finds you well and enjoying an excellent upland hunting season with your bird dog (hopefully a Llewellin Setter).
Things have been a little quiet on this front and while I got to get out a few times for the Ruffed Grouse hunting season, it was not near as much as I intended. Life happens; automobiles break down, people get sick, friends need help, deaths, births, sprained ankles, bum knees, broken e-collars, lost GPS tracking collar remotes, and then there is work. I'm sure you know all too well how life can get in the way of getting out to hunt our bird dogs.
The Most Natural Bird Dogs on the Planet
I did get to work Crockett and Penny a little and intend on working them so much more. Wow, I just can't seem to ever get over how unbelievably natural these dogs are. And so much fun! Do you remember Crockett, Santana's singleton pup out of Boone, born in January? I selfishly kept him–first because he was a singleton pup and I've never raised one before and wanted to be sure there would be no strange behavioral issues that I've heard so much about. Second, he's the only descendant of the magnificent Boone!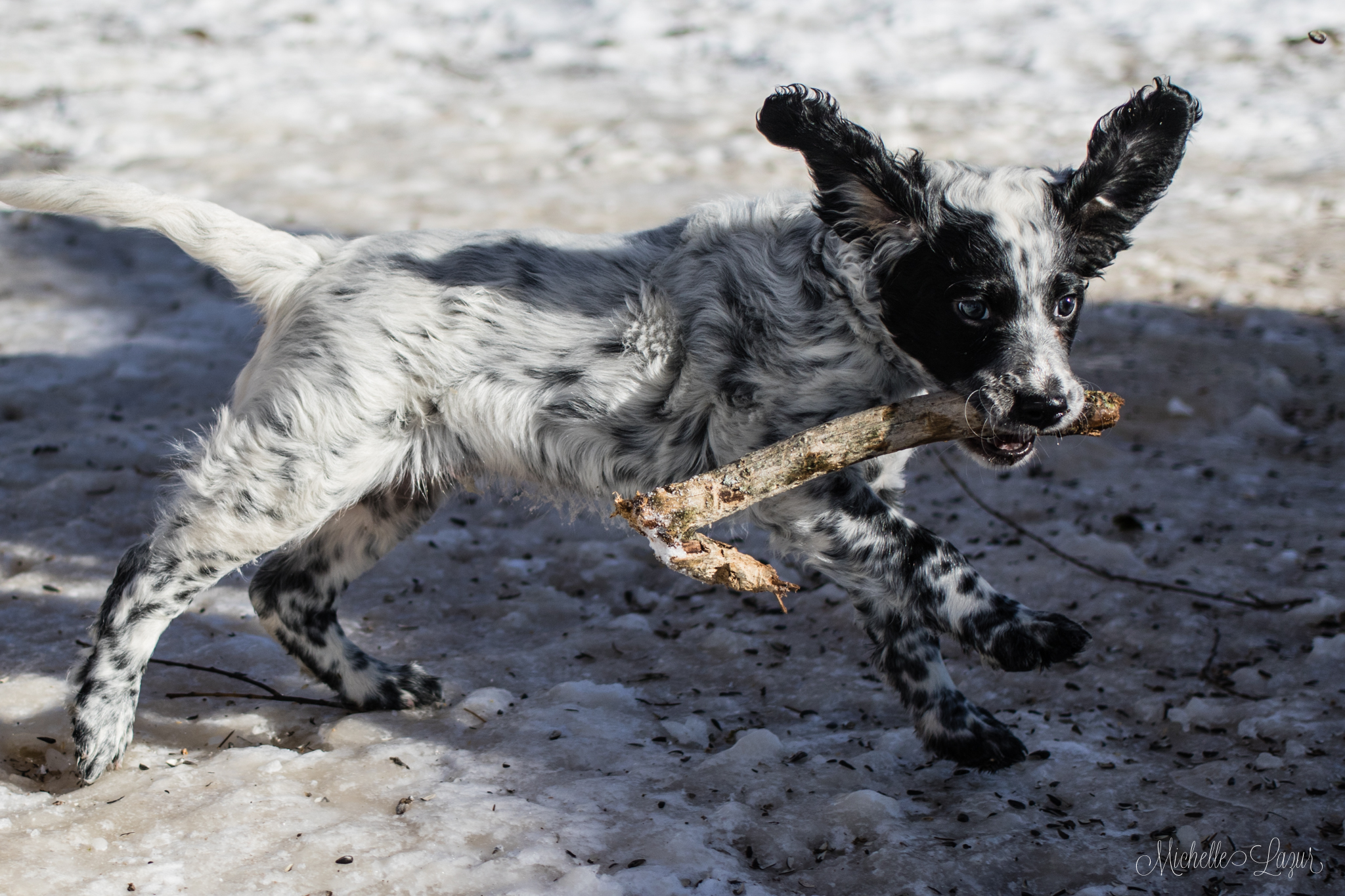 Well, let's just say there are no issues, and he is absolutely beautiful and amazing! Look at this beauty, now.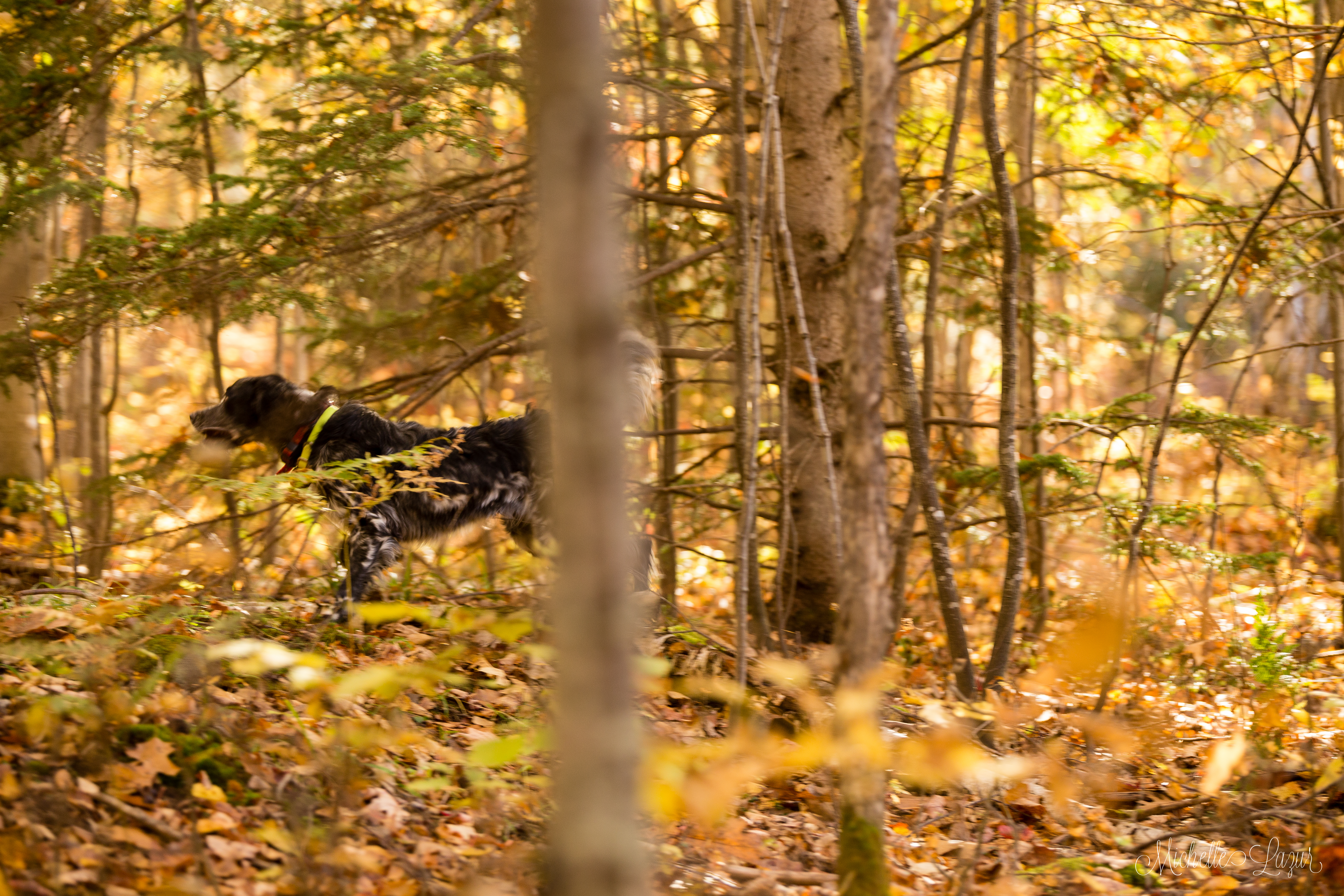 I know, not a very good photo, but it's the only one I could get that day. He is such the perfect blend of Santana and Boone. I absolutely love him to pieces. And Penny?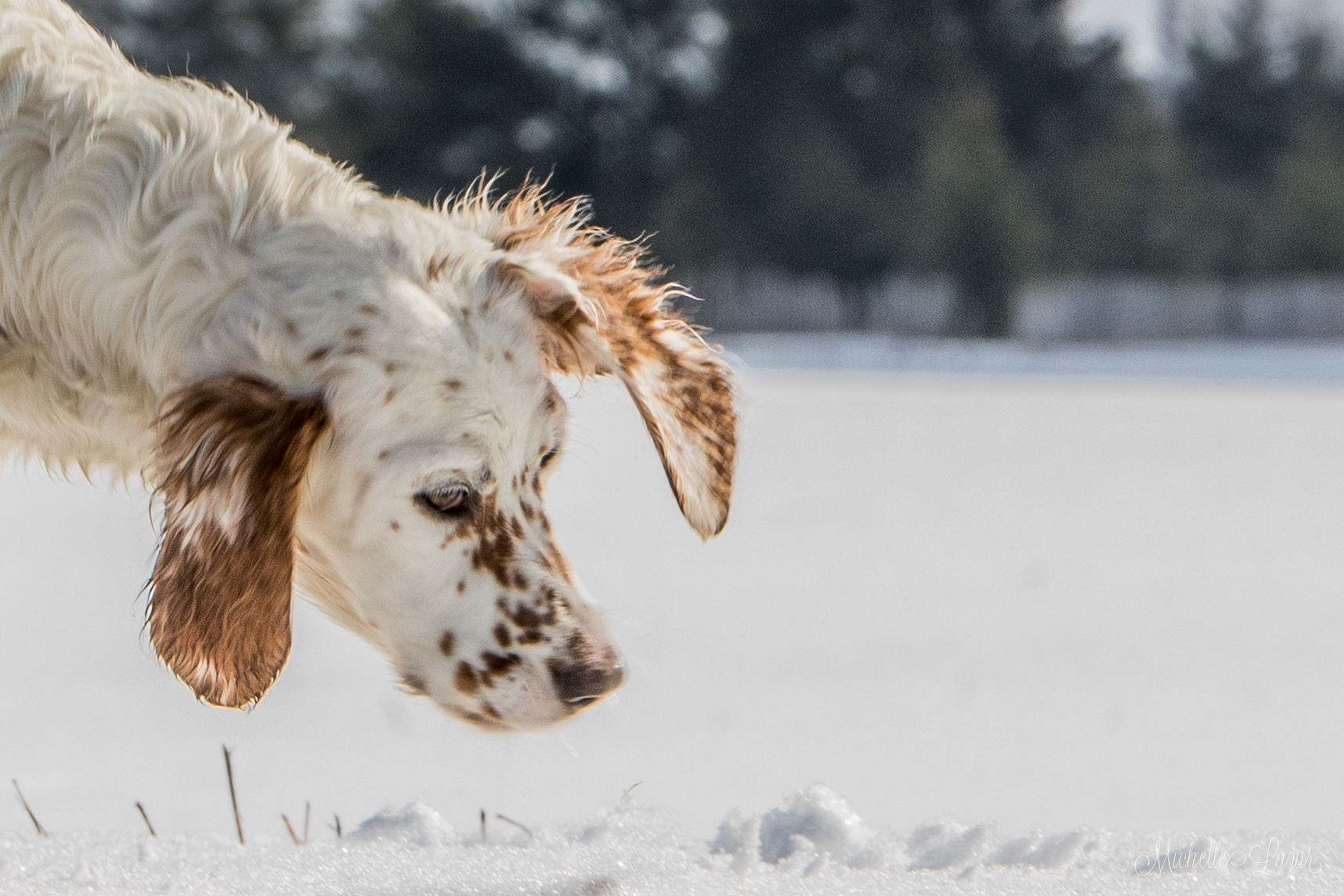 Well, look at Penny now!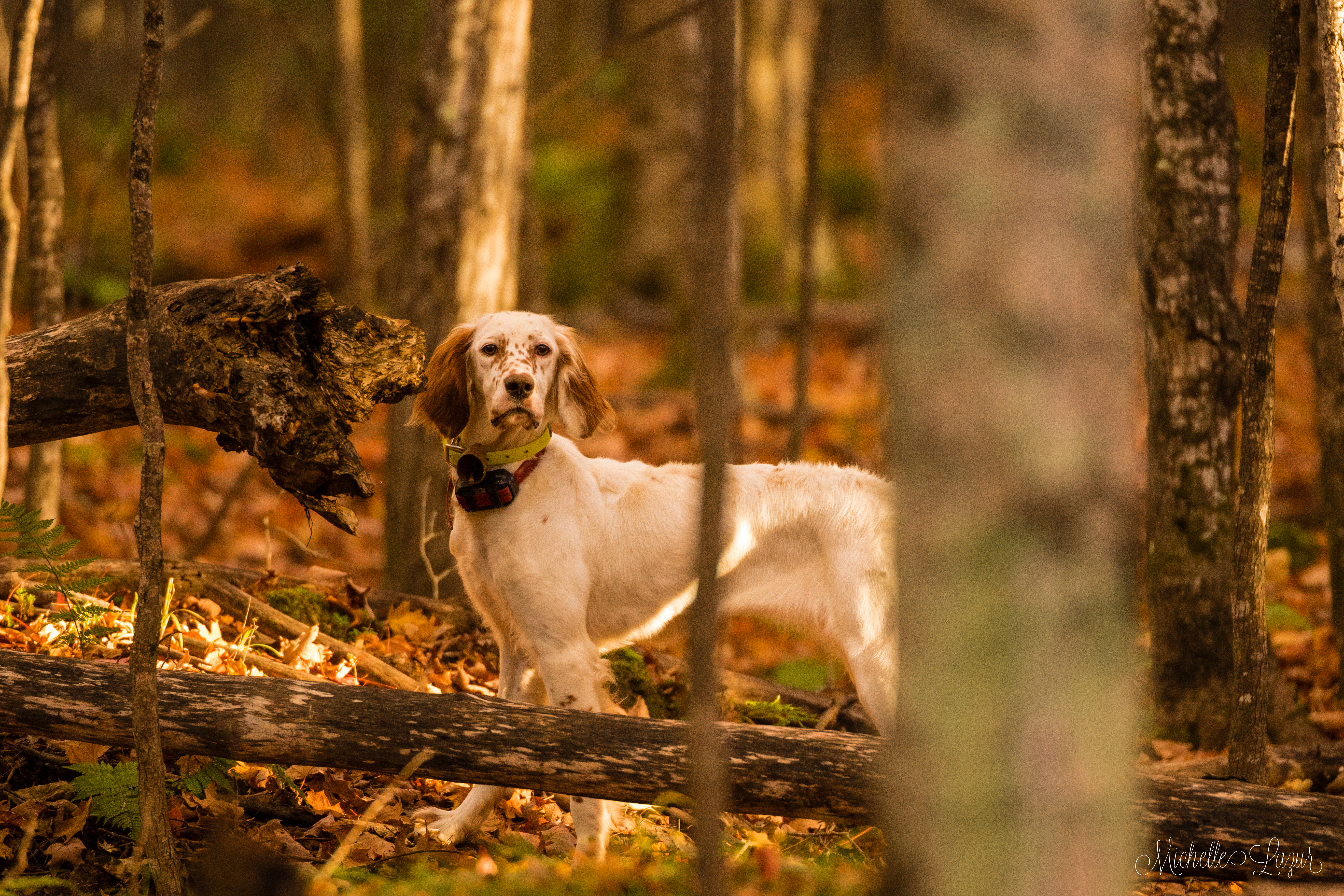 Parvovirus Will Destroy a Dog Breeding Business
Frankly, I've barely got to do anything with either Crockett or Penny all year. I ran them a lot in the spring–lots of "fun runs" in the woods and fields. I worked on basic obedience. And that's it. Parvovirus found its way onto our property and consumed every bit of my life since. It has changed everything–our way of life, our sole source of income, the joy in raising puppies, the massive accumulation of crippling debt, being constantly on guard and absolutely petrified that another puppy will contract Parvovirus. It's stolen my joy, but I have to find a way over and through and rise above, right?
The Best Bird Dogs in the World Make Sticking it Out Worth it
With the unexpected passing of my father at the end of August, I was away much of the season. When I returned to the U.P., I simply gave Crockett and Penny a quick refresher on basic obedience, introduced them to the bell, the e-collar, and the gun and took them hunting (seriously all in the same day, too–which I do not recommend ever, but I knew these two could handle it). And they acted like they had done it everyday. They worked perfectly, they kept watch of me and/or Scott, they caught scent and slammed birds. Bam. Wow. I love these dogs. and the incredible, natural hunting instinct. It blows my mind. I am in awe. And, it's the unbelievable natural instinct, the undying loyalty, the sweetness, and the beauty of pups like this that keep me going. It's hearing from all of you and receiving the photos and updates of your pups that are doing the same thing that keep me going.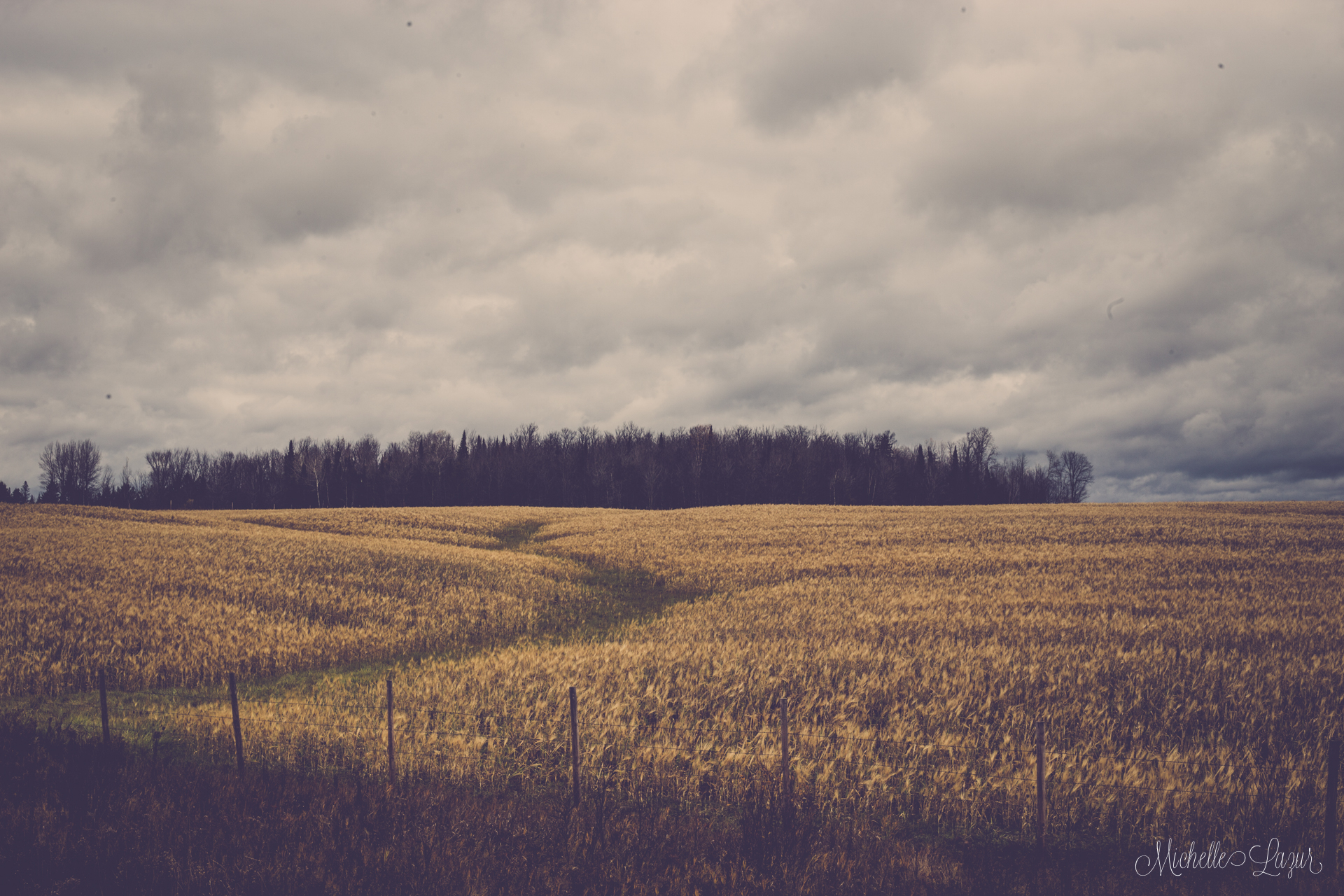 Whitetail Deer Hunters Get Their Chance in the Woods
And suddenly, or so it seems, here we are with the Ruffed Grouse hunting season closed until December 1st while the Whitetail Deer hunters get their chance in the woods. I used to love to deer hunt. I was a pretty hard-core bow hunter. Now, I can't wait until it is over so I can get back to the woods with the dogs. Usually, however, by the time December 1st rolls around, there is too much snow to grouse hunt. We've had an incredibly mild Autumn here in the U.P. and no snow yet! I have been coming to the UP since 2007 and lived here since 2011 and this is the first time I have not seen any snow by November 15th. And usually, I can't wait to see the snow, but this year, for whatever reason, I am so grateful there is no snow, yet. So, here's hoping December might bring some of the same.
Let's Go Somewhere Else to Hunt Birds!
My mind starts wondering and dreaming about loading up the dog trailer and heading out on a trip to other states with other upland bird seasons that are just opening and that might not be crippled by 5′ of snow on the ground come December. Hmmm… where would you go? Let me know! I'm working on articles for the Llewellin Setter Academy that will show you how to research, plan, and get on the road to hunt new places and every upland bird species. Wouldn't it be fantastic if I could show you exactly how to execute this by being there in person. A girl can dream, can't she? 😉
The Llewellin Setter Academy
Speaking of the Llewellin Setter Academy… it will go live November 30th, and will blow your socks off! I guarantee it will be worth the wait. It is packed-full of courses and information that, frankly, you can't afford not to know. You owe it to your dog to feed the absolute best you can–do you know what that is? The complete course on Canine Nutrition will get you started. Have you always wanted to know how to get started on feeding your dog a raw diet? The complete course on how to feed raw will do that. Do you want to know how to save bundles of money at the Vet? I'm going to teach you how and not only will you save tons of money, your dog will be healthier! Do you want to know how to choose the best puppy? Check. Do you want to know how to train your bird dog yourself? Check. Do you want to know how to find places to hunt your bird dog? Check.
Registration for the Academy Closes November 29th
For those that haven't signed up yet, you still can, but only until November 29th. I am going to close registration at midnight November 29th until at least February – March so I can give complete attention to the existing members–especially in the Live Q&A Sessions that will happen at least once a month–but also in giving as much personal attention to members and their needs. Here is the link to join the Llewellin Setter Academy today: https://llewellinsetteracademy.com/.
What Do You Want to Know About Bird Dogs?
So, tell me, what else can I teach you? What would light you on fire about this new learning resource? What one thing could I teach you about Llewellin Setters, nutrition, health, hunting, training, etc., that would make it worth it to you? I really want to know and I really want to make this the greatest resource you've ever seen–like hundreds of books and videos rolled into one… Shoot me an email and let me know or comment below.
A Complete Resource For Bird Dog Breeders!
Which brings me to more news about the Academy, there is now a Breeder's Membership option available! Yes, I'm putting everything I have learned about breeding, whelping, and raising litters. For example, How to Create a Beautiful, Informative Website, How to Find Excellent Homes for Your Puppies, Tips for taking great photos of your Puppies, Everything You Need to Know About Whelping Litters, Health and Nutrition of the Dam, Sire, and Puppies, Week-by-Week Care of the Puppies, Crate Training Your Puppies, How to Fly Your Puppies, What you Need to Know About Vaccines, what to give, how to give, and when, and more! Yes, absolutely everything I know and have learned in over 20 years of breeding. It is an epic resource for breeders and everything I'd wished I'd known when I started on this journey.
The 2017 Llewellin Setter Puppy Calendar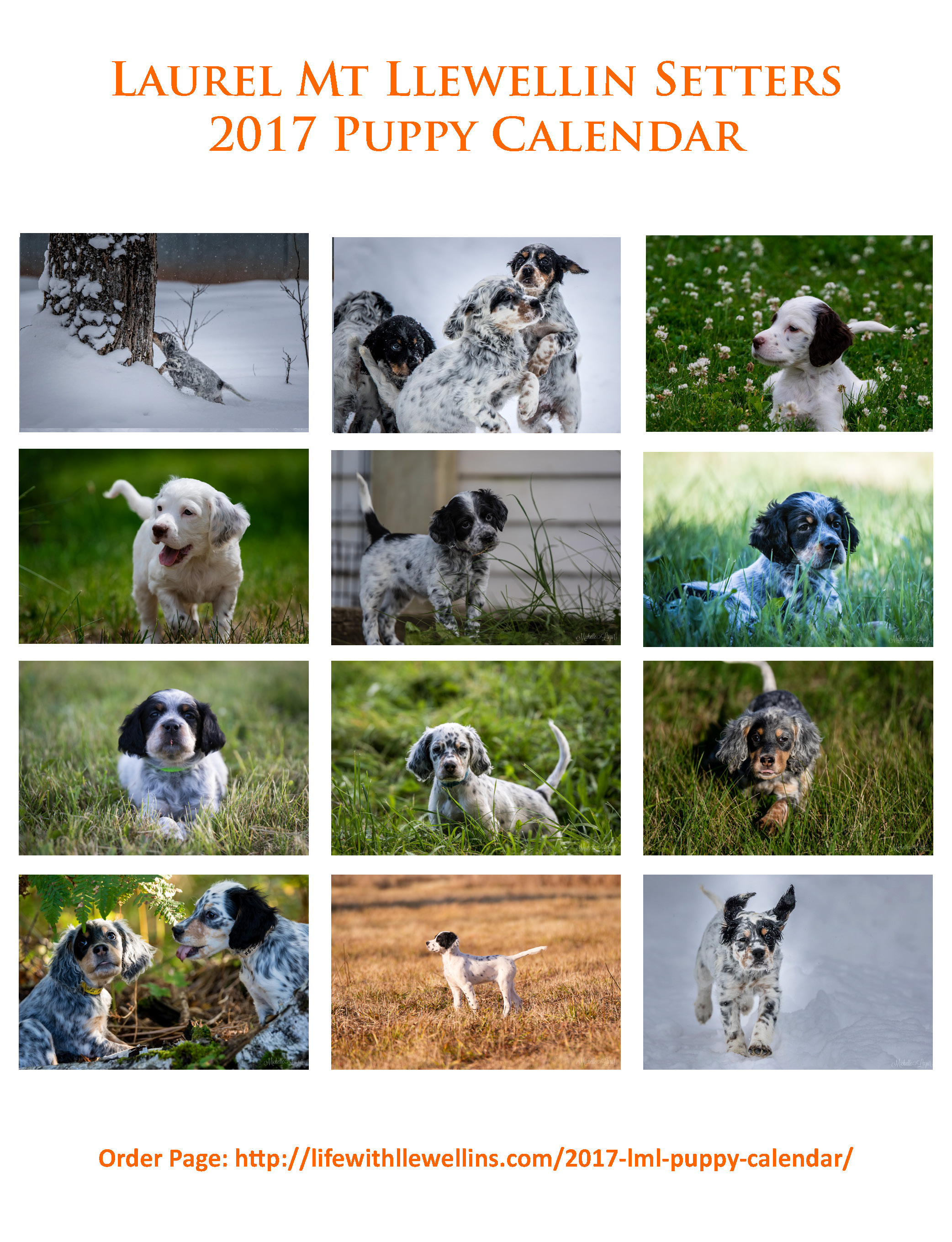 Next, I'm finally getting close to pushing the button on publishing the 2017 Llewellin Setter Puppy Calendar! It's so hard to pick just 12 photos! I might end up putting a ton of photos up for you to vote on. I'm having such a hard time picking. I did have it down to 12 but then came across another external drive that I had misplaced for months and found so many more contenders, like 115,106 more photos! Seriously, look:

I have until November 28th to pull the trigger on it so we'll see. I have a pre-order option now available because if I order in bulk and ship them to you myself, I can offer you a better price! Order your 2017 Llewellin Setter Puppy Calendar by November 27th for the discounted price. If you join the Llewellin Setter Academy (annual membership option), by November 27th, you will receive a complementary copy of the 2017 Llewellin Setter Puppy Calendar.
That's all for today. I've missed posting. There's so much more I'm just dying to share. I'll try to be better at keeping up. It's been one of the most difficult years I've endured yet, but there is so much to be thankful for and so much to share that I think can help others and that is my new mission!
So, for now, over and out and hug your Llewellin Setter tonight.
-M.