My mission is to help you have a healthier dog and breeders to raise healthier Llewellin Setters puppies through educational content based on over twenty years raising, training, and breeding Llewellin Setters. To help support these efforts, this page may contain affiliate links. I may earn a small commission for qualifying purchases at no cost to you.
Well, summer is certainly here. The days are long and very warm. I absolutely love that it gets light so early and dark so late. I don't much care for the heat, though. But, nothing I can do about the weather, so we just make the best of it.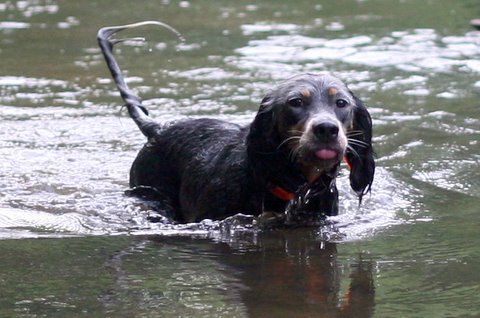 I have been making certain that wherever I work the dogs–there is water. It limits where I can work them, but at least I do have a few places. I tried the farm this evening. I haven't been there much lately as the fields were too high (for my liking) and it doesn't cool off as quickly as the top of the mountain does in the evening. But, tonight I just wanted to get them swimming. It really was too warm for much else (in my opinion). I was pleasantly surprised to find the fields had been mowed! We had a grand time.
Jenna, Midge, and little ornery one had a blast making beautiful casts in the field, then cooling off in the Loyalhanna. Jenna was especially spry this evening. She was in her glory and really covered territory. She is really in excellent condition already. Midge is always in excellent condition because she just never stops–but she hasn't had a litter of puppies, either. It's been a while since I worked these two together and they were a shining team working cover. The pup loves the water and had quite a good time swimming. She is not afraid of a thing, but really took a scary tumble down a steep bank into the river this evening! She went flying over the bank right after Jenna and Midge. I ditched everything while running full steam ahead because I thought for certain I was going to be going in after her… nope, she got herself oriented, swam to the bank, and somehow got herself back up!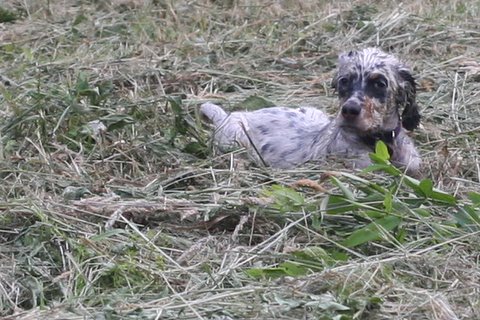 I had a small concern that the experience would scare her and she would avoid the water for a while… but, not her! She went right back in just a little while later. She is really something else. I like her a lot.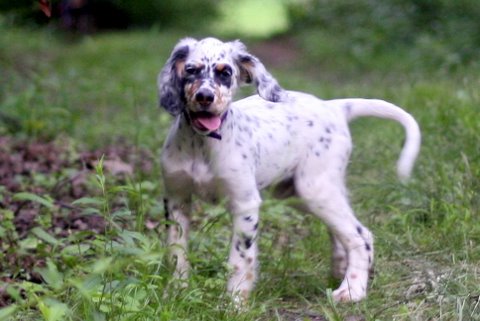 Not much exciting. No birds. Just some great exercise and swimming. We bumped a deer from it's bed and both girls behaved and did not take chase. They know better by now.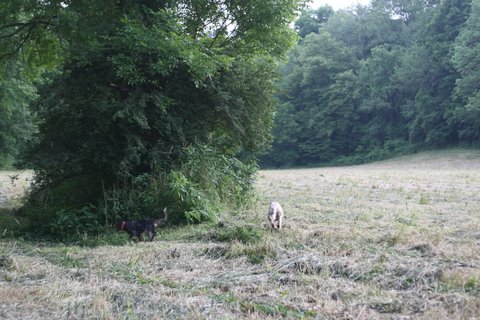 So, off we headed back home. Jenna and Midge are slightly more content tonight and this ornery pup is actually snoozing away at my feet (instead of chewing on them) after a bath and a little treat.
Keep cool everyone and be mindful of keeping your dogs cool and hydrated this summer.