Sir Royal Blizzard Gladstone
My mission is to help you have a healthier dog and breeders to raise healthier Llewellin Setters puppies through educational content based on over twenty years raising, training, and breeding Llewellin Setters. To help support these efforts, this page may contain affiliate links. I may earn a small commission for qualifying purchases at no cost to you.
After skipping an evening of dog work last night (Thursday), for a birthday party, we got back at it tonight (Friday).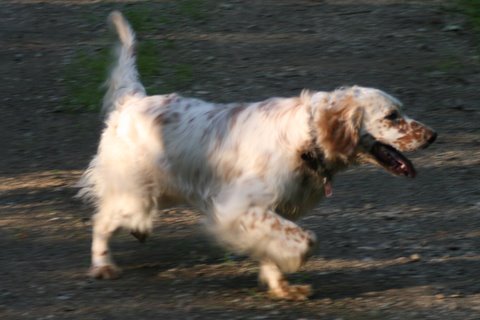 I decided to run Jess. Three of the gals are in heat, I didn't want Dora to run too hard (and in the heat) and she and Jess have way too much fun for a gal with child, so I opted to run him alone… well, sort-of… I had a wee ornery sassy one along, too that tried to keep up with him.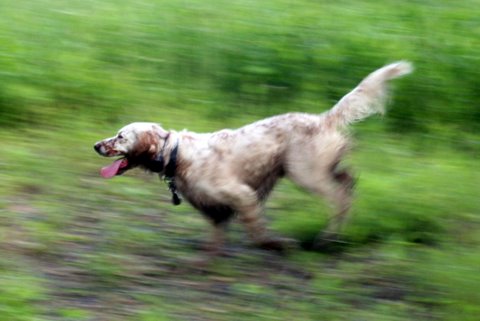 He had a fantastic run–really, really hunting hard. The area I took him is steep and thick. There are areas with lots of rocks and another is a very difficult cut to navigate. That didn't stop this boy in the slightest. He worked like a dream. I picked this area first, because I didn't have a lot of time; second, it was really warm and I wanted to be sure there was water nearby. My other favorite haunts don't have much water available. This area has a beautiful, cool, cool, mountain stream. Jess made use of it several times.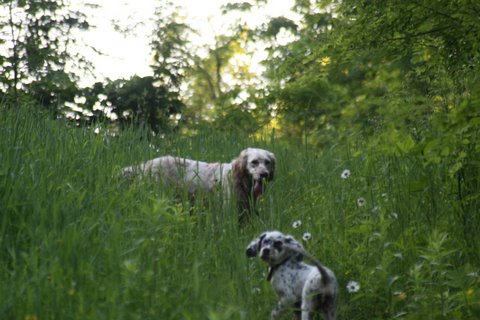 Most of my photos didn't turn out. I still had the zoom lens on and it doesn't do very well in low light. The shots in the wooded areas and stream didn't come out well.But, I salvaged a couple from the more open and better lit areas.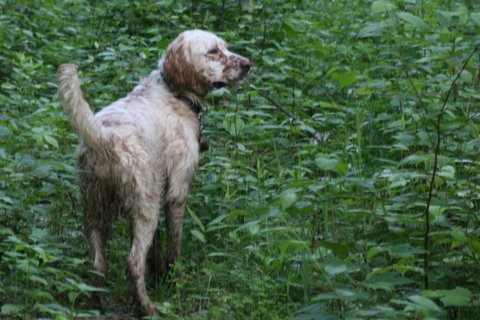 My gosh did this dog work hard and long and beautifully. He is a bigger male and it doesn't hinder him at all. He is powerful, muscular, agile, and graceful and he glides through the thickest brambles. He responded perfectly to the whistle, all commands off- and on-lead, and was a complete gentleman with the "wee-one." I didn't expect anything less from this dog, but it was so warm that I really didn't expect him to work quite so hard and so long. The cool stream kept him on his game, though.
I love you, Jess.