Photo of the Day for May 5th, 2010
My mission is to help you have a healthier dog and breeders to raise healthier Llewellin Setters puppies through educational content based on over twenty years raising, training, and breeding Llewellin Setters. To help support these efforts, this page may contain affiliate links. I may earn a small commission for qualifying purchases at no cost to you.
Turn and Burn…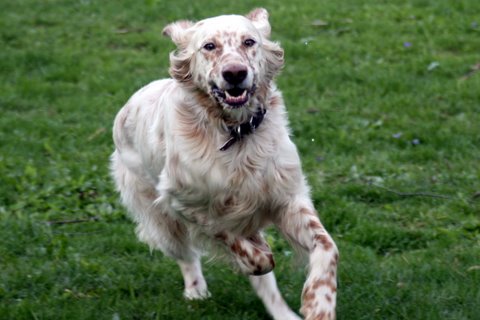 (Click image for a high resolution version in a new window.)
Today's photo is of "Jess," the sweetest, most tolerant, patient, and kind Llewellin Setter there has to be in existence! Jess is the most gentle boy I have ever personally had the pleasure of knowing. Don't let that fool you, though, as he can "turn and burn" as I call it, flying around the property with amazing speed and grace.
I love to take Jess when I am trying to squeeze-in a bit of exercise on the mountain bike and combine it with my version of "roading." Jess hunts the woods along the trail, quartering beautifully out ahead of me. He'll cross the trail and look to see where I am, then continue on into the woods. If I hear the bell stop, I jump off the bike, run in and find him and flush a bird! We have a blast, Jess and I.
Most of the dogs are really good at this game and love it. It is face-paced and they have to keep their eye (or ear) on me. I don't let them (nor do any of them really want to) run behind me on the trail. Their job in this game is to cover the ground quickly and keep ahead of me–unless they find a bird, of course. This is a great way to really get the dogs in shape (and me too). Where people are able, their version of this is to use an ATV (and harnesses) and I'm sure that is much more effective, but this is my version in my world and in areas where ATVs are not permitted–it is much quieter, too!