Photo of the Day for May 4th, 2010
My mission is to help you have a healthier dog and breeders to raise healthier Llewellin Setters puppies through educational content based on over twenty years raising, training, and breeding Llewellin Setters. To help support these efforts, this page may contain affiliate links. I may earn a small commission for qualifying purchases at no cost to you.
Obsessed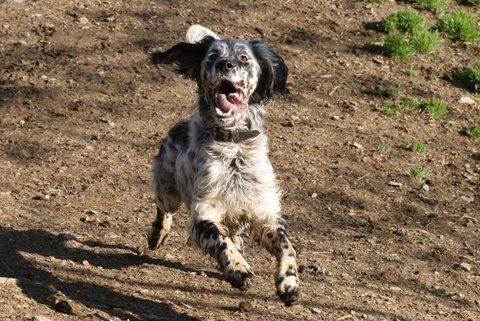 Click for a larger, high-res photo in a new window
This is Steele, taken this morning while exercising the dogs. We released several pigeons (to wake up the neighborhood, I guess…) while Steele and Boone were out. The dogs go c-r-a-z-y when the birds are flying and making their huge loops around the property and swooping close overhead to land on the roof of the house. Steele and Boone had a blast pointing the pigeons when they would land. Did you ever notice the top of the yard where it is always all brown, and no grass growing? That is because the dogs run that area bare and grass never has a chance to grow back. it's all because of the pigeons and the dog's obsession with them (and they live on the other side of the fence at the top of the property). It's so much fun! Everyone with bird dogs should have a loft of pigeons. I am working on a little article about starting one. Maybe I will get it complete some day!