Update For Sunday, May 23rd, 2010
My mission is to help you have a healthier dog and breeders to raise healthier Llewellin Setters puppies through educational content based on over twenty years raising, training, and breeding Llewellin Setters. To help support these efforts, this page may contain affiliate links. I may earn a small commission for qualifying purchases at no cost to you.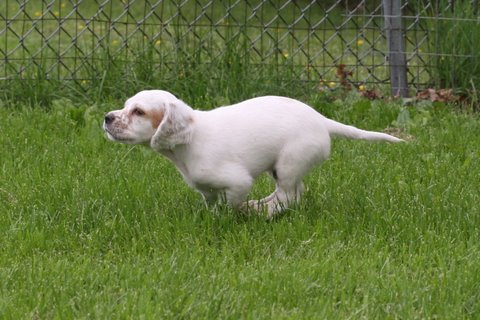 The pups are so brave now and they absolutely love to get out in the yard to romp and play. They run full throttle up and down the steep hill. They can do just about anything. I have avoided use of the deck stairs because I get so worried one will fall and there is a concrete slab at the bottom. I worry at this point with an entire litter of puppies just days away from going to their new homes and the pups are so curious and bold and will try anything right now. I don't hold them back from anything, but I really have avoided those steps!
We are working on crate training. I should have started it a week ago, but never got to it. I needed to make room for several crates and pick a few nights when the rest of the household wouldn't be too bothered by it. The boys decided they were spending the weekend at friend's houses at the first round early Friday evening! The pups are getting better and quieter each time, but their are a few that really put up a fiery fuss!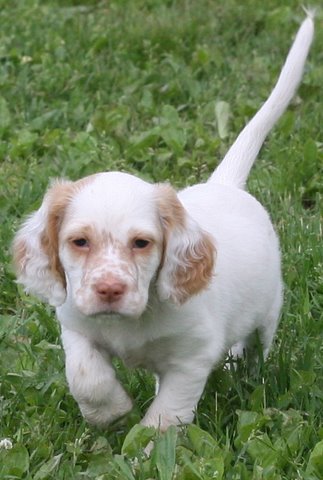 The pups have discovered water and really liked playing in the small, spring-fed water "hole" in the yard today. They were covered with mud and were stained green from being wet and playing in the freshly cut grass. It wasn't a pretty site–but it was certainly more like bird-dog puppies. 🙂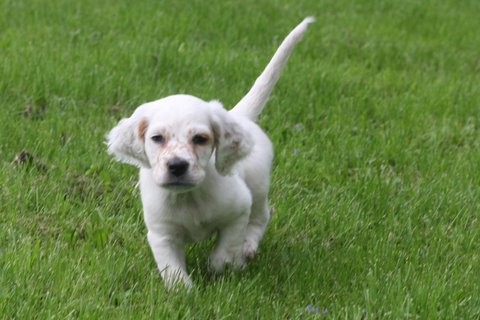 They notice everything–moths, birds, and something made them all very curious and crazy on the other side of the fence. By the time I got there, I couldn't figure out what it was. Another time, the puppies had been out a few minutes and I went out to check on them. I saw them on the other side of the kennels in the side yard. They were all frozen solid and looking toward the upper yard. I make it over there in time for a Robin to take flight! They were all either pointing the Robin or some pointing and some honoring–I kid you not. It was so brilliant! They were so excited and jumping all over when the bird flew. I love when puppies start doing this. Just love it. No, I didn't get a photo of it. 🙁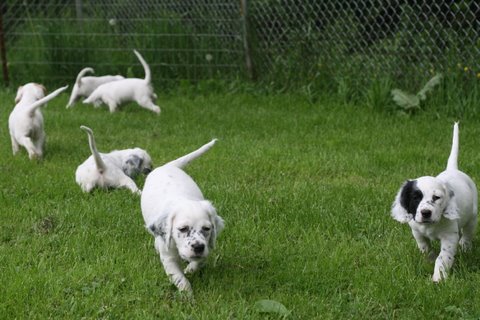 They are all becoming very independent. And they will do things as a pack, but eventually, I notice one going this way, and one going that way — all exploring on their own. They are constantly sight-pointing one another and hiding and pouncing.
This should be a very fun week. The weather looks to be free from much rain and the pups should get to spend a lot of time outside. I like when they get to spend this time outdoors. I think it makes them smarter and by the time they turn 8-weeks old this Friday, they will really be ready for their new world's and new homes. I will take them for a ride or two in the truck this week as well so their trip home should go quite smoothly. I will take them to the farm and take a few pigeons along for some rousing fun! They will associate the ride with fun and this will be an excellent introduction.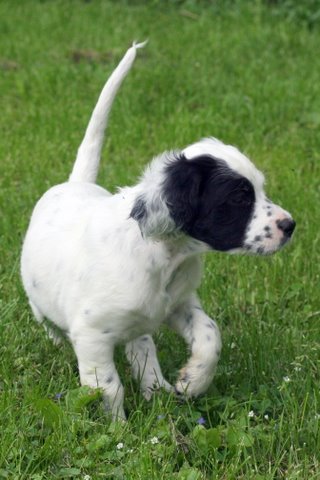 There are some new photos added to the web album, so be sure to check them out. I have been adding a few new ones everyday.
Good night all.