My mission is to help you have a healthier dog and breeders to raise healthier Llewellin Setters puppies through educational content based on over twenty years raising, training, and breeding Llewellin Setters. To help support these efforts, this page may contain affiliate links. I may earn a small commission for qualifying purchases at no cost to you.
The Winds Turn Eight Weeks Old Today!
Well, the little alligators turned 8 weeks old today and our first little guy has gone to his new home. Crazy, I know, but I didn't feel quite ready, yet! Willy got sick on the ride, even though I fed him 4 hours before (should be okay after 2 hours). But, up came breakfast on the seat of the truck–and on the seat of his new families auto, too! I am sooo sorry! I suppose I should have withheld his breakfast all together. Poor fellow! I hope he did okay on the long drive home. 🙁
Willy has a boy to grow up with! So cool, and he (Willy) followed his new boy around thru that soaking wet field until he was worn out and shivering. I had the camera in the truck to get a photo of Willy and his new wonderful family, but it started to really rain and we were in a very soggy field and thought we better get going so that we didn't get stuck there. So, off we went and I didn't get a photo. 🙁
UPDATE: I just heard that pup is doing great and had a fine time chasing his boy around the yard when he got home. He ate, drank, and did his business and curled up with his new big-sister Llewellin who isn't quite sure what to think of him, of course. She gave him a few growls, but he ignored them and curled up next to her on her bed anyway. lol. funny. I guess he's used to getting those growls from the older girls here and should know his limits. She'll let him know hers, for sure. 🙂
The rest of his brothers and sisters got to spend much of the afternoon in the puppy kennel (really cushy by the way)… while I tried to frantically get some things figured out, measured, building lists made, etc., for all going on here over the next few months. They were not at all happy about this! They used to love being in the puppy kennel about 2 weeks ago! It was awful weather over the past few weeks, as I am sure you know, so I haven't had them out there (out there is just outside my office window, by the way in a nice, double kennel with straw and a box, a mat, toys, water, food, a roof, etc.). I would think they would like it so much better out there—fresh air, other doggies, more freedom—but wow did a few of them howl! I am certain crate training will not be fun tonight.
Oh and how cute was this–when the fire whistles blow in the area, all of our Llewellin Setters start howling right along with the sirens. It happened today and the puppies started howling too! oh my gosh, how cute!
The pups are really something else. They are having a great time discovering and exploring the yard–digging holes, hunting birds and butterfies, checking out the water hole, the neighbors, etc. They can get up and down the stairs like it is nothing at all. They have excellent appetites and most are "talkers". I love that–when you talk to them and they talk back with the cutest moans,whines, barks… Love it.
More will be leaving next weekend and I am trying to coordinate the flights and such and the trip to the airport.
The Bourbons are One Week Old!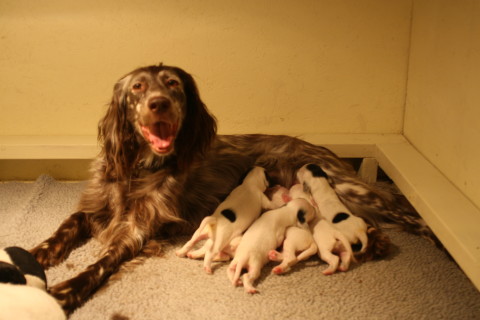 Maddie's puppies are doing fantastic and so is she. This will be a fun week as their eyes should start to open maybe starting Wednesday. I can't wait until their eyes open! They are a very satisfied, quiet bunch–just like their momma. I hardly hear a peep out of them.
Announcing the Arrival of Lady Bird x Ike Puppies!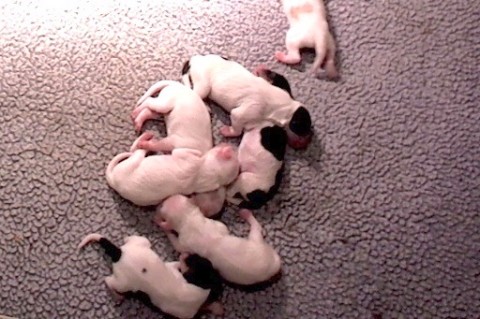 Yep, and we were blessed with a lovely lot of puppies Friday night-Saturday morning out of Midge by Ike! She did fantastic and has 8 beautiful puppies–5 girls and 3 boys. A colorful bunch with a blanketed tri-color male, an orange and white male, a belton male, and hooded, tri-color, and belton females. All are doing very well and are strong enough to fight their way out of Midge's protective huddling. Midge is being a great first-time mom and is very protective (not unusual during the first week or two for any first-time mom). All the mom's seem to want to curl up and sort-of hide all of the pups during the first few days. Experienced bitches are better at this than first timers, of course. So, a squeal goes out when she is huddling them a bit too much and they squirm out. Nerve racking to say the least–it makes me a nervous wreck, but if I intervene too much, it seems to make it worse with the covering/huddling. I try to stay out of it but oh my, I don't want a puppy hurt.
Midge had to be forced to go outside yesterday and I made her go out into the big yard today so I could change the litter box and look over the puppies. In return for my kindness, she decided she needed a swim. Well, can't say that I blame her as I'll bet that swim felt fantastic after having puppies. But, I had to get her all dried off before she went back in the box. Oh well, she got somewhat of a bath, which I wanted to do anyway.
She would not eat at all yesterday–nothing would take her away from the pups! Chicken in the crock pot got her attention this morning and she ate very well the rest of today. Some broth and rice. Then some great whole yogurt. More broth and chicken tonight. She's doing much better, now.
I believe the litter theme will be "Mountain Peaks" and the names will be: Elias, King?, and Oly(mpus)? or Griggs? or Hood (perfect for the hooded male, really)? for the boys, of course and the girls will be McKinley, Raini(er), Shasta, Kea, and Kimball, I think. What do you think?
Okay, sorry for the short update and lack of photos, but I have to get some work done before morning and before I get fired! I have missed soooo much work the past few weeks and can't miss any more right now. No work, no pay. No pay, not a fun day! (I don't get paid time off or anything being a contractor). But anyway, who cares about all that nonsense. Just giving a quick update about all the exciting news going on here. 🙂
Have a blessed week everyone.
-LML