Northwoods 2010 Update Week 6
My mission is to help you have a healthier dog and breeders to raise healthier Llewellin Setters puppies through educational content based on over twenty years raising, training, and breeding Llewellin Setters. To help support these efforts, this page may contain affiliate links. I may earn a small commission for qualifying purchases at no cost to you.
Hello all.
Week 6 of camp has been the least productive of all. We've only hunted about 3 days. Weather and work-load has played a major factor in keeping us grounded and when we did get out to hunt there wasn't much to report.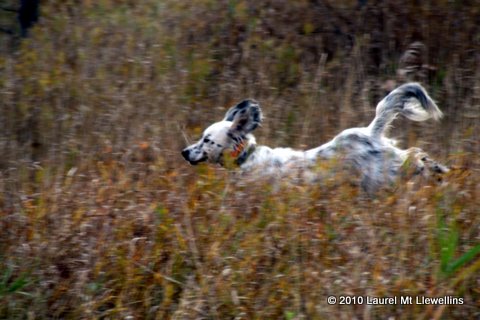 One day I set out to explore a new area and never put up a bird. At least the truck, dogs, and I got out and got some exercise whilst draining a tank full of petrol!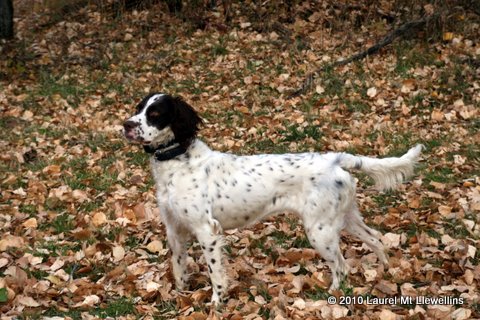 Another day wasn't too bad, but nothing spectacular and the third day of hunting, I hunted with some wonderful folks from PA. The dog work wasn't spectacular. The few birds we did produce flew out of the heights of fir trees and no birds were pointed! There was one flash-point (Jess) after a flush and one unproductive point (Midge). There was an approaching weather front that I assumed would make the afternoon spectacular, but it seemed the birds were already perched in the protective shelter on the pines instead of the feeding frenzy I had hoped for. Maybe that happened in the morning? Who knows, but things were very slow. But, the company was fantastic and it's always much more fun to be out running a Llew with friends than anything else I can think of.
The dogs did display their range, desire, running style, stamina, etc. Most of the dogs got to run that day and I was reminded of areas I need to work on in my training regimen… things I have let slide lately that I should not have. I've been lazy–there is no other excuse. I've been more concerned with wild-bird contacts and have let some things that are also important slide.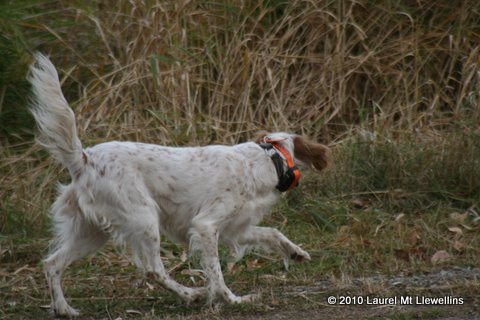 Then, this incredible weather system literally blew in and has stuck around for the past two days and will keep us out of the woods for one more day. You just can't hunt in the woods in 30–40 mph winds. I may be crazy and not always the brightest, but I do have a bit of common sense!
I took a break from work and got the dogs out for a pretty rousing round of fun in the fields here at the farm. Just as we walked out into the fields, yesterday, a snow squall kicked up and we had a blast out there. The dogs loved stretching their legs out and covering some big, wide-open, flat fields. Right out of the box, Jess hit the ground on a mission. He was completely serious about what he was going to do with his time out of the box–hunt. And, low and behold he slammed on a breath-taking point at the far, far end of the field at the edge of low grass and the high grass. The other dogs backed. It was an incredible sight. Of course, I did not have the camera out because of the rain and now, snow!!! Doesn't it always happen that way? Never the less, I will never forget the beautiful sight of all those magnificent Llewellin Setters on point at the same time (I rarely run that many dogs at one time)–stuck in striking poses, tails and heads held high paralyzed by the intoxicating scent of a game bird. I live for moments such as these. The image is forever etched into my mind. All dogs held their statuesque poses until I arrived to flush two wild hen pheasants. Only 2 of the dogs that are under 1-year old broke their back/honor when I passed.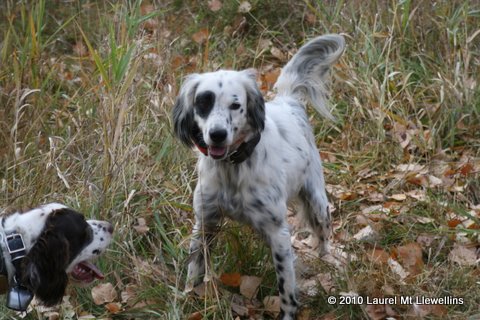 After watching the pheasants fly into the next county, we worked on some drills and obedience and just enjoyed getting out for a good run after being cooped-up for a few days.
I think we'll finally be able to get out hunting tomorrow. We'll see. And it looks like we just may need to head back to PA a week or so earlier. Quite a few things that were supposed to happen have not yet and my kitty is empty much sooner than budgeted. I am almost out of firewood and will have to buy even more, gas prices have risen while here, rent, electric, and internet ended up costing way more than I was quoted, I had more expenses added than anticipated, I haven't worked even half the hours I normally do from home, etc., etc., etc.! Bird Camp 2010 is coming to a depressing end and I am kicking and screaming because I never want to leave the vast public forests, the wide-open fields, the little farm house on the edge of a sleepy little town where my lovely Llews can run and hunt and play–and bark anytime they want… :: sniff, sniff :: I guess a gal just really can't have it all or sometimes even just a little bit more! 😉 But, we've had a fantastic time and I wouldn't trade our time here for anything–I am the luckiest girl in the world!