A Hairy Subject… or How To Keep Your Llewellin Cool
My mission is to help you have a healthier dog and breeders to raise healthier Llewellin Setters puppies through educational content based on over twenty years raising, training, and breeding Llewellin Setters. To help support these efforts, this page may contain affiliate links. I may earn a small commission for qualifying purchases at no cost to you.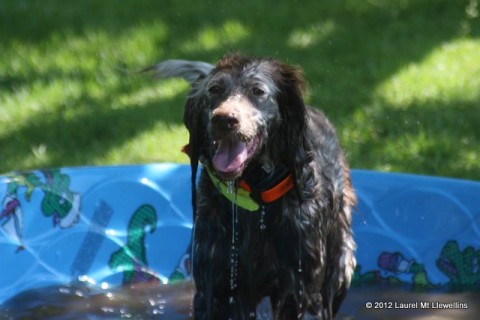 As Summer approaches and the temperatures soar, I receive a lot of mail from folks mentioning their Llewellin just received their "summer shave" "to help keep them cool in the heat." I've always had a problem with this thinking.
I've always felt that God gave the dog a lovely fur coat that keeps them both warm in the winter and cool in the summer. I suppose we naturally think that since we are warm and shed our warm outer layers of clothing, cut our hair, guys shave their beards, etc., when the mercury rises, then our dogs must need to take their fur coat off as well (which they do by shedding)! A dog's coat insulates both ways, just like a well-insulated home stays warm in winter and cool in summer! Dogs do not have sweat glands like humans (except in the pads of their feet) so they pant to regulate their body temperature. The thick undercoat and long hair act as protective insulation against the sun and heat. Shaving their coat actually can make them warmer and much less able to regulate their body temperature. Without the protective coat they are also more susceptible to sunburn.
The undercoat of a Setter sheds itself naturally—it's nature's way of getting rid of the fur they need to. Shaving the dog can actually cause more injury to the skin because the skin is less protected from briers, jaggers, thorns, bug bites or stings, etc., and as mentioned already, makes the dog more susceptible to sunburn and skin cancer. It is, however, very important to keep your Llewellin brushed often. This helps speed-up the shedding process, helps keep the coat clean and will lessen the need for baths, helps with bonding, it gets the dog used to being groomed, helps control matting, and gives you the opportunity to check for fleas, ticks, lumps and bumps, etc. It gives you the chance to check on the health of their ears, eyes, feet, and such as well. It's fine to keep the feathers trimmed, if you feel the need. I try to keep our dog's coats and feathers in the most natural state most of the year. I do admit, however, that a lot of trimming goes on during the first few weeks of hunting season! I start out the season trying to brush and remove stickies, briers, etc., from every dog every night but quickly lose the battle unless I am diligent about applying a detangling product before we hit the brush. The dogs tire of having to endure the process as well and the scissors come out to trim much of the long feathers away! Someday I will give in and just do the trimming before the hardcore training and hunting season begins. It just breaks my heart to cut their beautiful feathers until I really have no choice.
I've always wondered about those folks that want a Setter, then proceed to shave it all the time to look like… well… not a Setter. Why don't they just get a short-haired dog if they don't want to take the time to groom their Llew? Look, I know we are all short on free time these days so shaving and/or clipping our Llews can save us a lot of time. I agree, and I have a lot of Llews to groom. But, shaving them doesn't help them and I think a Llewellin should look like one and if we just take a few minutes every few days to brush them, the coats God gave them will naturally keep them cool, keep matting to a minimum, keep the hair they need to shed in the brush and off your floors, truck seat, and furniture, give you the opportunity to touch every inch of them to be alerted to something you might need to keep an eye on, find and remove ticks, and share some special bonding time.
Besides brushing, other things you can do to really help your Llew keep cool is first, be certain they have clean, cool water available at all times. If it is going to be a hot day and you will be away, fill their bowl with water and add ice cubes before you leave. I often fill plastic containers and freeze them overnight so I can put the blocks of ice in their water bowl or bucket in the morning giving them a cool drink all day as the ice block melts. If the dogs are really warm, I've seen them standing in their buckets to cool their feet—smart dogs! If the dog is outdoors, be sure they are in the shade or that their kennel has a roof that shades them. Offer a fan to keep the air moving. Let them swim or at least be able to play in cool water—even in a baby pool or sprinkler—whenever you can.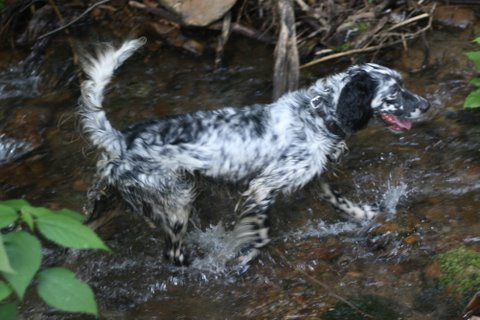 Be very mindful of your Llew in the heat—heat can kill them before cold will! Obviously, please do not ever leave your dog in the car in hot weather or baking in an outdoor kennel that isn't shaded. If you run or walk your Llewellin, stay clear of paved/asphalt surfaces which will be much hotter than a dirt or grass surface. If you are working your Llew, do so early in the morning or the coolness of the evening and keep the sessions short. Be sure to have cool water with you to offer the dog to drink and to douse his feet, belly, head, and to wet his nose and take a lot of breaks to let him cool down. Frankly, if it is too warm, just don't bother working him—take him for a swim instead or keep to heavily wooded, cool areas with cool streams. Note that a pond will heat up very quickly and will not provide much relief to a hot dog. Realize also that in the heat, scenting conditions are poor, the dog is panting and isn't able to use his nose fully anyway, could easily become overheated and have a heat stroke, and it just isn't productive or worth losing a dog over in my opinion. Never put an overheated dog in a box/crate/trailer—be sure he's had a chance to cool down before every putting him in.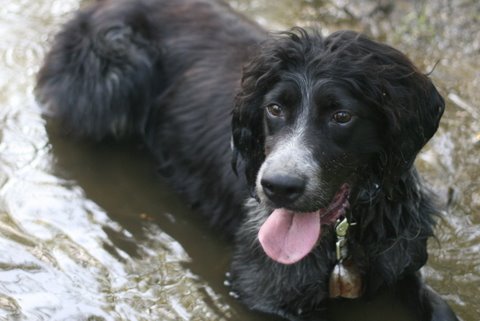 Yes, if you expect that you will be hunting your dog in warm temperatures, then the dog needs to be conditioned to the warm temperatures. Just approach this carefully and mindfully. I don't take well to warm temperatures myself, and I don't hunt when it's too warm. I understand that some folks live in a warm climate and thus need to condition their dogs for it. Dogs that live in warmer climates are already adapting to it and can handle it better. I also understand that some folks only get to hunt a week or two a year and have their trips planned well in advance–you never know what the temperatures will be and your dog needs to be ready for those situations, so work him in those situations very carefully and keep a close watch on him. They live to hunt and will keep on going and kill themselves with a heat stroke very quickly. Usually by the time you realize your dog is having a heat stroke, it's too late.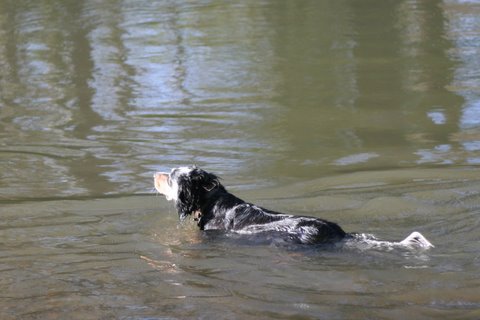 Signs of a heat stroke include rapid, heavy panting and a rapid heart beat. Dark red gums. Excessive drooling/frothing at the mouth. Confusion, loss of coordination, stumbling, dizziness. Listlessness, weakness. Dry mouth and nose. Glazed eyes. Vomiting. And finally shaking, seizures, collapse, and unconsciousness. Even if the dog recovers, he will likely have internal organ damage.
If you believe any of these things are happening, you obviously need to immediately get the dog to a cooler, shaded area. Offer small amounts of water. Sponge the dog with cool water (not too cold and not ice) because now you must bring the body temperature down slowly and be careful not to constrict the blood vessels which will stop the heat from escaping their body. Wet the belly, groin, head, and feet. Get the dog to an emergency veterinary clinic as he will most likely need electrolyte replacement intravenously.
The best thing you can do is to avoid ever putting your dog in such a situation. Use your head and be ever mindful of your dogs needs and note I say your dog's needs—not your desire to work the dog in the heat, show off to your buddies, or make your life a little easier by shaving your Setter and thus putting him at more risk for a heat-related illness or death.
-LML