Day 2 of the Upland Trip…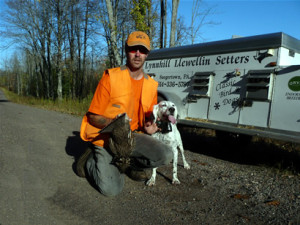 Weather: Sunny and very warm with temperatures in the mid-70's.
The day began with a lovely sunrise on the lake where our rental house is. Ron, Scott & I set out early for an exciting day of hunting. We tried another area and immediately got into grouse and woodcock on our first stop.
The ground is very swampy from all the recent rain and I am wishing I had brought a pair of rubber boots as the hiking boots I brought are just not cutting it at all.
Our 8.5 month-old llewellin pups are doing excellent! I work each of them, while Scott works our adult dogs. They are doing very well in the cover, working it like they are old pros! All are getting into birds and have awesome, solid points. Things really couldn't be going much better, although I would prefer cooler temperatures!
It was a great day and our flush rates are just incredible!.