Boot Reviews from a Certified Boot Addict
My mission is to help you have a healthier dog and breeders to raise healthier Llewellin Setters puppies through educational content based on over twenty years raising, training, and breeding Llewellin Setters. To help support these efforts, this page may contain affiliate links. I may earn a small commission for qualifying purchases at no cost to you.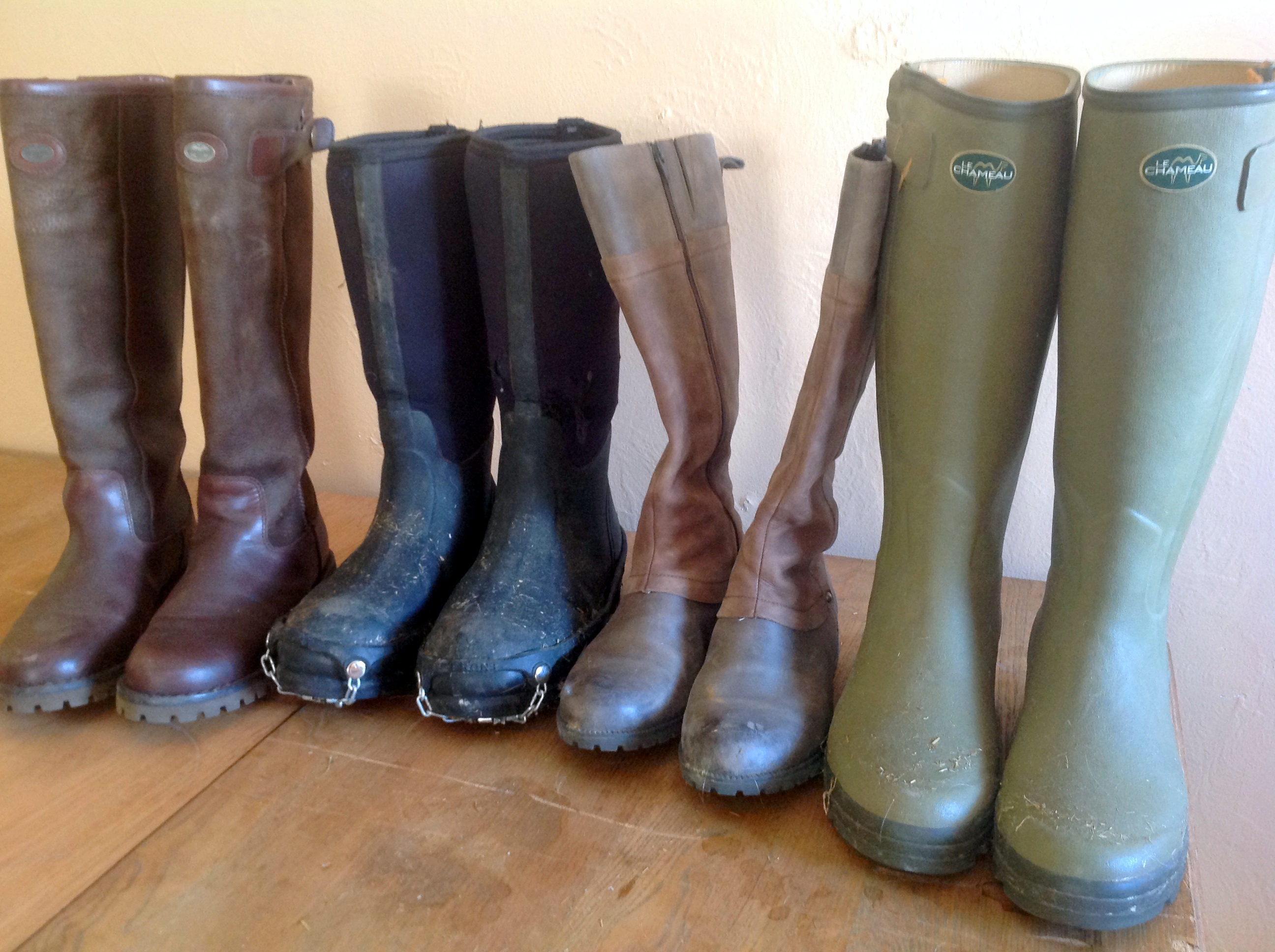 It's official, I am a boot addict.
I don't think of myself as one of those women that must have a room-sized closet full of shoes. I am a fairly practical and frugal person. As I get older, however, comfort and quality take over. A product that lasts and in which makes my life and time afield more pleasurable is more important. I have had the extreme pleasure of acquiring recently, quite by accident, not just one of my dream pair of boots, but all three!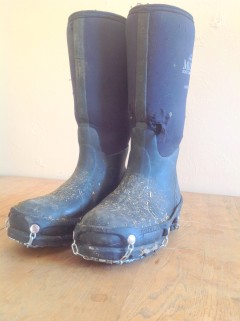 Note & Disclosure: I will only recommend products, services, etc., that I have personally used. Some of the products I recommend are affiliate links that I make a small commission on if you purchase via the link. It is of absolutely no extra cost to you. I simply might receive a tiny portion for using their link if you click the link and purchase the item.
A quick background on my personal preferences for boots: I need a slip-on or full-zip boot. I no longer like boots that tie. I've grown tired of having to stop and tie boots several times during a hunt and having wet, muddy, fern and brier-filled laces—or laces that break— irritates me. Also, always having a lot of puppies to work, they were constantly untying my laces. Puppies are Houdinis! Double knots don't stop them. My boots must be absolutely waterproof and in my opinion, they must be a tall boot to accomplish this. Low boots end up wet inside after walking in tall grass, ferns, etc. I don't care how waterproof they claim to be, I'll get them wet inside even if I am lucky enough to not step in a bog up to my knees. A tall boot stays dry inside and keeps out debris, ticks, etc., and protects the shins. I must have a tall boot and prefer to tuck my pants into them. I can recall the years of taking 3 pair of hiking or hunting boots and as many pairs of socks in the truck for a day's hunt and having to change them that many times and still arrive back at camp or kennels at the end of the day with wet, cold, and sore feet.
About five years ago, I discovered Muck Boots and have been quite happy with them. Scott has the insulated, I opted for uninsulated so I could wear them in all seasons and have done just that. They do get a bit warm in the summer and early season, but when I am sure to wear a lightweight, wool, moisture-wicking sock, my feet never sweat or smell.
My Mucks have been through everything and served me well. But after years of abuse, and I mean abuse, there are now holes in the uppers, and I add new insoles quite often for added support. I was on the verge of purchasing a new pair of Mucks, but was frustrated to discover they are no longer made in the USA. I couldn't find a comparable boot made in the US, either. It was obvious my Mucks might not make it through the winter, let alone another hunting/training season. I had to find something.
I won't share all the details, but I fell into a situation where I could acquire one of my dream pair of boots–the Le Chameau Jamesons. However, after waiting for them to arrive for almost 3 weeks, I inquired and was informed that my size was out of stock and I would not be receiving them. Completely depressed and with the holiday approaching where I wanted a decent-looking, waterproof boot, I ordered a pair of Clarks Women's Neeve Ella GTX Boot
. They receive very good reviews, are leather, Gore-Tex, waterproof, zip, seem to have decent outsoles for traction, are featured in the Eddie Bauer catalog, and are very nice-looking. I took the plunge and ordered them.
Two days after ordering them, I found out I would be receiving the Le Chameau Chasseurs, instead of the Jamesons. That was just fine by me!
And, as it turned out, not long after receiving the Clarks and Chasseurs, the Jamesons arrived, too!
Le Chameau Boots are known as "The best boots money can buy. Period." So far, I think I believe them. It is still early for me to attest to how long they will last or how I will feel about them in warm weather, but after putting them through just about very test I can think of for well over a month (almost two-months, now), I am in love and I couldn't give up either pair of Le Chameaus.
The first are the Le Chameau leather-lined Chasseurs, awarded the 2012 Sporting Classics' annual award of excellence.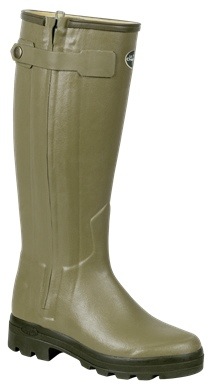 The Chasseur, is handcrafted in France of natural rubber with Italian leather lining and a full length waterproof zipper.
Absolute heaven on my feet. I've put a lot of miles on them already. The rubber sole and tread pattern have easily handled a variety of surfaces–mud, sand, rocky, snow, concrete, tile, etc.–with excellent gripping capabilities and shock absorption. I was very surprised at how warm they remained with a pair of mid-weight Smart Wool hiking socks, but recently with temperatures well below zero and light walking/standing for a long period in heavy snow over ice, my toes did get quite cold. I have the men's version (there is a woman's version, though) and mine are a wee-bit big, so as I always do with my men's boots, I added an extra pair of insoles. I actually think without the extra insoles and a little more wiggle room for my toes, maybe they wouldn't have gotten cold. I haven't tried that yet. I've worn them all day walking, sitting, and even driving. I never felt relieved when taking them off at the end of the day, you know what I am talking about, right? When you can't wait to take your boots off? Not so with the Chasseurs. I could literally sleep in them.
They were comfortable right out of the box. Aside from my size issue, the only inconvenience I had was with the very heavy-duty zipper. It was quite difficult for me to unzip and zip, although I actually didn't need to unzip them to get them on or off. I discovered the Chasseurs are supposed to come with a spray that is to be applied to the zipper to help with this. Mine didn't come with the spray, but I contacted Le Chameau and they promptly sent me a bottle.
As far as looks, the Chasseurs aren't bad-looking at all for a rubber boot. I am no longer a fashionista by any means, but I wear them with my pant legs tucked in and never feel frumpy, as I always feel in the Mucks. I would wear them just about anywhere—and do! I've read reviews from owners stating they've had their Chasseurs 10–20 years or more! I don't know about you, but I've never had a boot last that long, unless I didn't like and never wore them! I look forward to trying to wear these boots out. Scott loves them, too (we conveniently wear just about the same size). The Chasseurs are an investment in your feet. Check them out here.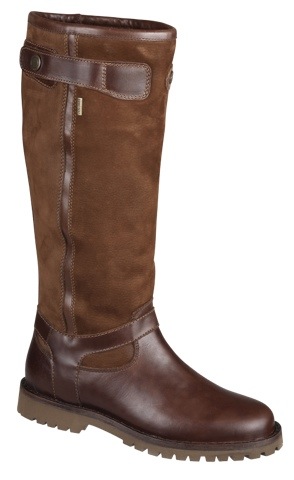 Next, are the Le Chameau Jameson Zip GTX. Luxurious materials of "Premium Waterproof Italian Full Grain Leather and Nubuck Leather Upper" with a "Gore-Tex "Rock" Breathable Performance Membrane" and durable full-grain leather around the foot. They also feature the full-length waterproof zipper and snap strip closure. The Jameson Zip was awarded the prestigious "Grays Best" Award by Grays Sporting Journal.
I'm not sure wear to begin with these beauties. I also received the men's version of this boot, but there is a women's version. I took them out of the box and simply enjoyed looking at and feeling them (I am a leather/suede freak). I wasn't sure I could bring myself to put them on my feet. But, they are boots, right? Then on they shall go! And if I thought the Chasseurs felt like pillows on my feet, the Jameson's would be hard to beat. They are also completely waterproof. Beautiful, luxurious, leather and waterproof. I had to test them, right? I wear them everywhere. They were a bit stiffer than the Chasseurs out of the box, but by no means uncomfortable. The first day I wore them, I wore them all day. First, out to the barn and kennels, then shopping, then the dog food pick-up, back home for all the unloading and the evening kennel chores. Yep, I wore them to the kennels, but that's just in the barn and it isn't wet in the barn, or muddy, or even that messy out there. I didn't feel too bad about it. I simply didn't want to take them off and I had to put them through the test to write a review, right? Like the Chasseurs, the Jameson's also have a dual-density rubber sole with a multi-directional tread pattern again providing shock absorption and grip on a variety of surfaces.
I've had droves of compliments on the boots from both men and women. I was practically attacked while wearing them in a boot store. The people working there knew exactly what they were and went ga-ga actually petting my boots! They are a fabulous-looking boot with functionality and then some! My feet have never been cold in them, but I can't say I've ever been standing in deep snow for long in them, yet. I have a mental note they seemed warmer in the recent frigid temperatures than the Chasseurs, but to be fair, I have to remove the extra insoles from the Chasseurs and try them again.
If you can swallow hard and purchase the Jamesons, I don't think you'll ever regret it. They are worth every penny. In this case, you actually get what you pay for in quality, comfort, and craftsmanship. I'll never give these up. Never. There are men's and women's versions as well as a tall, short, and even fur (hmm… fur, I like!). Go ahead, splurge, your feet are worth it: Shop Le Chameau Jameson boots.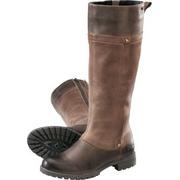 Now, back to the Clarks Women's Neeve Ella GTX Boot
. I have decided to keep them, but have thought about returning them. They are very comfortable, waterproof, have a full-length zipper, and have decent traction. I've worn them in all the situations I've worn the others. They are a very nice boot and, of course, much more feminine. More of a fashion boot, but I can wear them with anything from hunting and shooting gear and even with a skirt or dress (but, I would wear the Jamesons with the right skirt or dress, too). They are light-weight and and a woman's boot only (they don't come in men's). At half the cost they aren't too bad. If I would have never put my foot in the Jamesons, I might be completely satisfied with the Clarks. I think for light-hunting (for the weekender ladies), sport shooting, out about the town, etc., these are great boots for the ladies. Get them here
.
I feel a bit spoiled and overly so keeping all three! So, if I could just pick one, which would it be? I suppose for my current lifestyle I would go with the Jamesons and use them for hunting, out about the town, and even kennel chores. They are built to last. They are gorgeous, luxurious quality and when I contacted Le Chameau to inquire about the care of the leather they said no special care needed!
If I had to pick two pair and the Jamesons not one of them, I would probably go with the Chasseurs for hunting and kennels/chores and the Clarks for a dressier ladies boot. In my real-life and with my real-life budget, I would have to stick with a new pair of Mucks
(around $100–$160) and keep dreaming and saving for of a pair of Le Chameaus
($449+).
Sadly, none of these boots are made in the USA. I've looked and looked for a pair that meets my must-have criteria—slip-on or full-length zipper, 100% waterproof, tall, etc.,—and I haven't found a pair.
As a side note, I know you are probably wondering why I haven't considered LaCrosse boots. I have tried them and while they are tall, waterproof, and slip-on, once they were on my feet, I had to wiggle, pull, and fight like a banshee to get them off! I can't always carry a boot-jack around with me to get my boots off, you know? They are nice boots if you can get the right fit and get them off! They need a full-length zipper, in my opinion, but seem to work very well for many.
More Information:
What are your favorite waterproof, walk all-day, hunting boots?
-M.