A Few of My Favorite Things…
My mission is to help you have a healthier dog and breeders to raise healthier Llewellin Setters puppies through educational content based on over twenty years raising, training, and breeding Llewellin Setters. To help support these efforts, this page may contain affiliate links. I may earn a small commission for qualifying purchases at no cost to you.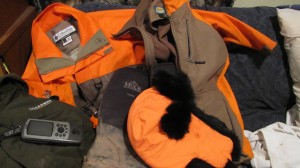 As I get older, I find myself really paying attention to certain comforts that I cannot seem to do without anymore. I never wanted to become someone that "needed" too many things, but I am becoming a bit set in my ways and find myself cranky without a few comforts. For instance, I enjoy and must have my morning coffee and not just any old coffee any old way. I very much prefer a certain brand or two of freshly perked coffee with Coffeemate French Vanilla creamer. Any old coffee at any temperature and black just doesn't bring me the same satisfaction. And, I'll most likely grumble about it and go out of my way to get the correct ingredients to get that good cup of joe. Geesh, what has happened to me?
I find myself having to be comfortable and appreciating those items that make my time outdoors and hunting more enjoyable. For instance, I now have to have comfortable boots that keep my feet dry. I no longer seem to be able to stand wet, pruny feet with blisters. Nope, can't take it. I have to have good socks and boots. There was a time that anything would do and I would just be thrilled to have anything on my feet. But, I am getting old, now and can't do that anymore. Do we lose are threshold for pain as we age along with our vision and hearing? 🙂
So, I thought I would share with you a few items that make my hunting very comfortable and enjoyable–items I have found I just can't be without:
Columbia Ptarmigan Upland Shell.
I wore this every single day of hunting since I got it and have never put my vest back on! I LOVE this jacket. Even in warm weather, I seem to be very comfortable in this jacket. It has D-rings for tying my e-collar remote, GPS, and whistles. It has 2 cool pockets for water bottles (or if you are like me, one for a water bottle and the other for my Starbucks coffee mug full of coffee!). It has underarm zippers for warmer weather venting. A Columbia fleece liner can zip inside for cooler weather layering. The game pouch is accessible from the front and it also can unzip in the back for full access and cleaning. The roomy cargo pockets fit plenty shotgun shells and other items and there is a small inside zipper pocket that I carry a back-up set of batteries and other small items. The handwarmer pockets were very welcoming on those cold, wet, days. It is said to be "water repellent" but seemed to keep me pretty much dry on all but the rainiest of days. Did I say that I LOVE this jacket? I got mine in the spring and see that I paid much, much less than it is advertised for lately (I want to get a second one before they happen to discontinue it or something). I see there is now a newer version that also includes a removable fleece vest.
MUCK Chore Boots
I don't know how I ever lived without these boots. I have the "chore" boot, which is uninsulated. I pretty much wore these boots every day in all conditions from warm, to intense rain and mud, to snow. I was never uncomfortable in anyway. I walked in them ALL DAY. I am amazed with these boots! I don't know, but they work for me. In certain areas of the country, you have that mud that cakes up on your boots and you can't get it off–know what I mean? Well, these boots with this tread amazingly self-cleans and I have never had to try to get the mud or muck off–nope, it doesn't cake up in the treads of these boots. Scott and I got each other a pair for Christmas last year and they are worth every penny!

When my dad arrived at camp, I took one look at his boots and promptly got on-line and ordered him a pair as well. He preferred the lower 12″ model and was perfectly happy with his as well.

Field and Stream Rain Suit.
Another item that I really couldn't have lived without is my Field and Stream HydrProof Ultra Rain gear. I found my suit on clearance this summer at Dick's Sporting Goods and couldn't pass it up. I was in desperate need of rain gear and took the plunge and guiltily (I have 5 children, okay?) made the purchase. I ended up wearing the pants most everyday–more than my chaps. They not only kept my legs warm and dry, but kept off the burrs and briers and with the leg zippers, I could easily slip them off with my boots still on. The hooded jacket is very comfortable and took the heavy downpours keeping me perfectly dry. It breathes and kept me dry. I was thrilled and relieved to have this set.
SmartWool Hiking Socks
Did you ever get a pair of socks as a kid for Christmas and think, "Socks? Oh, thanks Aunt Martha." Well, let me tell you, I have finally grown up enough to really, really appreciate a good pair of socks and would be jumping up and down like I did for the bicycle then, to get socks these days!These Merino wool socks were pure luxury on my feet. This is another item I don't know how I ever lived without! My feet were never overly warm, sweaty, or cold–they were wrapped in cushy, wonderful Merino wool! The extra cushioning on the soles is perfectly dreamy. I have to get more of these. I found them at a Labor-Day clearance sale at a great outdoor store in Ohiophyle, PA. I could kick myself over and over for not getting more at that sale–the sale was buy one–get one free! At the time, I had no idea what a great price this was and can't find them anywhere at a price coming anywhere close to what I got them for. I will be there next year, you can count on it!
Cabela's Activ-Lite Upland Jacket
I wore this a lot under the Columbia Ptarmigan as a liner on the cold days. It is very lightweight and comfortable. It is windproof and water-resistant. When it got too warm, I could take it off and easily stow it in the game pouch of the Columbia. I like the two, nicely-sized zipper pockets (things don't get lost) on the sides and one at the chest (great for the cell phone) and they are angled for easy access. I really appreciated this item and will be getting another for back-up. Do you think I am also becoming a "hoarder"? Is that another obvious sign of aging?
Hats
I have two that I absolutely love! I was never much of a hat person until now. In this game you need to wear a hat–not only for legal reasons in most states, but for safety not to mention to keep your head and ears warm and dry!

Okay, so first, is the rabbit-fur lined "Mad Bomber" hat. This was my favorite thing for the crispy early mornings letting the dogs out. I wore it on a day that ended up pouring down rain and even though it is only advertised as being "water repellent," my head was warm and dry! One very cold evening, I put it on and slept in it…. it is soooo comfy. Another one of a different color is on my wish list!

The other hat that I loved is my Stormy Kromer wool cap. It is also very warm and comfortable and wasn't quite as noticeable at the market… 🙂


GPS–an absolute must, whatever model you choose. I bulked at obtaining a GPS forever. I would never get lost and didn't need anything extra to carry or to depend on… Well, a friend highly recommended that I get one before one particular trip a few years back. Now, I am hooked on them! I currently have 3 new and different models bookmarked and keep trying to come up with a really good excuse to get a new one! Mine is a few years old and not color or anything, but it does have a compass and has been a life-saver and gives me the confidence to venture anywhere and know that I can find my way back to the truck. I never used to have a problem with my sense of direction, but am finding that is something I am losing. I have discovered that while hunting in flat country you can quickly become confused when you are getting into birds and suddenly you have no idea which direction is the way out. Keep an extra set of good batteries with you just in case!
Starbucks double-walled stainless steel travel mug.
Really, this mug makes me happy all-over. I received mine as a gift and have never been able to find another like it. I have never found a travel mug that keeps my coffee as warm for as long as this one does. Also, as long as the lid is closed nothing spills out. I have carried this everywhere over the past year. I love the size (I am no tea-cup coffee drinker). This one is something like 16 ounces. It does not have a handle and fits nicely in the cup holder in my truck and–bonus–it fits perfectly in the water bottle holder pocket of the Columbia jacket!
There you have it–my list of latest comforts. There are a few areas that I still need comfortable, but haven't found the item that fits that need, yet. For instance, I have yet to find a pair of gloves that I am very happy with. Nothing seems to suit the rigors of wet, cold, handling the e-collars, shells, check cords, etc. Anything I have tried gets wet or is too bulky or is absolutely worthless. So, for now, my hands are pretty uncomfortable and beat-up from checkcords, jaggers, etc. I'll keep looking for something to fit that need.
The other area I need to protect is my vision. I am also looking for a pair of shooting/sun glasses that I can stand to have on my face. It would be nice to keep sticks and such out of my eyes and protection in shooting, but I can't find something I like very much although I really haven't looked too much. It's a big investment/risk to make that purchase and then not like them! Any suggestions on that would be very much appreciated–and on the gloves, too!
Please feel free to share your favorite items as there are many more that I haven't even mentioned–favorite, must-have items for the dogs, your favorite gun, shells, collars, and more! Tell us about them!
–LML.