You Know You're in Trouble…
My mission is to help you have a healthier dog and breeders to raise healthier Llewellin Setters puppies through educational content based on over twenty years raising, training, and breeding Llewellin Setters. To help support these efforts, this page may contain affiliate links. I may earn a small commission for qualifying purchases at no cost to you.
I just had to share this:
You know you're in trouble –
When the setters are on the furniture and you're in a beanbag chair on the floor.
When your idea of a nice end table is a new crate.
When you choose floor coverings for their ability to hide mud and setter hair.
When you add another dog kennel instead of putting that new roof on the house.
When your choice of a vehicle depends on whether it suits the dogs.
When 'going out for lunch' means being in the dog yard with a sandwich in one hand and a pooper scooper in the other.
and…
If you want the best seat in the house…
move a dog.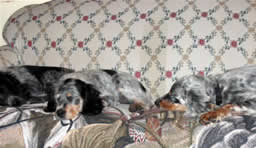 Boone, Midge, and Count on the sofa.
🙂
Happy Hunting this weekend!