Gift Ideas for the Upland Hunting Ladies in Your Life
My mission is to help you have a healthier dog and breeders to raise healthier Llewellin Setters puppies through educational content based on over twenty years raising, training, and breeding Llewellin Setters. To help support these efforts, this page may contain affiliate links. I may earn a small commission for qualifying purchases at no cost to you.
Is your wife, mom, sister, aunt, or daughter an upland hunter? Are you looking for a perfect gift? As a woman who hunts, I have some great suggestions no matter the gift-giving occasion, and with Mother's Day coming up, something here may spark an idea and make you the best gift-giver ever.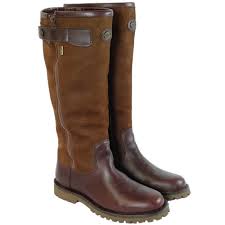 Upland Hunting Boots
A comfortable, waterproof boot is essential in the field. I can personally say Le Chameau makes the best. It's an investment in her feet that will outlast any other boot. My personal favorites for upland hunting are:
There are other Le Chameau Ladies Boots
that she may like as well. Everything made by Le Chameau receives rave reviews. The Chassiers and Jamesons are the two I can make a personal recommendations on, owning both myself. Read my review on boots here.
Schnees, Irish Setter
, Danner, and others make an upland hunting boot, but I am unaware of versions specific to women. I've worn men's versions all my life and they are usually fine, the sizing is just different. The basic rule is to subtract 1½ sizes from a women's normal shoe size for the men's equivalent. For example, I wear a size 8½-9 in Women's, which is a men's size 7-7½.
Upland Hunting Vests and Jackets
A comfortable upland hunting vest or jacket is essential. There are not a lot of choices for women, but they are getting better. Here are a few suggestions: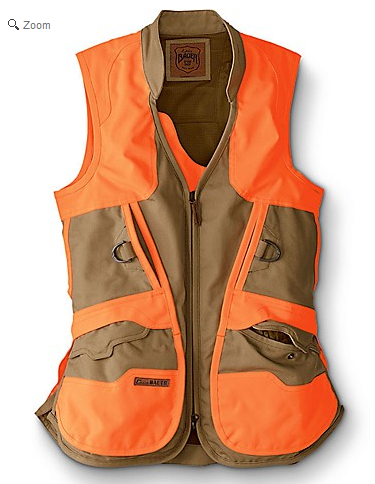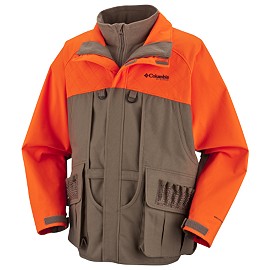 The Columbia Ptarmigan II is my personal upland jacket. I absolutely love it. It has lasted several years and hundreds of days of abuse in the field and I can't imagine life without it. I will be getting another one as soon as I can because it seems everything I love gets discontinued. There isn't a women's version, but the men's should suit most women just fine–just be mindful of the sizing.
The D-rings are essential for tying a lanyard, securing e-collar controllers, gps, etc. I did notice the newer version of this jacket has just one D-ring, but they've added a small zippered pocket on the left where the other D-ring was. That would be very handy for a cell phone, license, ID, etc. The lined game pouch unzips and lays flat for easy cleaning and I've also used it as a seat cover! I love the dual water bottle sleeves (pockets) on the rear sides that perfectly hold a water bottle for quick/easy access, but holds it securely.
There are underarm zippers for warmer weather ventilation. Made with Omni-Shield water-repellent technology. The sleeves have Velcro allowing for a tighter fit at the cuff if desired. Mine did not come with the fleece zip-in liner, but I have easily added one in colder temperatures.
Eddie Bauer has a nice collection of women's sporting clothing.
And then, there is of course, every item Filson sells! I have tried some other manufacturers "women's" upland pants, shirts, etc. They rarely come out of the closet. More than anything, I wear a lot of the "Omni" gear—shirts and cargo or hiking pants—by Columbia and depend highly on a great pair of chaps to protect my legs from the brush and to keep dry from rain or the morning dew. The bonus of wearing chaps is that when you take them off, the pants are still clean and dry. I have several pairs of chaps—lightweight, insulated/lined, etc.—to cover all the seasons and weather. It's one of the best investments I've made. Of course, Filson's Tin Cloth Chaps are the ultimate.
More Great Ideas:
A day at the shooting range

. Sporting clay shooting is a blast and the closest thing to practicing for upland shooting. I gave this for Father's Day one year and all the guys got hooked, joined the club, and were shooting all the time–it is addicting! Caveman and I even got hitched at the Sporting Clays club in front of the 5-stand. 🙂
Her own shotgun—and let her pick it

! You can certainly

help

her pick one, give advice for fit, etc., but in the end, it's her choice! I borrowed everyone else's shotguns for years. It wasn't until I finally had my very own that I felt confident and could really start shooting well. To get started for upland birds, I would suggest a 20

gauge

over and under or side by side. My dream gun is the Browning Citori Feather Lightning, but my Stoeger has stood the test of thousands of rounds and some nice shots and I'm not afraid to drag it through the grouse woods!
Ammo for her gun

. You can never have too much ammo.

Leatherman Multi-tool

/Swiss Army Knife. I have one my son got me years and years ago. It is always in my hunting jacket and has come in handy more times than I can count.

Rain gear. Nothing can ruin a hunting trip like a week of rain, but with the right clothing like the Le Chameua boots and a good rain suit, she can hunt in all weather.
High quality merino wool socks! Don't laugh, she will love them! I have to tell you I absolutely love getting a new pair of cushy, comfortable, dreamy merino (or alpaca) wool socks!
Mophie Juice Pack. This is a cell phone case with an extra built-in battery that extends your cell phone's battery life. This is one of my very favorite items. When I'm hunting a new area, which is most of the time, I use Google Earth on my phone to track myself through around a cut, etc. I love being able to see exactly where I am, plan, and track how I working an area, etc. Yes, most GPS units have great topo maps, but with Google Earth on my phone, I can see the aerial view and exactly what is ahead. I also always have Google Latitude enabled in the event I am injured and do not make it back to the truck, the people I have shared my location with can see where I am. Both of these applications significantly drain the battery life of the phone. A cell phone case with an integrated extended battery gets me through with confidence. There are a few manufactures and the Mophie Juice Pack is the best for me. Mophie has different versions for most Apple devices, the HTC One, and Samsung Galaxy, as well as external solutions for other smartphones and devices. There is even the "Mophie Juice Pack Reserve" on a key ring. Check out all the options and colors on Amazon.
Gear Bag/Luggage. Quality gear bags are a must-have item, rather it's for the dog gear, first aid, or a gorgeous leather duffel for an upland hunting trip. You can't go wrong with a quality leather bag. Check out Saddleback Leather for the ultimate bags with 100 year warranties, Duluth Pack, Duluth Trading, and Filson.

Luxury Saddleback Leather Duffel Bag

Art prints, sculptures. Maybe she isn't the freak I am, but I go ga-ga over setter prints, grouse, and quail prints for my home.
Books. Hunting, dog training, gardening, travel, or romance ::ewe:: whatever her interest, there is a book for her.
Lanyard. A beautiful leather lanyard to hold a whistle, bird counter, etc.
Journals. How about a "Rite in the Rain" journal so she can record all her adventures!
Upland Hunting Magazine Subscriptions: Give the gift that gives all year! Some favorites of upland hunters are:
A hunt or membership at a local hunting preserve. Buy her a hunt at a local (or faraway) hunting preserve. Let her take friends and the dog(s) and have a blast! You could also buy her a "training package" that includes a certain number of birds (go for chukar or quail). She can take the dog to work on her own, all by herself. This is especially great for those a little new to the game. They don't feel pressured or embarrassed (if they miss a shot). It is a great confidence builder. Ask your local preserve/training club.
Memberships. Give her a new or extend an existing membership to her favorite hunting/conservation organization. There is no better time to show our support for out hunting heritage, upland hunting habitat, and future rights. A few ideas are:
Self protection and/or handgun class.
Camera, GPS, Garmin Alpha Collar system!
Still stumped? Not sure about sizes? I don't think she would mind an Amazon.com Gift Card
that she can use to get exactly what she wants! Amazon sells everything and she may already have an Amazon Wish List. Enter the name or email in the box "Find someone's Wish List" at this link.
iTunes Gift Cards
are also great. She can buy her favorite books, movies, music, apps for her iPhone or iPad that can make everything she does easier or more fun.
And remember, money can't buy everything. Detail her vehicle. Cook her dinner. Spend time together. Just spend a day, or even an afternoon, doing something she loves will mean more to her than anything you can buy. One of my favorite things the kids and I used to do (when we were in the same state!) was to go for a Mother's Day hike in the Laurel Mountains. I would give just about anything to do that again… just walking with my kids, talking, laughing, catching up, enjoying the woods. No appointments. No rush. Just us in the great outdoors.
I hope I've helped you with some gift ideas for the upland hunting ladies in your life.
Comment below to add your suggestions.
-LML