My mission is to help you have a healthier dog and breeders to raise healthier Llewellin Setters puppies through educational content based on over twenty years raising, training, and breeding Llewellin Setters. To help support these efforts, this page may contain affiliate links. I may earn a small commission for qualifying purchases at no cost to you.
I have no idea why it seems I don't talk more about this dog, Boone (as in Daniel Boone). This dog has been a joy since his birth in 2007. He is out of our lovely Shay and Luke and brother (full litter-mate) to Maddie (the beautiful, bold, stylish chestnut), Midge (my right-hand tri-color, twin-of-Luke, grouse queen), Count (the sassy, high-strutting, beauty), and Blue (a magnificent, stylish, bird-machine). He is a complete joy to me–just like the rest of his litter-mates–and has it all. To me, that means that he first is built well (excellent conformation to carry himself gracefully and without effort), excellent drive and stamina, is very intelligent, incredible bird sense and instincts. Second, the personality and demeanor to be loyal, trust-worthy, work for me, and take training easily. He has it all.
Boone handles beautifully and I rarely have to "handle" him at all. We click and by now he knows his job and performs it very well.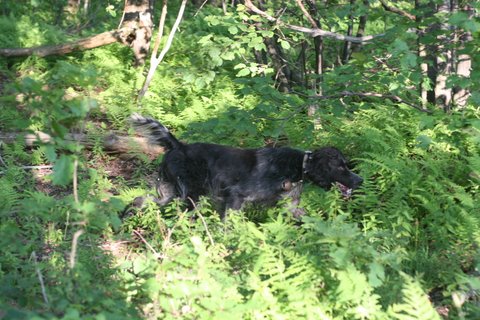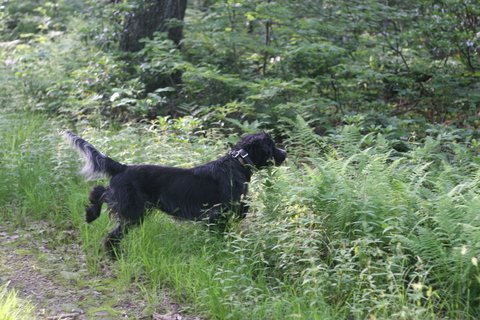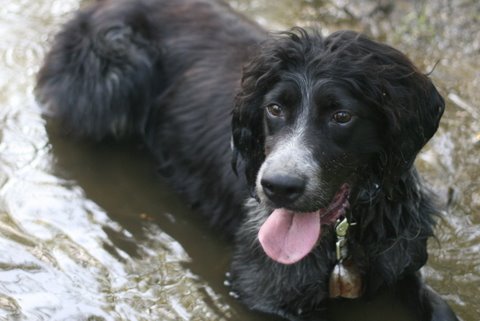 I trimmed his ears rather short, here (sorry about the bad grooming-job, Boone). I think Boone is beautiful.I love his coat (shiny black with a red-tint), his head, his curly top-knot, his build, his elegance. I love this dog.

I know, I say that about a lot of dogs. I actually only say it about the ones I talk about.
I am thrilled to say that I finally have a good match for him and he will sire a fantastic litter this winter. 🙂