My mission is to help you have a healthier dog and breeders to raise healthier Llewellin Setters puppies through educational content based on over twenty years raising, training, and breeding Llewellin Setters. To help support these efforts, this page may contain affiliate links. I may earn a small commission for qualifying purchases at no cost to you.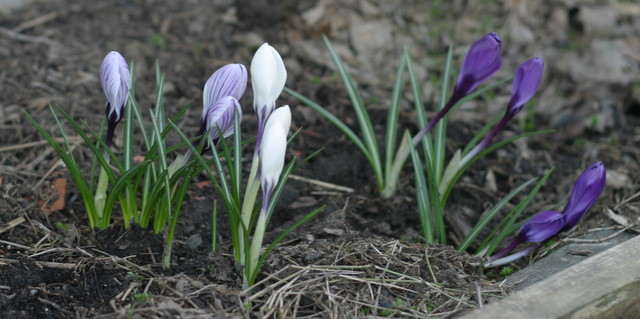 We have enjoyed a wonderful stretch of weather in southwestern PA. The snow has (mostly) melted revealing dirt, mud, litter (where does this come from?), and all the remains of projects left undone. What a mess! We have a lot of work to do around here.
And the clean up outside is not the only work to be done–in seemingly a blink of an eye, 2 months have gone by and there hasn't been much work with the dogs! I absolutely love winter and for whatever reason can tolerate cold (just add more clothes, right?) much better than I can temperatures much above 70 degrees. I go into hibernation in the summer! Anyway, I am facing the reality that such a wonderful winter provided too much (I can't believe I am saying it) snow to work the dogs. It was pretty much impossible to walk very far in it or work the dogs much–if at all.
This was the first winter I've had dogs outside in kennels, besides Brier who has always preferred being outside. They have fairly nice kennels under the deck that i keep filled with several inches of straw. I may be wrong, but I just can't stand the thought of my dogs on cold concrete and what they would feel like or do to their joints and bones. The dogs that were outside seemed quite happy and content with the set up. After being let out twice daily, they would eagerly return to their cushy kennels!
One thing I am realizing I mistakenly did, though, is over-feed. The boys are looking plump and not in their best physical condition. In my attempt to be certain they had enough food to generate and maintain body heat, I obviously over fed. They are not alone, as I am in desperate need of shedding my winter fat as well!
So, finally, I escaped the captivity of my desk chair this afternoon early enough to get all of the dogs fed, out for a run in the yard, and Steele and I headed out to the little family farm for a good run before dark–and now that the clocks were moved ahead, we had enough daylight to pull it off. My gosh, how wonderful it felt to get back into the swing of things. There is not much I love more than working my Llewellins! Steele was in powerhouse mode and made quick work of covering the now coverless fields and woods line. He caught wiff of something that had him thundering into the brush thickets. He worked that over then continued on his quest up the other edge. He quickly covered the steep hillside checking out the multiflora rose patches and blow-downs. He is a powerhouse — unbelievable strength and power. He worked that hill–that I can barely climb up without using trees to pull myself up and not slide back down–like it was nothing. In no time, he was at the top and working the upper field. I just watched in awe this magnificent creature work and cover ground effortlessly.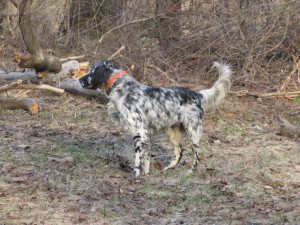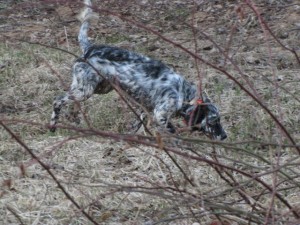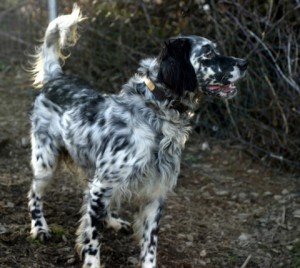 We had a great time and I can't wait until tomorrow and to get back into our regular working routine. Ahhh… I missed it. We returned home and all the other dogs were obviously hoping they would be the next to go… tomorrow, darlings, tomorrow…
Well, here we are just over two weeks until Jenna and Steele's puppies arrive! I am so excited for this litter. It seems practically impossible to think we could top any of our previous breedings, and I am not saying this is better–but this breeding is different. Each pairing is different, of course, and with each we aim to bring the very best traits of both sire and dam and their ancestors together. All our pups have been very driven, bright, agile, excellent noses and bird sense, with wonderful personalities, and quite good-looking. Sometimes a bit hard-headed and sometimes a bit too prey driven (which I don't really believe a Llew can be too driven, but this can pose a problem if they are so driven to hunt they take to doing so without their owner!). You have to know how to handle the drive and provide them with plenty of opportunity to hunt with you and for you… but i am getting off subject here. This pairing will produce without a doubt, pups with excellent conformation. Jenna and Steele–and their ancestors–have beautiful conformation: great blocky heads (which I personally love), powerful thighs, deep rib cage, nice compact feet, beautifully low-set ears, high-set tails… all things I personally like. They both have excellent noses, boldness, bidability, intelligence, lovely flowing gaits, and drive. I personally like there size as well–being on the medium to larger end of the spectrum as far as Llewellins go.
Jenna looks obviously full of puppies. She wants outside with more and more frequency and is waking me up at night to go out. She is very clingy right now and doesn't want to go out along with the other adult dogs. She is fine to go out alone or even with the remaining pups, but she will not go out with any of the adult dogs–not even her buddies, Midge and Santana. I have started bringing her downstairs with me at night. She'll just wake me to go out instead of barking in her crate and waking up the whole house. Poor girl. I really feel for these gals in the last weeks before delivery.
The remaining pups have been having a blast in the nice weather. They love to romp and play and explore the property. They are stalking and pointing tweetie birds and generally having a ball being ornery pups. They then find a sunny spot on the deck and have a nice nap. Rizzi, Ben, and Remi are the nicest boys–just wonderful personalities, smart, beautiful… They have had their 3rd-round of shots this week, including rabies and the third vet exam (actually it is the fourth, counting the dew-claw removal at 3 days old).
I hear a nasty rumor that the weather will be returning to cold for a while, which is fine with me I just hope the rain stays away for a bit. We have lots and lots of work to do with the dogs, the property, the house–you know all about it, I am sure. I would love to get most of the yard and house work done before Jenna's puppies arrive in two weeks! YIKES!
I suppose I better stop using the whelping box as my filing cabinet and get the taxes done! There are just not enough hours in a day anymore. Do you feel like someone is secretly stealing time from us while we are sleeping?