Update on Griffin and Rossi
My mission is to help you have a healthier dog and breeders to raise healthier Llewellin Setters puppies through educational content based on over twenty years raising, training, and breeding Llewellin Setters. To help support these efforts, this page may contain affiliate links. I may earn a small commission for qualifying purchases at no cost to you.
Griffin and Rossi left this past week. It is so strange here with the pups leaving one by one!
Rossi is now, Louie and living near Pittsburgh, PA. I always worry about the first few days and how the adjust goes for them. Louie's new owners report: "Louie is such a great dog. We just started to teach him to fetch and already knows here and sit." They sent this photo.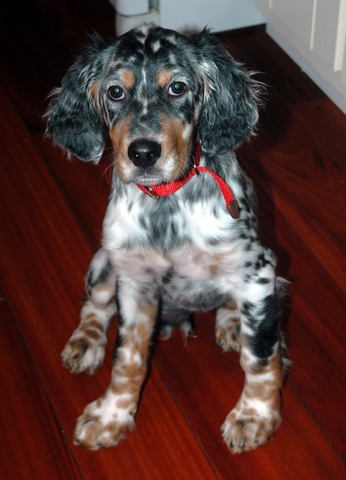 Griffin flew off Saturday morning from Pittsburgh to his new home in New Hampshire. His new owners report, "He's doing extremely well. I have to say I've not come across a more well-adjusted pup in my lifetime. Bold, playful, and willful yet nothing seems to get him nervous."
Hooray! I am so thrilled–it is really what we strive for so that when a pup leaves, he is well adjusted and able to easily adapt. We also love bold–there is nothing better. Besides the conformation, instinct, intelligence, desire to hunt and be with you, we think excellent beginnings help bring out what has been bred in.
We have the absolutely beautiful and talented Ben, Rizzi, and Remi remaining and Jenna's litter on the way in just 3 weeks! My gosh, time flies. Speaking of time–it took me 2 days to realize the time had changed! With computers, clocks, and cell phones that automatically update to Daylight Saving Time–I didn't even notice until looking at the calendar today!!! OH my.
Take care and hug your Llewellin.
–LML.