Puppy Update: September 2, 2019
My mission is to help you have a healthier dog and breeders to raise healthier Llewellin Setters puppies through educational content based on over twenty years raising, training, and breeding Llewellin Setters. To help support these efforts, this page may contain affiliate links. I may earn a small commission for qualifying purchases at no cost to you.
Hello All!
Things are hopping here with sooo much fun with the puppies! It is hard to believe Gale and Hazel's puppies are going to be 7 weeks old this week. They are doing fantastic and are busting out and quickly out-growing the space here! They want to explore and learn and go, go, go.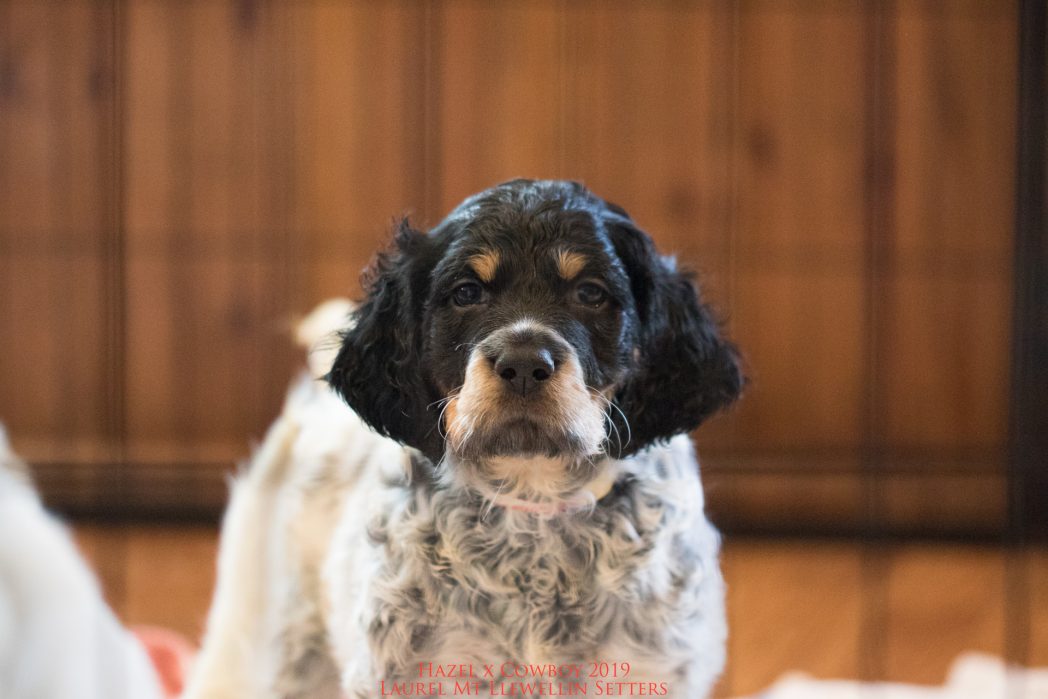 I have been moving them to the living room for day time play so they get to be around the older dogs, television, kitchen noises, etc. I have been putting Gale's two darlings–Fred & Ginger–in with Hazel's pups to play for a few hours a day. Gale isn't too happy about it and will finally carry on and bug me enough that I return Fred and Ginger to their "room" with her and she won't want out of the room the rest of the day. She's an amazing, sweet, gentle momma for the machine that she is in the field.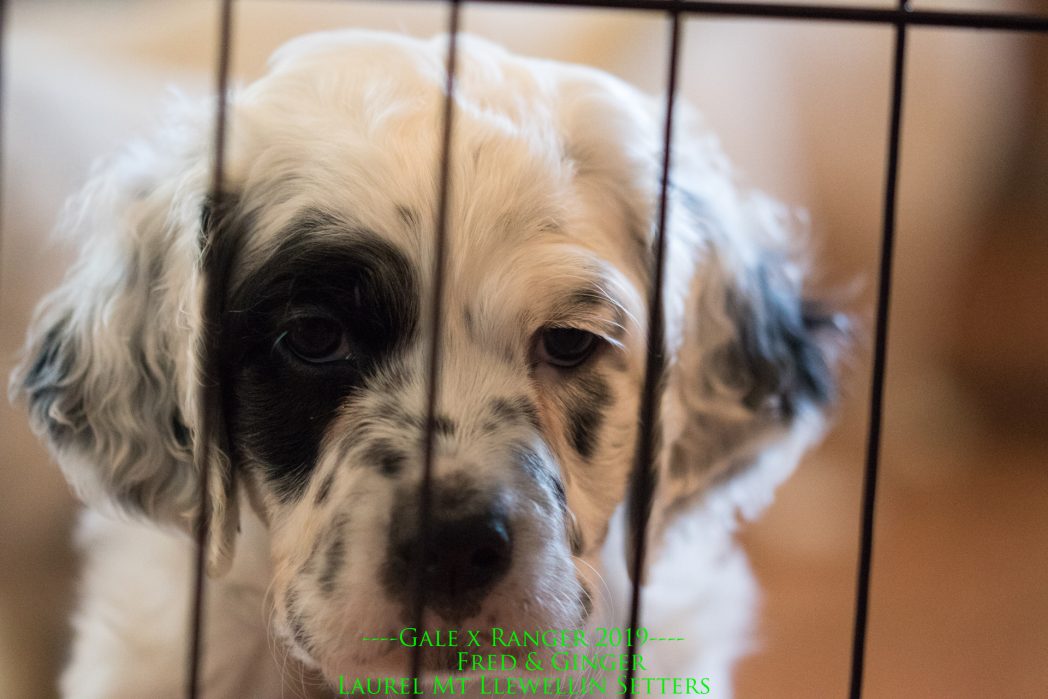 In the afternoon, I put Hazel's pups back in their room and clean and disinfect everything, get fresh towels, blankets, and toys out and put Kit's pups in the living room playpen while I clean their "room." The washer and dryer run all.day.long and so do I. 🙂 It's non-stop switching, cleaning up, feeding, cleaning up… by 9:30 at night I am ready to drop. It's good. It feels amazing to get to bring up pups again. By the way, if you are looking for an amazing disinfectant for your pet areas, I can't say enough good things about Virkon S. It smells great, cleans great and is very, very reasonably priced.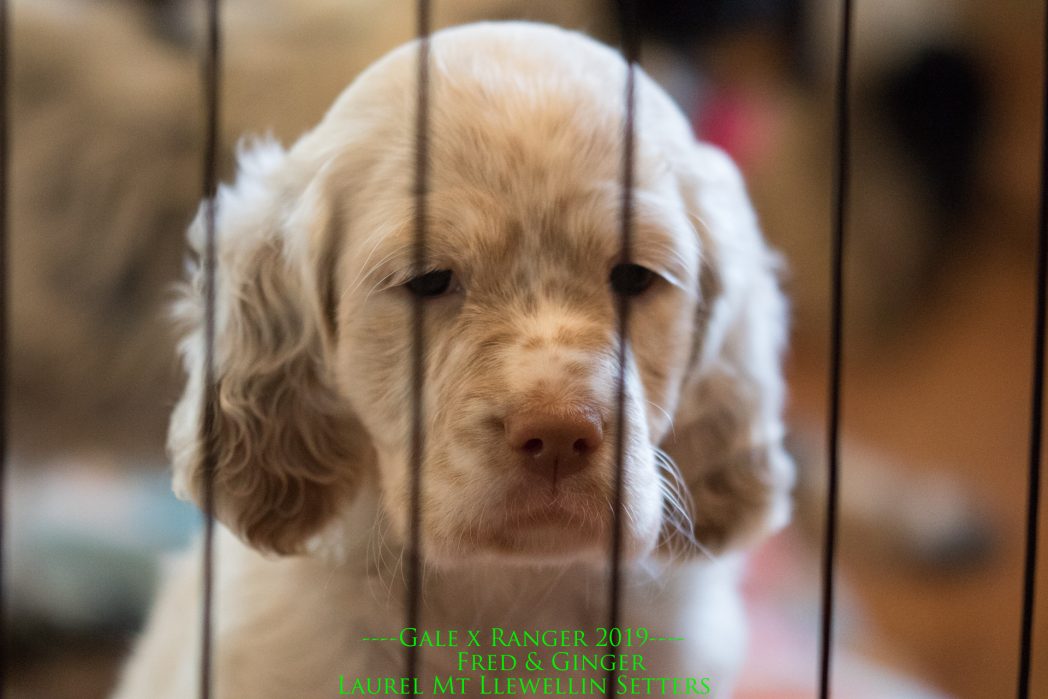 It was time to let the picking begin and I'm thrilled that Ginger baby will be going to live a grand life in Nova Scotia. Lucky girl!
I must say that I love the new puppy pens! Although, I don't like taking pictures through them, I do love the versatility and portability of them. I can make it bigger or smaller by removing or adding sections. I can even move the pen slightly when a pup "goes" so I can clean it up quickly without trying to get in the pen. Because when I go in to clean it up, the pups are jumping in it and grabbing the paper towels, etc. It is fantastic to just move the pen so the accident is now on the outside and I get in cleaned up quickly. I have to get a few more to make the play area larger. Check it out–one or two might come in really handy for your pup!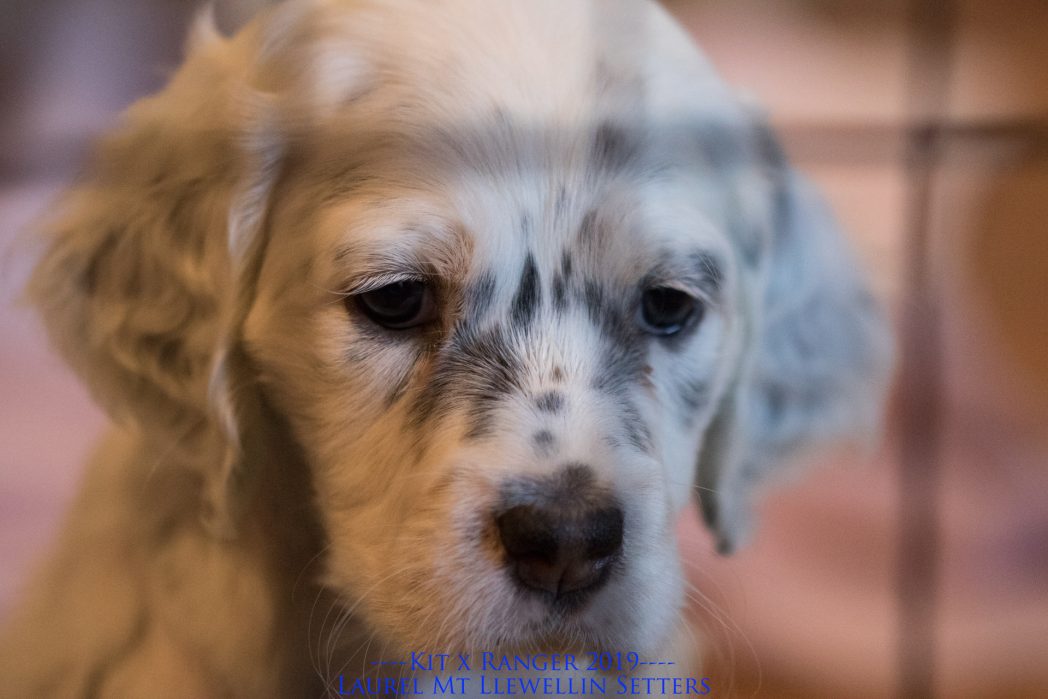 I've introduced a crate over the past few weeks. The pups basically just chew on it. Some are napping in it. The other night I peeked in to find all Hazel's pups sleeping behind the crate. All six of them piled on top of one another behind the crate. Okay. We have to work on that! Gale and Hazel's pups will start leaving in about 10 days, so I will be doing all I can to get them ready for flying. This will involve a lot more crate time, taking them for rides, more noise, etc.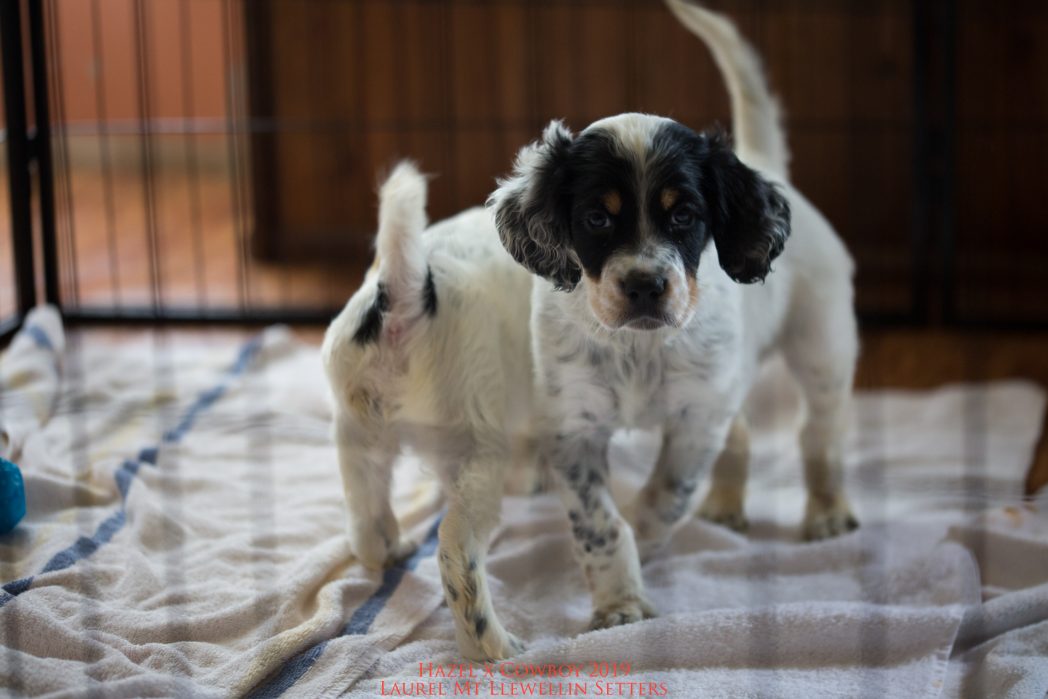 All the pups are eating 3x a day. They are being rotated on kibble (boo, I know, but we can't feed raw at this time), with some canned puppy and they get a few cans of sardines every day.
Well, that's all for tonight. I hope all that can be where the upland season has started are hunting! I can't believe it is here already. I'd love to be in the Northwoods writing this, but I'm not. So, I'll have to live through all of your adventures and hunts. Please share! And be safe, be wise, and have a wonderful adventure with your bird dog!
Don't forget to check out all the photos and videos on the Flickr area.
Don't forget to hug your Llewellin Setter tonight.
Love,
M.
Handy links for those that need to order supplies to get ready for their pup or to order to ship to me to fly their pup:
Recommended crate (The 22″ for flying an 8-12 week old puppy).
Recommended crate cups (must have two)
Crate Pad (22″ to match the crate size)