Kea x Ranger 2016 Puppies Have Arrived
My mission is to help you have a healthier dog and breeders to raise healthier Llewellin Setters puppies through educational content based on over twenty years raising, training, and breeding Llewellin Setters. To help support these efforts, this page may contain affiliate links. I may earn a small commission for qualifying purchases at no cost to you.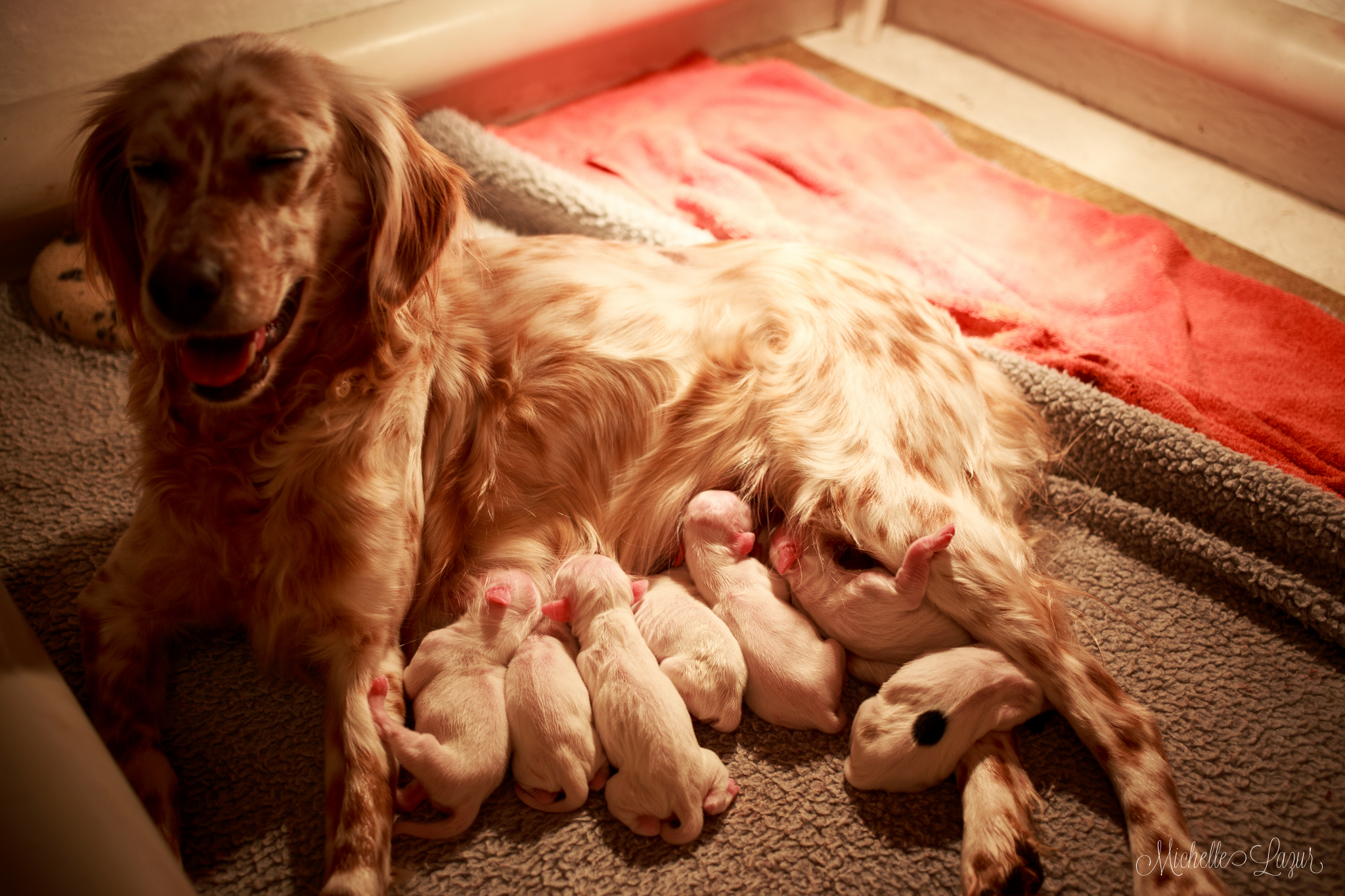 Kea whelped 9 puppies overnight. One, the very last, was stillborn, so we have 8 beautiful puppies–5 females and 3 males (all are reserved). Kea had a seemingly relatively easy delivery with all of the pups except the last two. I mentioned in one of the videos that she has such easy deliveries. The last two puppies, however, she really worked at and I think by this point, she was exhausted. It had been two hours since #7 was born and for about 20 minutes she was pushing. So, I gave her a little boost of energy formula and took her for a little walk outside to get things moving again. I was worried a pup was stuck because the pushing was not presenting a pup. Finally, the last two puppies were actually delivered together. Ugh. But, one was not to be saved even after revival efforts of my own that sometimes work. 🙁
The pups have excellent weights for such a little momma, like Kea, and for so many puppies. All are looking good so far. It's 4:30 AM and my job now is to make sure they stay warm, but not overly warm, and that they don't get laid on until they are big enough to get out from under Mom, if they do. With all these puppies, I don't know how a momma can get in and out of the box and do her job without it happening. And, the first several days it's pretty much all I do around the clock is try to make sure this doesn't happen. It does happen and I am here to get them out. It's scary and pretty much constant. Even with the pig-rails, the mother can just shift her position slightly and end up laying on a puppy.
In the mix is Gale with her puppies in the same room–separated by a panel and sheets draped over for privacy–and neither Gale or Kea is happy about it. Both are concerned when they hear the other pups squealing. So Gale is frantic and wants to see what is going on with squealing puppies she can't see. And Kea is the same.
At times I really miss the other place that had two separate "puppy rooms" with the kitchen between. It was awesome, really. But, I've done this before here and after a week or so everyone relaxes a bit and stops growling at each other. This is one area dogs are certainly nothing like humans. No matter how good they got along before puppies, they are not going to when it comes to being in proximity to their new puppies. Nope.
So, anyway, say a prayer for all of the puppies to make it through the critical next few days. We appreciate it. And, please try to get hooked up on Periscope (download the app via iTunes or Google Play and follow us @laurelllewellins) to watch the live updates. I'm hearing from lots of people that they love it! I am posting the whelping broadcasts here, but am not certain if this will work out for long or if I'll be able to keep up with posting them here daily. I'll have to see if the bandwidth shuts down my account! If it doesn't work here, I'll try to upload them to the Flicker area. But the best way to get the daily updates is to get on Periscope! Seriously, it's quite fun!
So, hug your Llewellin Setter tonight.
-M.