Picking Puppies and a Little Poll-Contest…
My mission is to help you have a healthier dog and breeders to raise healthier Llewellin Setters puppies through educational content based on over twenty years raising, training, and breeding Llewellin Setters. To help support these efforts, this page may contain affiliate links. I may earn a small commission for qualifying purchases at no cost to you.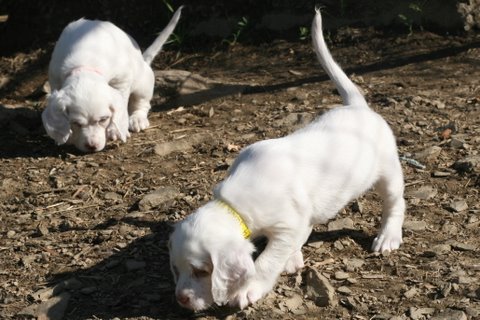 Everyone is becoming very excited and anxious to start picking their pups! I can't blame them at all. It is a very exciting time. I thought I would have a little poll-contest thing to see what everyone's favorite pups are. See the bottom of this post for more information.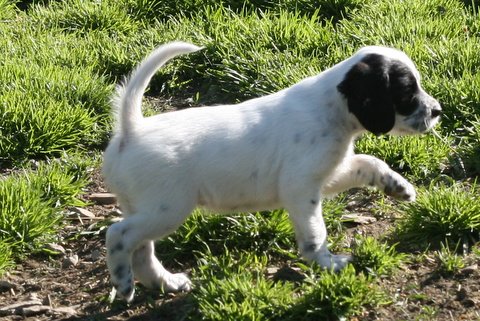 The pups turn 6-weeks-old this Friday, May 14th. The veterinarian will give them a physical and their first shots. We will then let the first picks (male and female) know which pups are available and they get about 2-3 days to make their decision. Then, we will notify the next in line as to which pups they have to choose from and so on and so forth. It usually goes rather quickly with each person already having in mind which pup(s) they prefer. And, I just can't imagine anyone not being happy with any one of these pups. I don't care who you are. If you can't like a pup in this batch, their is something not right with your head. 🙂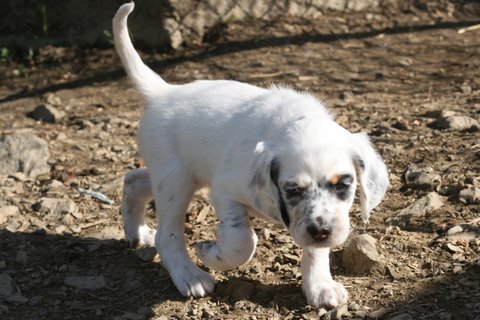 I will be making notes on personality and taking as many photos as possible (although I hear it is to be a very rainy week). I like photos of pups outside much better than the ones taken inside. I can also assist and answer any questions about any pup to help with the decision.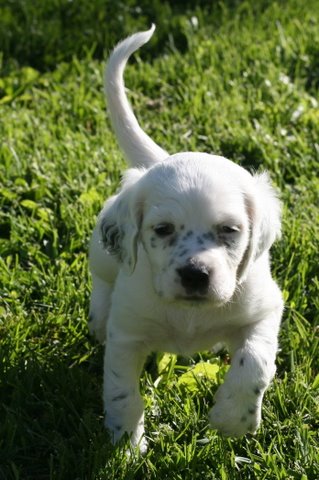 What I can say is that this is a very even litter. All pups have lovely temperaments and personalities. All love people and come running to play. All are bold, ornery, and curious. All move very nicely–gracefully–are built very well with beautiful heads, tail-sets, ears-sets, good strong thighs, etc. All are intelligent and learn very quickly. All are flash-pointing one-another. I think we will get the wing out later in the week and have some fun with that. But, it won't change my mind about any of the pups. I honestly don't put too much into flipping a wing around at this age. It's fun, and can be impressive to potential owners, but it's not everything! My very best bird dogs had no interest at all in sight-pointing a wing.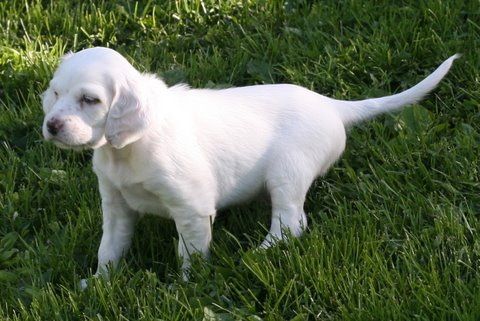 So, what can I say about these pups? Well, let's see…I think Mali is the pup that is most like Jenna. She seems to have Jenna's coat, attitude, etc., and acts so much the way Jenna did as a pup. Tori and Catalina are most like Steele. Both will be forces to reckon with! So much fun, so ornery, so curious, and very affectionate.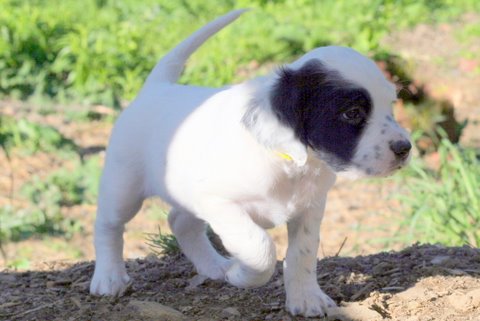 Bee, oh my gosh, Bee–what a hoot she is! She just has that look about her, you know? Someone said she looks like she is mad at the world all the time! But, she is not at all and is quite a lover. I can't at all decide who she is more like, but I am leaning toward saying Bee is more like Steele. Bee, Nova and Mali are a lot alike. Bee and Mali are vocal when they want attention from me or Jenna. Nova just takes what she wants. lol. Do you know what I mean? Bee and Mali are more girls about it. (I know I will get comments from that one).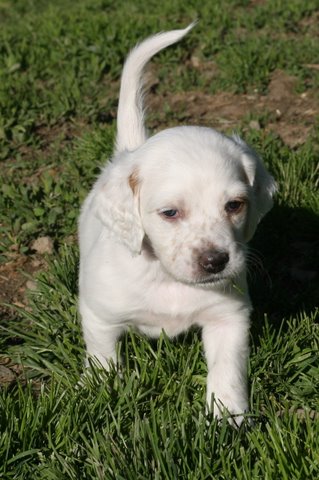 The boys are all magnificent creatures. They are lovely with wonderful heads, builds, attitudes. I love everyone of these pups. Rambler is the largest, currently. He barely has any ticking, but the orange is coming out little by little. Cougar is a doll–he is so handsome, isn't he? Dart and Rebel, gosh, I don't know what to say. Rebel is right in the middle–not the smallest or the largest. He is friendly, bold, smart and curious. Dart is a wee-bit more reserved, but I am sure because I said that, he'll do something tonight or over the next few days to completely change my mind about that. He was "hunting" the yard yesterday very nicely. They ALL use their noses to investigate everything around them. I really like males. I don't know why, exactly, but I am always drawn to their personalities, looks, attitudes. I just love them and I like everyone of these boys and could not pick one. It would be picking on looks and everyone would be attracted to what they like best.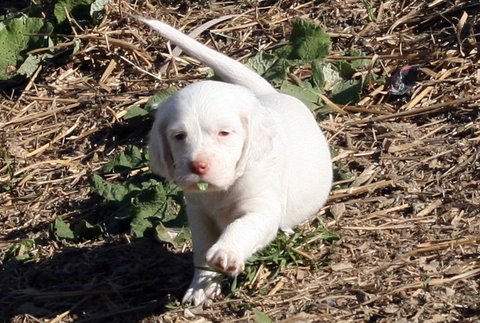 I brought a live pigeon in yesterday. I just held the pigeon, not letting it loose. The pups were all sleeping, but woke up curious about the new scent. They were very eager to have a taste, smell, etc. and were quite excited about this bird. Most of the pups followed me outside with it where I sat the pigeon on the step and it flew off. They were very excited as it flew off and they watched it land on a branch of a tree right on the other side of the fence. They went crazy crying and crying and watching the bird the whole time. That was quite fun! I wasn't able to get photos of it (I had the bird in my hands), but it was a blast to watch the instincts of 5-week old pups being awakened.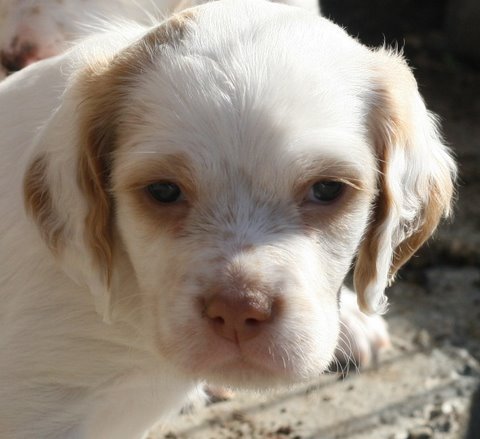 Little "Picking" Poll
I am curious…what pup do you fancy and most importantly, why? Just wondering. Comment below. I realize this will be based on looks and my comments about each, but would love to know who you would pick and why. Have a look at the puppy page, here. Be sure to click on each puppies name to go to their individual pages for all the photos of each. I will be adding more comments as I can.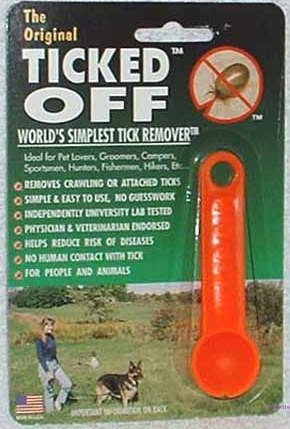 I will give a prize, a "ticked-off" tick removal tool (because I think they are fabulous and everyone should have one attached to their whistle lanyard), to five random participants. Again, it will be random and have nothing to do with your response. But, you have to respond with the pup's name and why you would choose it. All responses must be received by Friday, April 14th, 8:00 a.m. I will announce the random winners Friday evening/Saturday morning.
Good Luck! It might be a small thing, but a great little prize!