PA Rivers Litter (Santana & Count) Three Weeks Old
My mission is to help you have a healthier dog and breeders to raise healthier Llewellin Setters puppies through educational content based on over twenty years raising, training, and breeding Llewellin Setters. To help support these efforts, this page may contain affiliate links. I may earn a small commission for qualifying purchases at no cost to you.
The PA Rivers puppies are now three-weeks old. They get cuter every minute and personalities are starting to emerge. They have had several nail-trims, a deworming, and are now eating puppy mash. They absolutely love it and devour it quickly. Santana seems very relieved by this! Some litters of puppies do not take to the mash right away and I usually offer it just once per day for the first few days. This lot loves it and just after one day, I've gone to offering it to them twice a day.
They are getting teeth and are taking to playing with a few toys, but mostly they prefer to gnaw on each other. Play is starting and they are becoming very curious and want out of the box. I awake each morning to one or more crying and come downstairs to find a few out of the box and either snuggled up with Santana, one sleeping in the doggy bed, or one wanting back in the box. There is nothing in this room they can get into or get hurt by. I had the second slat in the whelping box, but forgot that Santana is not a jumper and will not jump over the higher slat into the box. I had to remove it for her. Soon, I'll remove the other slat, too and they can begin going in and out of the box as they please and even begin using the crate.
If the mosquitos ever die off, I'll be able to start leaving the door open a bit so they can start going out onto the deck to explore and do their business–here is hoping!
They now have their ID collars on so those watching the puppy cam can tell the pups apart. The boys do not have collars on as I do not have 9 different colored collars–there are just 6 actually–so figured this would work out okay for now.
The colors are:
Girls:
Hanna (White/Orange) – Green collar
Alle (Blue Belton)- Orange collar
Genesee (White/Black) – Red collar
June (White/Black) – White collar
Loya (Belton–I think a chestnut)- Blue collar
Laurel (White/Orange) – Yellow collar
Brandy (White/Chestnut) – Green collar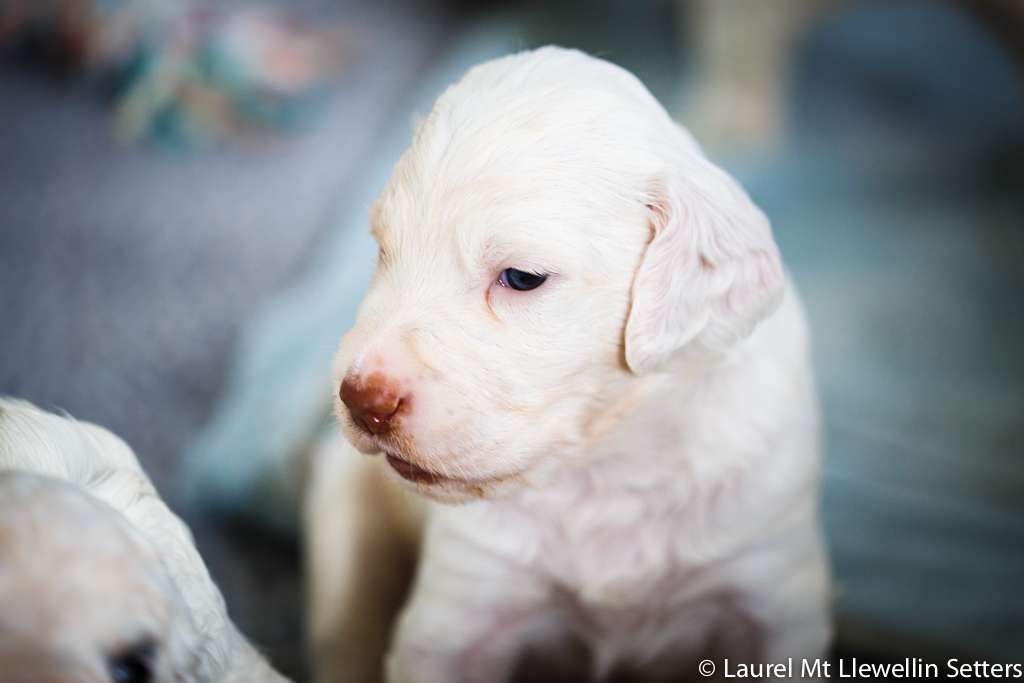 There are a few more photos on the Flickr area. Hope you are enjoying the puppy cam.
Oh, and yes, as it is the very slow summer, there are still two reservations available for females. Of course, I do not know what girls that will be until the picking begins at 6-weeks of age. This is a great chance at a female puppy as having 7 in one litter is very rare lately. More info can be found on our puppy page, if you like.
Have a great day!
Hug your Llewellin Setter. 🙂
M.