My mission is to help you have a healthier dog and breeders to raise healthier Llewellin Setters puppies through educational content based on over twenty years raising, training, and breeding Llewellin Setters. To help support these efforts, this page may contain affiliate links. I may earn a small commission for qualifying purchases at no cost to you.
The dogs are going insane to get out and hunt–not just get out, they do that everyday, but to get out and hunt something other than the pigeons.
One gal in particular, my Midge, just is not happy if she's not hunting. She had enough of seeing me go out the door with Ranger, Kohl, Dora, Santana, Torri, Jess… nope, she had enough. She howls and howls and when she gets out, will stand in front of the gate or in the house, will stand in front of the door. She's usually well-behaved, but when she's had enough waiting, she has even gone as far as jumping up on tables, grabbing a lead, and then will stand in front of the door with it! If the ATV is anywhere she can get to it, she will sit on top of it waiting to go. She is really something else.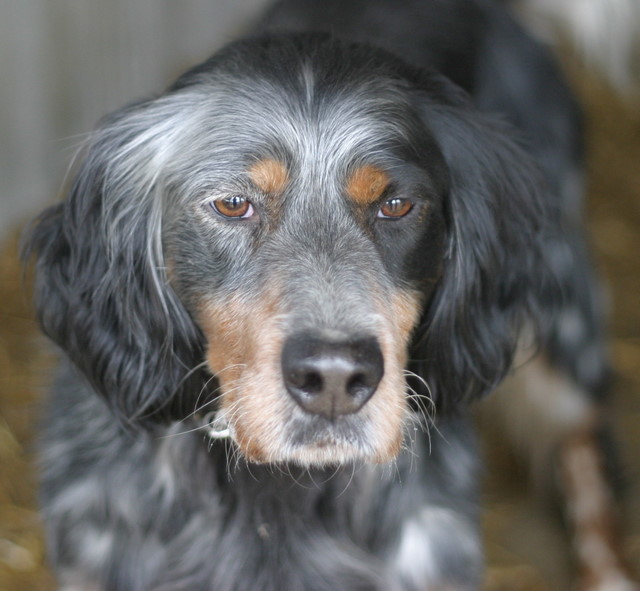 Midge is my favorite grouse dog–well, favorite any upland bird dog. Next to her sire, Luke (pictured above–Luke and Midge are practically twins in markings and coloration) and her momma, Shay, and her sister, Maddie, Midge is my go-to dog and my buddy. Now, please do not misunderstand, I love every single one of my dogs and love to hunt over everyone of them. But, sometimes it is easier to hunt with some of the older dogs–they have more experience–I don't have to wear a collar (I wear a dummy collar on them a lot, though) on them, I know where they are, I trust them completely. And, I'll get that way with all of my dogs. I've just had more time in the field with some.
But Midge and I had a special connection ever since she came back to us just a few days after being sold. The older female Chessie's (or labs–can't remember for sure) wouldn't take to her at all, so she came back. She spent weeks on my lap while I worked. In fact, she still tries to do that. And I even let her for short spells.
Anyway, so she has been going insane. She cries and howls when she sees my hunting jacket. Scott finally said this morning he was taking Midge out for a run.
They had a grand time–and even put up some grouse. Scott said he heard two drumming and Midge worked one for quite a while and slammed on point. Scott could hardly get into the thick jaggers and multiflora rose (he didn't have chaps on) in a clearcut they were working. After some doing, the grouse went thundering out the other side. they went on for a while and she slammed another.
So Midge is a little more content this evening–but still raring to go again. She is something else, this one. So, I get asked all the time when we are going to breed her. I just don't know if I am going to. Midge is the most loyal girl and she has everything I love in a grouse dog–but I don't know how many folks could handle a bunch of little Midge puppies and their energy and stamina. Midge is also a little too small (in my opinion) for breeding. She is all of 35 lbs and a very agile, driven, hunting machine! She has perfect range for my tastes, and an excellent nose. She is super-smart, too. All wonderful and all that I love–but again, small and high-strung and I don't know how many could handle that!