Addie and Ike Puppy Contest: Guess the Whelp Date and Number of Puppies
My mission is to help you have a healthier dog and breeders to raise healthier Llewellin Setters puppies through educational content based on over twenty years raising, training, and breeding Llewellin Setters. To help support these efforts, this page may contain affiliate links. I may earn a small commission for qualifying purchases at no cost to you.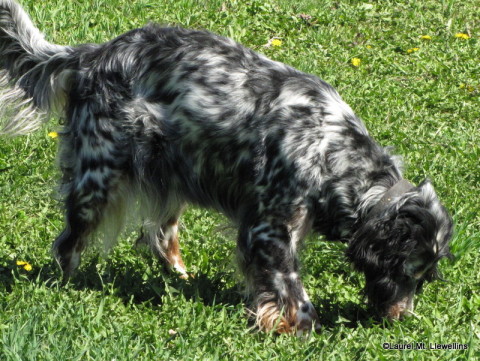 Guess the whelp date and the number of puppies of each sex you think Addie will have.
Post your guess in the comment section below or the Facebook post to enter.
Your entry would look something like this:
June 5th, 9 total–5 girls 4 boys
Addie is due June 4th—63 days from the first date she was bred. She could whelp earlier, on-time, or later.
The winner, who correctly guesses the date the pups are born on and the correct number of each sex of puppies, will win his or her choice of one of the following:
A. Princeton Tec Remix Headlamp (valued at approximately $30.47 from Amazon)
B. Sunkhaze/Flewelling Handmade Small Bronze Plated Dog Bell (valued at $34.95 from Gun Dog Supply)
C. Rite In The Rain Upland Hunting Kit #1712-KIT (value approx. $35)
D. $100 off the future purchase of a Laurel Mountain Llewellin Setter puppy.
I guess all the small print stuff should be mentioned… such as the prizes are not transferable to another person and you win one of your choice of the above prizes. Not redeemable for cash, etc. The $100 off a future LML puppy will be just that—a $100 discount off the then current price of a Laurel Mt. Llewellin Setter puppy. All our usual screening criteria apply. Not good toward the deposit, just the final amount owed.
The winner must enter by posting in the comment section below or on the corresponding Facebook post. The public must be able to view your entry. Contest entries will end at midnight (CST) on June 3rd. Please just one entry per e-mail per contest.
Winners will be notified via e-mail or Facebook message and must respond with their prize choice and a mailing address.
Have fun!
If you are having any problems registering, please let me know.