For Your Hunting Gear Bag: Princeton Tec Remix Headlamp
My mission is to help you have a healthier dog and breeders to raise healthier Llewellin Setters puppies through educational content based on over twenty years raising, training, and breeding Llewellin Setters. To help support these efforts, this page may contain affiliate links. I may earn a small commission for qualifying purchases at no cost to you.
I have become a huge fan of using headlamps for just about every task you could think of. I prefer a headlamp over a handheld flashlight for the obvious reason that it keeps my hands free to do the work necessary. I also prefer the headlamp over the clip-on type hat lights because I don't always wear a hat and the clip-on lights don't fit all hat types. I always have my head on (ha ha) and no matter what kind of hat I may be wearing, rather a ball cap, beanie, or my fur trapper hat, the headband can be easily adjusted to fit.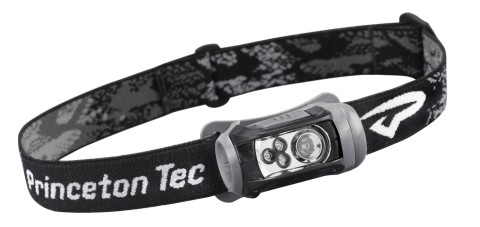 Note & Disclosure: I will only recommend products, services, etc., that I have personally used. Some of the products I recommend are affiliate links that I make a small commission on if you purchase via the link. It is of absolutely no extra cost to you. I simply might receive a tiny portion for using their link if you click the link and purchase the item.
I have several headlamps from hardware store brands to high-end Pro-series Petzels with bulky wired battery packs, but my hands-down favorite, go-to every time headlamp in the Princeton Tec Remix with bright white light. There are loads of headlamps out there with both red and white lights, such as the Princeton Tec Fred which I also have and like, but I rarely, if ever, have found a use for the red light. You can also get the Remix with a red light or even a green light (single options). I just need a bright white light.
The Princeton Tec Remix is lightweight, weighing in at just 2.92 ounces. I barely know it's on my head and in fact, often forget to take it off. I've walked in stores, in the vet's office, etc., completely forgetting I was wearing it (I live in the UP and no one cares if I look like a goober walking around with a headlamp on…). OH, which reminds me, it doesn't give me "hat head," either. It has 3 Ultrabright LEDs and 1 Maxbright LED, giving you narrow and focused wide beams for great versatility. At 100 Lumens, you are equipped to light just about any need or situation.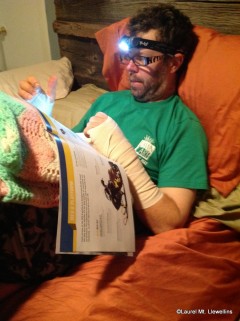 The headlamp is indispensable for dog handling. I use it when grooming dogs, clipping nails, tick-checking, etc., just giving me that extra spot of light were needed. While hunting, training, and traveling I can't imagine life without one. I need both hands free for collaring dogs, loading/unloading, stops in the middle of the night on a road trip, rooting around under the seat or in the back of the truck or dog trailer for something, checking tires, checking the trailer hitch, etc. Late night trips to the loo are covered. I use one for reading and prefer it over any book light or reading light. Need a bit of extra light while cooking or cleaning your gun by campfire? You're covered. I even use them around the house, just looking for things under the bed, in the basement, in the back of a closet, etc. My hands are free and the light is shining where I am looking. Gone are the days of clenching a flashlight in your teeth! Perfect.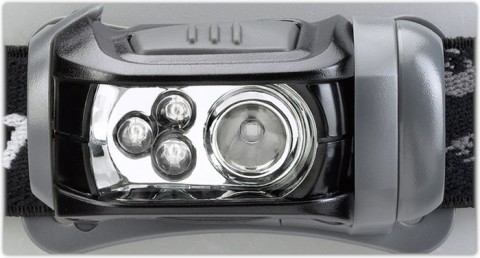 The Princeton Tec Remix is my favorite because it is not complicated, compared to others where you have to cycle through many options to just get the white beam, with the Remix, I just push it once to access the Ultrabright LED or hold down the large button to access the Maxbright LED. The Remix is simple, lightweight, and water resistant (I've used mine in downpours without problem). It has a large push button switch on top that I can easily operate with gloves on. It is easily adjustable, up and down, directing the beam perfectly or to accommodate different hat brims, etc. It is also slightly curved to fit your head comfortably. The battery door, which holds 3 AAA batteries, is easily accessible. The headband is just right at 1″ width, is easily adjustable, durable and comfortable.
Also, a huge bonus for me is that Princeton Tec products are Made in the USA. Sweet.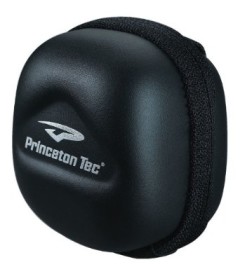 I have stocked up with several of these. I keep one in each vehicle, in the dog gear bag, in the dog trailer or box, one hanging at the top of the basement stairs, in the barn, garage, and even one in the nightstand because if you are like me, I can never find it when I need it! You can even get a handy Princeton Tec Stash Headlamp case. I wonder what I ever did without my Princeton Tec Remix.
And, at around $32, the price for a quality, USA made product can't be beat!
Get your Princeton Tec Remix headlamp today. It is one of my favorite little thank you gifts, would make a nice addition for Father's Day, a birthday, Christmas stocking stuffer, and is a hit at the White Elephant gift exchanges. Hikers, runners, and college students love them. My dad says he can't imagine how he ever lived without one and Scott finds them mightily handy for working on the truck, mower, ATV, and his trapping adventures.
Princeton Tec Remix Specifications:
Made in the USA
Weight: 2.92 ounces
Batteries: 3 AAA
Burn time: 28 hours on high (100 lumen) – 200 hours on low
Lamp: 3 Ultrabright LEDs, 1 Maxbright LED
Power: 100 Lumens
______________________________
[wysija_form id="1″]