My mission is to help you have a healthier dog and breeders to raise healthier Llewellin Setters puppies through educational content based on over twenty years raising, training, and breeding Llewellin Setters. To help support these efforts, this page may contain affiliate links. I may earn a small commission for qualifying purchases at no cost to you.
I have been contemplating how to talk about something really, really nice that some really, really wonderful folks did for me over Christmas. I feel terrible that I haven't talked about it, yet.
First, I am probably not a typical female, although I think there or more and more lady hunters these days. It used to be I was the only one and some tried to make me feel like I was weird or something. I grew up hunting. I feel very fortunate and very blessed to have been introduced to hunting and shooting at such a young age. I am a very lucky girl!
I was involved for many years in the National Wild Turkey Federation's Women in the Outdoors program. I coordinated events to introduce ladies to the wonderful world of hunting and shooting. I taught some classes and made some wonderful friends. It is a wonderful program and I highly recommend ladies attend a WITO event in their area.
Okay, so, I am an outdoorsy, no-frills gal these days and I worry way more about comfort than looking good. But, I will admit that I have really let myself go and am at an age that I probably should start taking better care of myself (sorry, hubby of mine). I never wear skin products—they make me itch, they smell bad, feel greasy–I have just never tried anything I liked and actually felt like putting these chemicals on my skin caused much more harm than good.
Anyway, a great friend we have made through these dogs sent me a wonderful package of goodies for Christmas! Sally Barveld is a Mary Kay consultant. And, let me tell you how nice these products are! I tried the things she sent me for my hands, first. Wow!! It's this stuff called Satin Hands and I just can't even begin to tell you what a difference it has made to mine. My hands were a terrible, awful disaster–always in the elements, cleaning products, wet dogs, check cords ripping through the skin–I am sure you can imagine what a mess they were. This stuff really worked!!!!! And, I can also tell you the men in this household have loved using it, too! It is fragrance-free, feels great, and actually works–and quickly! You should really check this stuff out.
Sally also sent me some things to try from their Timewise line for the face. I LOVE THIS STUFF! 🙂 Am I allowed to say I feel pretty darn good!?
You can really tell a quality product that uses emollients–it feels great and really works. Thank you so much, Sally, I really love everything and am a believer!
Now, Sally's husband sent me just about the coolest thing I've ever received in my life! Not to slight anything I have ever received or anyone, but check it out: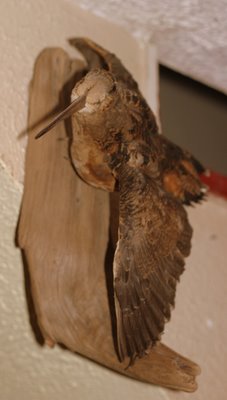 Rodger sent me a mounted Michigan Woodcock!!!! Which is soooo cool! I have wanted one like you can't believe! I love hunting the timberdoodle and had just sent one away to get mounted for my father that he got while visiting me at bird camp this year. I kept thinking that I couldn't wait to get one done for myself! I have a few I have hidden in the freezer that Scott didn't send to our good friend, Dan (Hi Dan!), for fly-tying. But, figured getting one mounted for myself would have to wait until next year!
I show it off to everyone and even took it with me to show off at Christmas. 🙂 Yes, even my family does think I am a wee-bit strange that I would carry around a mounted woodcock to show off! 🙂 Hey, really, wouldn't you?
So, I would just like to really say WOW and thank you!!! It was really such a special treat and surprise and I am frankly speechless over it all.
Thanks Sally and Rodger.
Sally and Rodger have two pups from LML–Milan and Chase, both out of Shay by Brier–and Rodger's brother, Rick, has a Laurel Mt. pup, Kelly, out of Maisy by Brier as well!
Sally really is falling for Cherokee–I might have to take a road-trip to Cabelas in Dundee, Michigan within the next few weeks–what do you think, Sally? lol. 🙂
.