My mission is to help you have a healthier dog and breeders to raise healthier Llewellin Setters puppies through educational content based on over twenty years raising, training, and breeding Llewellin Setters. To help support these efforts, this page may contain affiliate links. I may earn a small commission for qualifying purchases at no cost to you.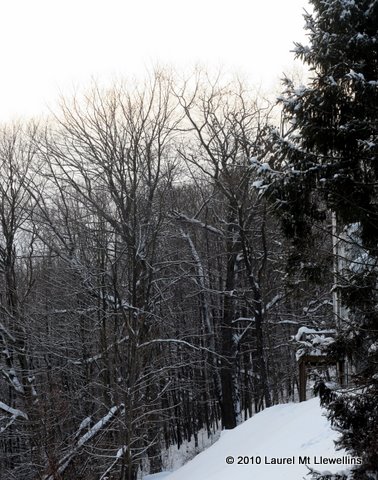 What to do on a cold, snowy weekend in January?
Well, if Ruffed Grouse season is still in where you live, you should be out chasing the king of upland birds. But, like me, maybe you can't be because of work, or maybe there is even just too much of the white stuff. The snow is up to the dog's chests at our place as demonstrated by Ike: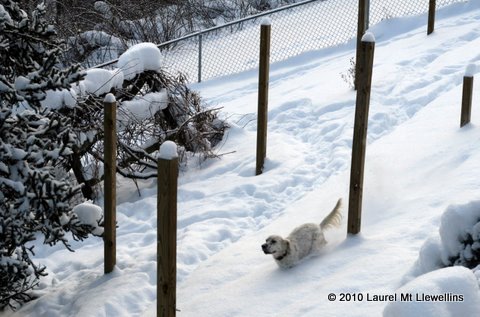 So, if you are unable to be out hunting, you could be watching the Pittsburgh Steelers vs. Baltimore Ravens playoff game (or listening to it). They (the Steelers) are currently losing by 7 points. But, I am hopeful they will pull off a win. OH wait–Pittsburgh just scored another TD! Yahoo! Here We Go Steelers, Here we Go!
Torri and Maisy are enjoying loafing on the sofa watching the game:

And Scott and Jenna watching from the other sofa: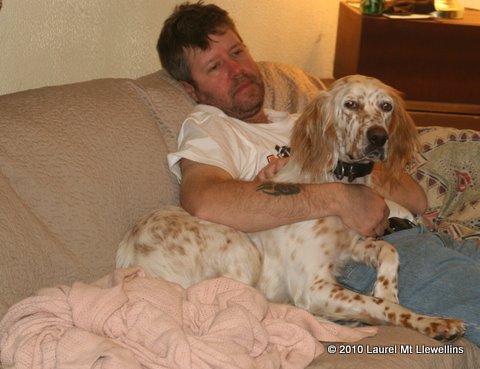 Plan Your Fall Upland Hunting Trips Now!
Another thing you could be doing is to be planning those fall hunting trips! Go ahead, pick dates, find a place to stay, start saving and just do it–get your dog into some new areas, different types of upland birds, etc. I highly doubt you would ever regret taking an upland hunting trip with your bird dog. I live for these trips–and so do my dogs. Plan it now. Or even take a trip, now. Some seasons are still open, especially in the southern states. Don't just lay around and moan until next September–go do some hunting or at least planning. Do some research, talk to folks on online forums and such, download and order some maps of the areas you are considering, make a plan and do it!
Order Needed Supplies and Equipment
This is also a good time to be thinking about any equipment you may need or need to replace. Check and clean your equipment now. Pack it away all ready for next season and start saving and ordering items you may need for next hunting or training season. Spring (and fall for that matter), is just around the corner. I recommend Steve Snell's Gun Dog Supply.
Plan Now For Your Next Bird Dog Puppy
This is also a perfect time to start thinking about that next bird dog puppy. Adding a new pup is great any time of the year (in my opinion), but many prefer to get one earlier in the year so they have more time for bonding and training and so the pup will be older when the fall hunting seasons open. Even if you do not anticipate getting a pup until later in the summer or even next year, now is a great time to begin researching breeders, pairings, and litters. Many breeder's reservations lists fill long before a breeding even takes place so you may need to get a deposit placed now or very soon. Many breeders will have their litters for the year planned and posted now and you can start to shop and to think about your next hunting partner.
Some folks like to add a new dog to their string every 3–5 years so there is always one coming along. Some like to hunt with a brace of dogs (I love to work a brace or more) or even alternate dogs, or have a backup in case of an injury that would leave one dog unable to hunt when the big trip comes around. It's all something to consider and something to spend your tax refund on! 🙂
If the Llewellin Setter is your preferred breed of upland bird dog (what else is there, really?), we have a few litters on the way this spring and summer–Mother Nature is bringing all the gals into heat about the same time! See the puppies page for details of our up and coming breedings. I am so excited about Shay and Ike's puppies due in just about 3 weeks and the breeding of Santana to Steele this week–stay tuned!
Become a Better Grouse Hunter
Another thing the Ruffed Grouse and Woodcock hunters can do to pass the time (and spend the tax refund on) is to check out the fantastic "Northwind Pro Hunter Workshop: How to Locate and Strategically Hunt Grouse and Woodcock" 3-DVD Video set. I happen to be watching it again. This is probably the 4th time I have consumed it. I was prompted to do so when I heard from a few folks over the past few weeks that they got it (some as a Christmas gift). It is so packed full of information that every time I watch it, I find something I missed or have forgotten. Ann Jandernoa knows her stuff. I thought I knew a lot. I thought there wasn't much else anyone could tell me about grouse and grouse hunting. Well, it took only a few minutes of watching this and I realized I pretty much knew nothing–or very little. It's worth your money and time to obtain and watch this. Check it out on the Northwind Enterprises Web site for a list of all that is included in the 3-DVD workshop. Ann and Skip also create and sell habitat maps, they are guides, and conduct seminars and workshops. This business (knowing grouse and woodcock, guiding, and the maps) is Ann's living and she spends all her time knowing everything she can about this game. Check it out–what else are you going to do all winter? Make your next grouse season much more productive for you, your hunting buddies, and your bird dog–you are responsible for at least putting your bird dog in cover that holds birds. Or don't. Go on thinking you know it all and I'll be finding the areas for my dogs to get into more birds instead of you!
Birthday Wishes
I would like to take a moment to say Happy Birthday to Blue, Boone, Maddie, Midge, and Count! They are four years old, today! Please keep Blue in your thoughts. Just a week ago today he lost one back leg after being hit by a snow plow in front of his house. He is recovering amazingly well and will still be a force to reckon with come fall in the grouse woods, but he and his wonderful family still could use your thoughts and prayers.
Prayer Request
Our friends at Nimisila Creek Kennels, have a dear friend that suffered a terrible accident this week. Joe fell and fractured his skull and several vertebrae. After a few surgeries, he has regained some feeling–down to his elbows, but has a long road of recovery ahead of him. Let's rally together in prayer and ask for a complete recovery for Joe, that he will regain all feeling and control in his arms, legs–all of it. Let's lift his family and friends in prayer as well.
Litter Theme Submissions
Some great folks have submitted fantastic ideas for very cool litter naming themes–check them out in the comments section of that post and submit one yourself!
I have also received some new photos of pups that I will post soon. Stay tuned!
-ML