My mission is to help you have a healthier dog and breeders to raise healthier Llewellin Setters puppies through educational content based on over twenty years raising, training, and breeding Llewellin Setters. To help support these efforts, this page may contain affiliate links. I may earn a small commission for qualifying purchases at no cost to you.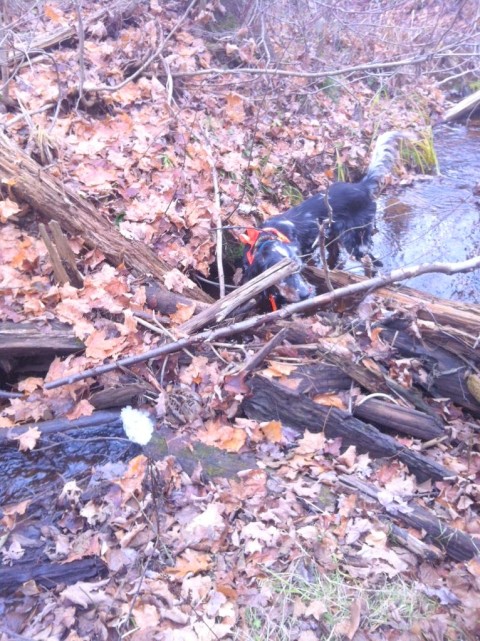 It's been a busy 2012 season so far which is probably obvious from the lack of writing. Perhaps more obvious is that I am just not as good at juggling all things in my life as I once was.
We've had many visitors and a lot of fun days in the field. It's been a really good year. There are about 10 days remaining in the first Ruffed Grouse season, and tomorrow is the last for Woodcock and I am looking forward to getting out myself to work some young dogs that I haven't had time with. I should hide my head in shame that I have not worked these young dogs, but I just haven't had a minute.
So, with the close of the first Ruffed Grouse season sadly looming (it returns for the month of December), visitors gone for a bit, two litters of wee bird dogs running around, deer season coming on, young dogs to work, and the list of "get-ready-for-winter-fast" chores, I will be concentrating on those few things—ha! Never a dull moment and very few hours of down-time around here. It keeps me getting out of bed everyday and now even earlier with less hours of precious daylight in which to do everything. It's a great thing the barn has electric, eh? I really do not understand the need for Daylight Savings Time these days, but I suppose if indeed it is for the safety of school children getting the bus in the morning, then so be it. I simply must drag my aging bones out of bed earlier and go to bed earlier, too.
The coveted firearms deer season opens Nov. 15th and because I didn't get out in Archery season (because it is during Ruffed Grouse season and I haven't archery-hunted in many years anyhow), I am going to try with all my might to get out for the firearms season. Without my sons here to fill the freezer with venison, it's time I get back to it! We'll see if I actually go, but with grouse season closed, I really should at least try, right? I love good venison–properly cared for, aged, and cooked in the cast-iron skillet!
The opening day of the firearms season is a holiday here in Michigan, just like in PA. I love that. Schools are closed and many businesses adorned with "Gone to Hunting Camp" signs on the front door. So cool. Deer season here is celebrated on a much higher level than I've ever seen. Hunter's Balls at the local watering holes, just about every gas station, feed store, etc., sells corn, apples, pumpkins, cabbage, sugar beets, etc., in giant sacks because you can bait deer here.
Retail store displays are full of deer hunting supplies fighting for space with all the cheezy, creepy, not-made-in-the-USA, Christmas junk. Really? Christmas items right there with the deer-hunting stuff? Already? Actually all the Christmas crap has been there since shortly after Labor Day. It is frankly ridiculous in my opinion. Retailers must survive. I understand it, but I just don't like it. I love real Christmas but can't ever seem to prepare my brain for it until after Thanksgiving. When my children were younger, I wouldn't even decorate for Christmas until after my oldest daughter's birthday on Dec. 19th. It just didn't seem right—we had to have her birthday celebration first.
I am more sick of the political garbage right now, though. I can't ever recall this amount of advertising, can you? I just can't wait until it is over.
It seems fitting I choose to live in the secluded "Superior State" with dogs, right? I just do not at all understand most people's thinking. What is that saying? Something like… The more people I meet, the more I prefer the company of dogs? And living somewhat secluded has made me want to live even more secluded! I still dream of that place really in the middle of nowhere. I added a lock to my gate because some people just don't seem to get that a closed electric gate means stay out, I don't want company—unless they are announced, expected and invited of course. It's just rude to show up unannounced, isn't it? Or is that just my thinking and no one elses? I like people and all—just not while I am working or after I've worked all night and just got to sleep for crying out loud!
Ugh… there I go ranting about nothing to do with dogs….
So, onto fun things like…
Puppies!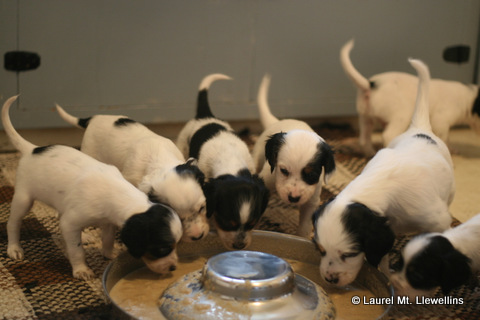 All the pups are doing great. Time is flying by and they are already 4–5 weeks old. It's been difficult (for me, personally) to have young litters during the heart of Ruffed Grouse season and has restricted my time in the field greatly. Fantastic litters and all folks with long-awaited reservations are thrilled, though. I will not, however, do it during the season and miss time in the woods or traveling again! Selfish, eh? Maybe, but the grouse season is for the dogs. We wait all year for this precious time, right? The dogs are counting on me. I can't let them down again!
Anyway, these pups are really fantastic though. Very bright, inquisitive, beginning to flash point and stalk, great showing of using their noses, carrying toys in their mouths… all things I have to see in all pups to consider it a good breeding. They are enjoying puppy mash and are transitioning to wet kibble. I finally got out for some puppy toys again and they love playing with them! The trick to keeping the toys for more than a day (like all the ones I just bought 2 weeks ago), though, is to remove them before I let the mommas in with the pups. They destroy puppy toys within minutes! It makes me angry!
It's been too cold for the pups to be outdoors, yet. I've opened the door several times and a few have ventured out but not for long! They explore for a few minutes and come running back inside and pile up in the puppy beds to get warm. Too cute. I think I'll put a couple crates in over the next day or two now that I've moved the whelping box out. Time to get used to crates as crate training will start for pups that are flying at the 7-week mark. Where are my ear-plugs? I have a few weeks to find them… 🙂
The puppy cams seem to be working out okay and that is very exciting news for everyone! With recent upgrades to the system, it looks like we can finally have the web cam. I still have to find a way to run two at the same time, but for now I am able to switch back and forth and all seem happy with it so far.
I have much to share and will be posting more soon, or at least I intend to be posting more… we all know how sometimes that doesn't work out!
Have a great day and hug your Llewellin. 🙂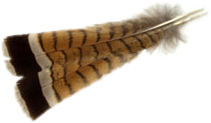 -LML