Nashua x Luke Puppies are Here!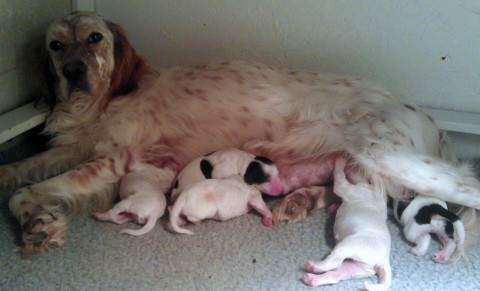 I am thrilled to announce the arrival of Nash and Luke puppies!
Nash delivered the first pup at 10:15 am Wednesday morning and the last at 2:15 pm. She did a fantastic job. The pups all weighed around 11 ozs and are doing great.
I am having a difficult time getting Nash to go outside, but this is very normal in the first few days. I wouldn't want to go outside in the frigid wind and temperatures just after giving birth either! She is also not eating much. Quite normal for mommas, as well.
Nash had five beautiful males: One Orange Belton, Two are so far Blue Beltons (could end up tri-beltons), and two hooded tri-color pups. Just beautiful. 🙂
All are gaining weight, scooting around very well, and are a content bunch.
They will have their dew claws removed today.
There are currently two unreserved.
The pups will be old enough to go to their new hunting homes after April 4th, 2012.
Thanks to those that participated in the contests. I'll announce the winners sometime over the weekend. I apologize for ending the "Guess the Date and How Many Pups" early. It was supposed to run until midnight tonight. But there wasn't much interest and I couldn't stand not sharing the news any longer!
You can still participate in the Litter Theme Contest until midnight tonight. Everyone that submits a theme is entered for a chance to win the cool lanyard/lead from Gun Dog Supply. The winner will be decided via a random drawing from all of the entrants.