Dora and Luke Puppies Have Arrived!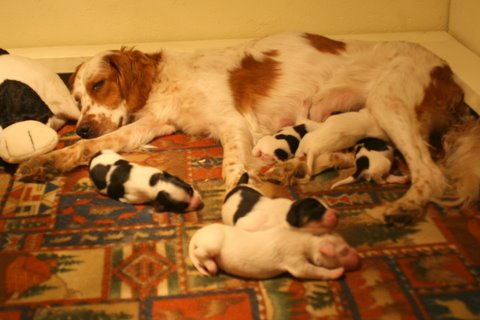 Dora delivered her puppies today!  Her temperature dropped yesterday, she had heavy panting, pacing, and digging all night, and this morning at 11:12, the first of 7 healthy, wriggling puppies arrived! The last was born at 6:00 pm this evening.
We have 5 males and 2 females (with 3 reservations for females!).  There are 3 beltons (1 of those orange male, 1 a blue female) and 4 tri-color, hooded and spotted (1 of those a female).
Dora did fantastic and is eating, going outside, and nursing the pups.
Stay tuned….
I need your help deciding on a theme! The suggestions, so far, are: Famous Trout Streams or Spices. Do let us know your ideas.