My mission is to help you have a healthier dog and breeders to raise healthier Llewellin Setters puppies through educational content based on over twenty years raising, training, and breeding Llewellin Setters. To help support these efforts, this page may contain affiliate links. I may earn a small commission for qualifying purchases at no cost to you.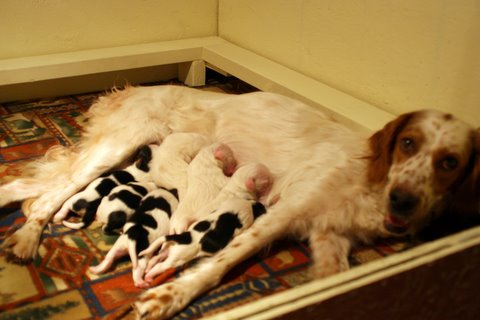 Dora and the puppies are doing great. All are eating and getting around very well. Dora is well but does not like the room she is in! I have her and the puppies in a different room than usual, but it is a room that is warm. I don't want the puppies in the living room with the air conditioning blowing on them. A puppy that gets a chill will get sick and die quickly. So, while Dora would rather be in the living room with me, she must stay in the warmer, non-air-conditioned room for a few weeks.
Dora received a rather awful hair cut as she is so profusely and thickly feathered, we just had to trim her. The puppies kept getting stuck in the feathers around her backside and tail. So, the poor thing had to get trimmed. It looks awful! I am sorry, Dora. A groomer I am not! It broke my heart to cut away her beautiful locks, but I guess the great thing about hair is that it usually grows back. She has had to have several baths to keep things cleaned up.
Luke seems rather proud of himself and has been a little wound up over the past few days. He is strutting around, high-stepping and sassy–does he know he is a dad again? lol. No, of course not, but if I didn't know better, I would think so! There must be another gal coming into heat or he is just going crazy to get going hunting! It's rather funny, though, whatever it is.
I am so excited about the puppies! They are very strong and all seem rather smart about figuring out where Dora is and getting to her in short order. That is just survival and instinct, but I like to see puppies that are using their noses and instincts to get what they need and these are. There isn't much crying or whimpering–all seem to be quite content with full bellies and are warm and comfortable. They are gaining weight and doing great.
I will get the ID collars, first photos, and such posted sometime over the weekend. By popular vote, we will be using the "Famous Trout Stream" naming theme (submitted by Gary Gross) and a preview of what we have to choose from are: Willow, Sable, Madison, Kenai, Copper, Savage, Cedar, Juniata, Spruce, Snake, Blackfoot, Stone, Gunnison, Owen, Yakima, and Rock—I love the names! Thanks to everyone for all of the great suggestions and comments!