Update on Maddie (Kenai "Trout Streams" Dora x Luke)
My mission is to help you have a healthier dog and breeders to raise healthier Llewellin Setters puppies through educational content based on over twenty years raising, training, and breeding Llewellin Setters. To help support these efforts, this page may contain affiliate links. I may earn a small commission for qualifying purchases at no cost to you.
Received these great photos of Maddie (litter name Kenai from the Famous Trout Streams litter out of Dora sired by Luke). Maddie is now 6 months old and lives in Michigan. Her litter mates are: Copper, Gunni, Stoney (now Riley), Snake, Madison (now Sadie), and Rock (now Tucker).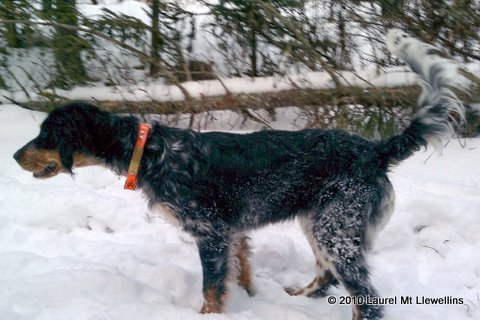 I've included a photo of her at 5 weeks old to show how much a Llewellin pup can change (especially when one parent is as heavily ticked as Luke).
Thank you so much for sending photos–I love it!