My mission is to help you have a healthier dog and breeders to raise healthier Llewellin Setters puppies through educational content based on over twenty years raising, training, and breeding Llewellin Setters. To help support these efforts, this page may contain affiliate links. I may earn a small commission for qualifying purchases at no cost to you.
Well here it is, the end of summer. Kids are back in school, the days are getting shorter, leaves are beginning to change, and Upland hunting season will be opening in just days for some or just a few weeks for others. The Ruffed Grouse opener is less than 3 weeks away for us and suddenly I am paralyzed thinking about everything that I wanted to have accomplished by then and, now, have serious doubts I can pull off even half of it. I suppose I am the only one that will even know I've failed at these goals, but it drives me insane all the same.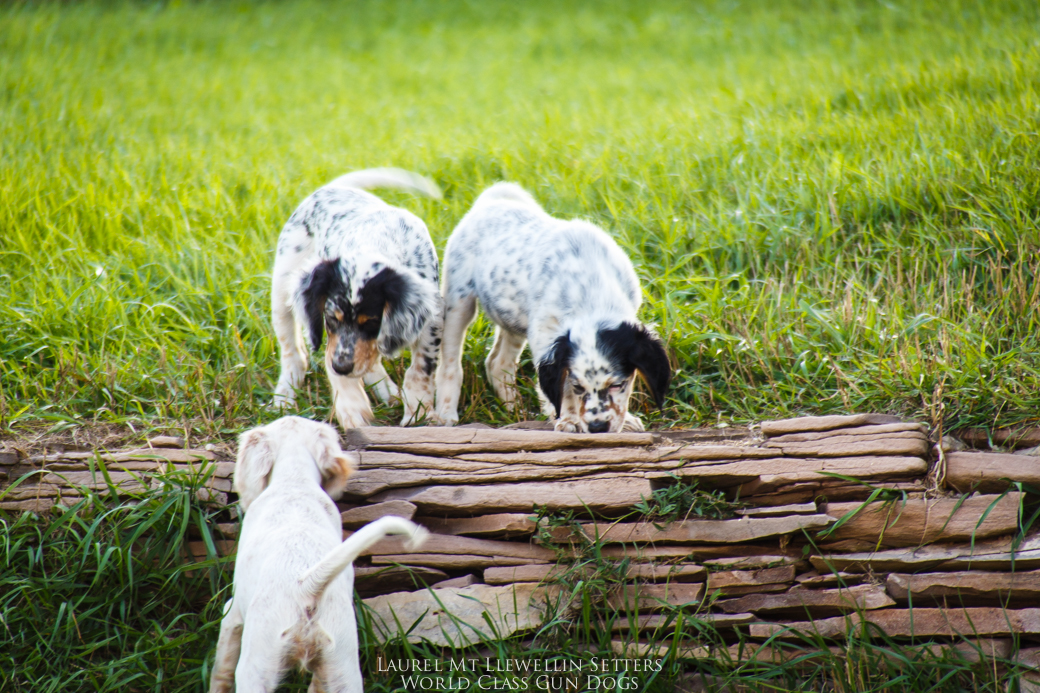 For now, the most important thing is keeping the puppies happy, entertained, and learning new, important things until they go off to their new homes. A few of the lucky darlings will get to leave later this week, flying off to fantastic families where they will receive all the attention they deserve and just in time for excellent learning opportunities in the fall woods and fields where they'll get a huge early advantage on next year! Perfect.
They are so much fun and are out-growing this place already–they want to explore more than this yard! If they are still with us when–or if–we finally get to move to our new digs, which is the same place you have come to know as Northwoods Wild Bird Camp, they will have so much more to explore.
Lady Bird and Kea's pups turned 8-weeks old yesterday and today, respectively. Nash's bird-crazy beauties turned 11-weeks yesterday. Even with the 3-week age difference, they are perfect playing together, so play time–at least twice a day–in the big yard is all together. They love playtime, of course. They rip and run, stalk and point, dig holes, climb stairs, try to get through the fence to greener pastures, find sticks and have a grand time running off with them. They venture to the barn to check out the big dogs. The play hide, seek, and pounce under the dog trailers. They love to play king of the hill from the top of the steps or the little rock wall beside the garage. They love to lay in the tall grass (which is mostly everywhere because it rained for about a week straight and of course, I can't mow right now). They love playing in the puppy pool. They love grabbing a fallen apple to chew on or to throw in the air and play catch. They pretty much love everything except getting medicine and crate training!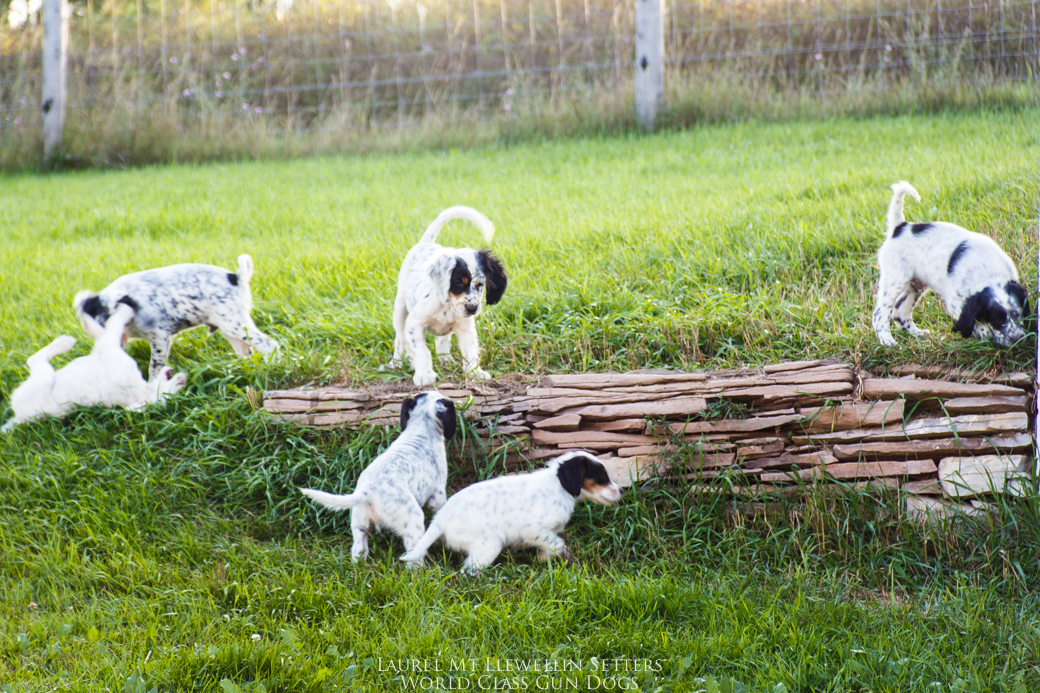 Here are some photos. Sorry they are not very good photos this week. Scott is away and took the truck that happens to contain all of my photography gear. Grrr… So, there are mostly lots of blurry, crappy photos this week because all I have is an ancient, very slow lens to work with. Not the best week for that to happen.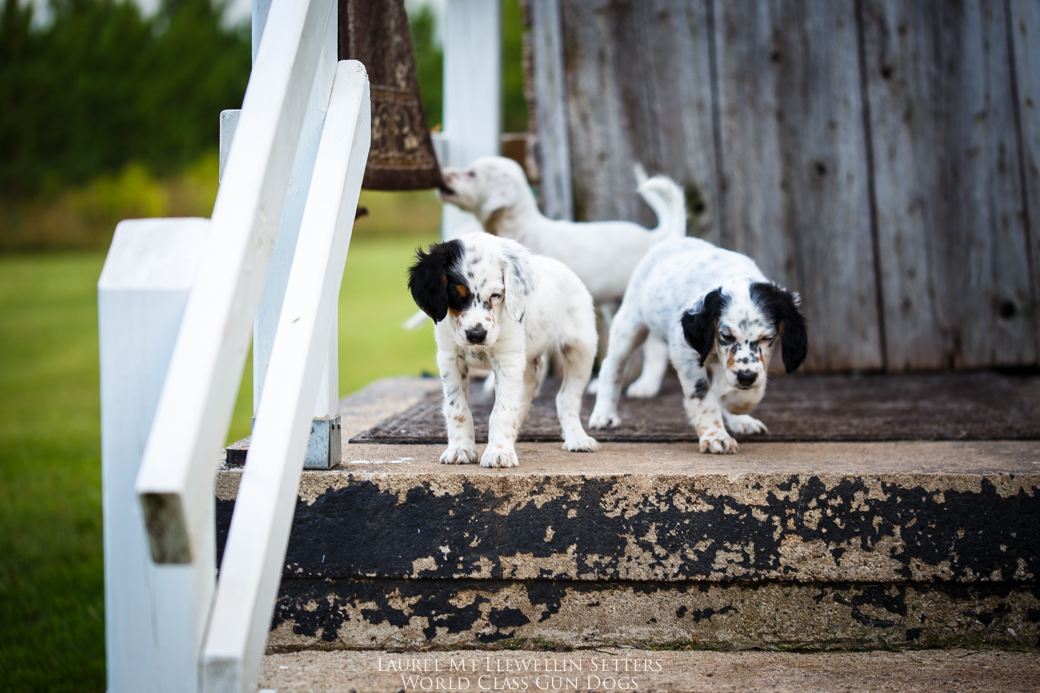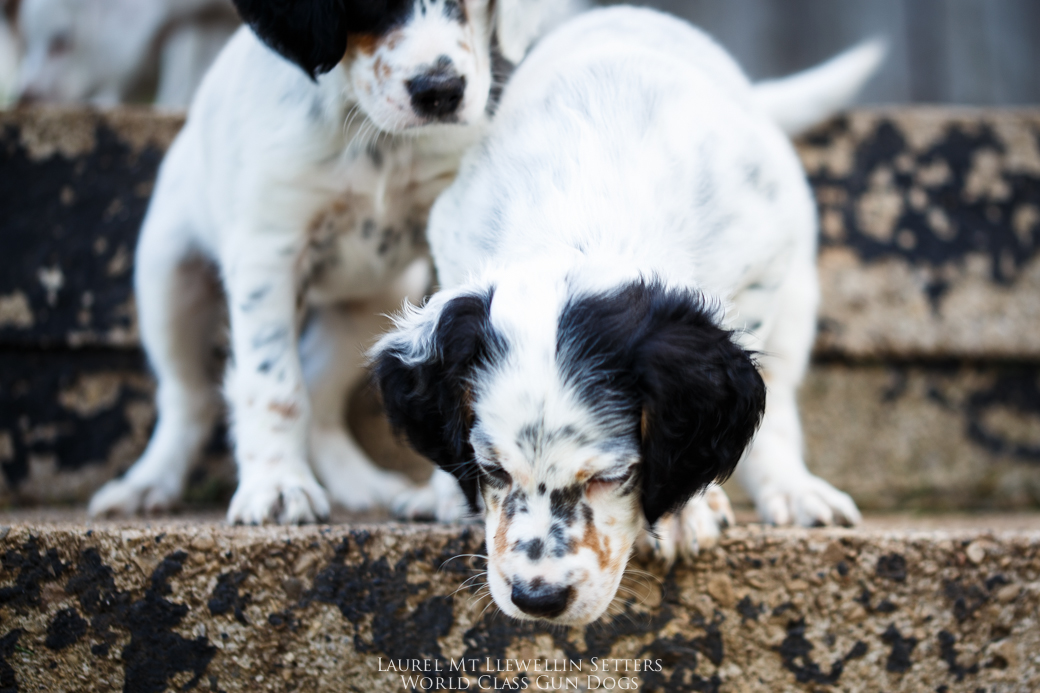 Hawk (available) learning how to go up and down steps.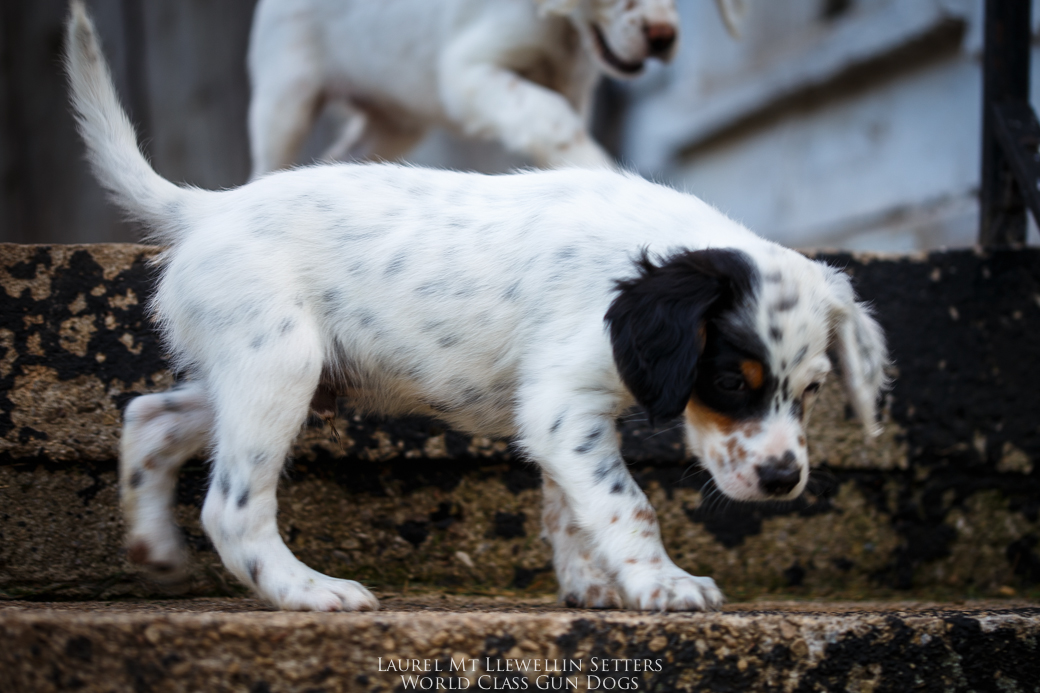 The very handsome Sequoiah (available) learning the steps.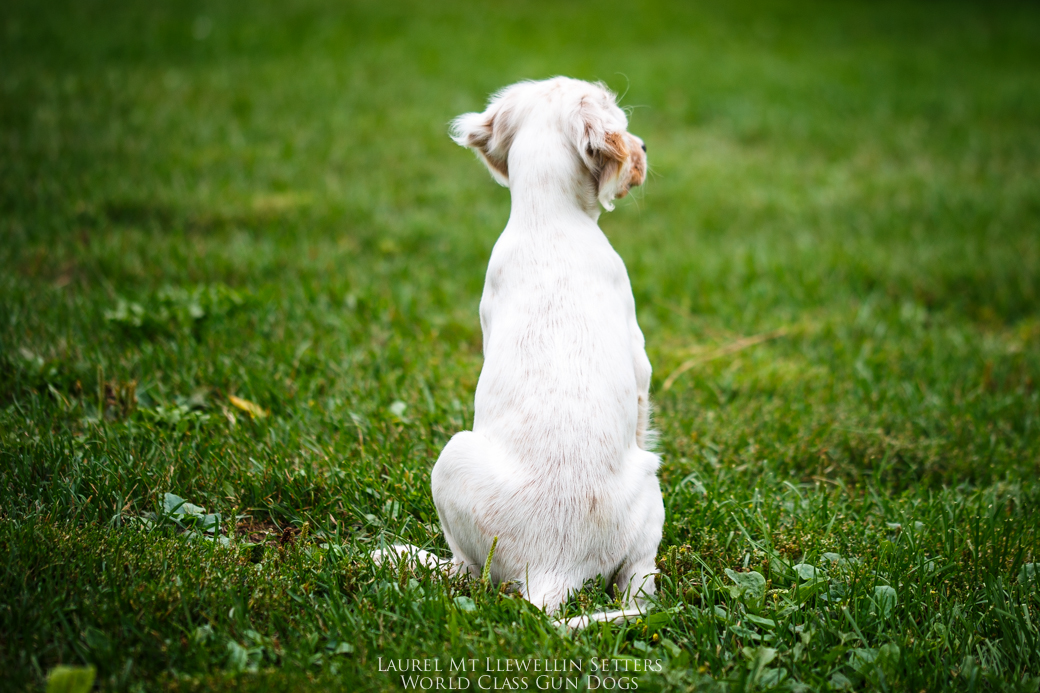 Darling, bird-crazy Amy watching Robins in the yard (which she proceeded to stalk/point right after this photo, but I wasn't able to capture it)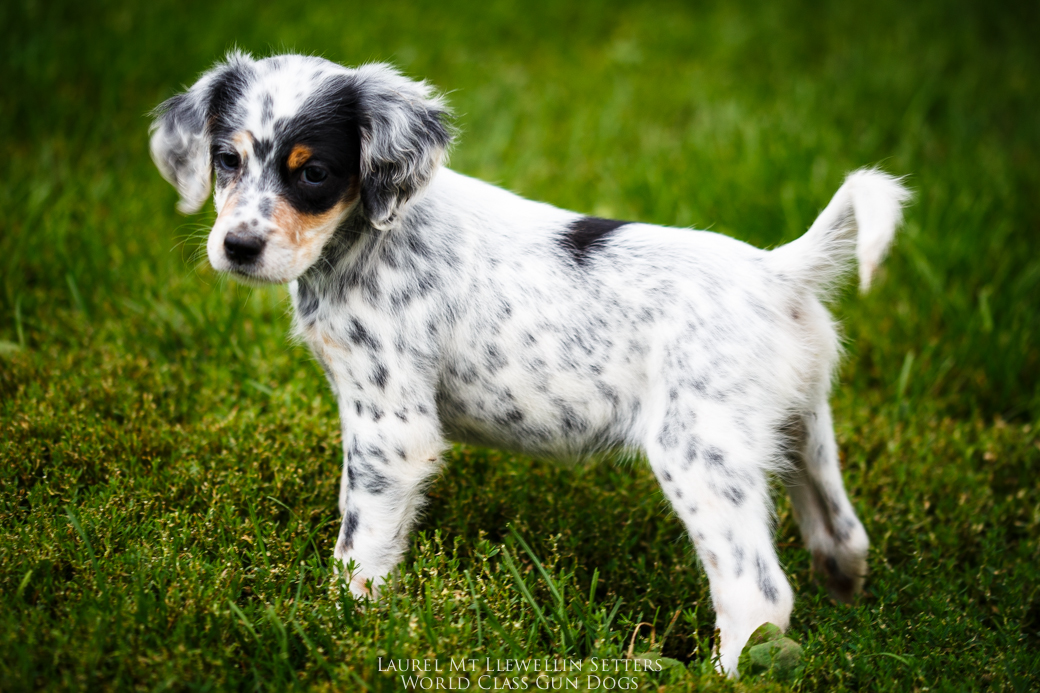 The darling Pocahontas (available female).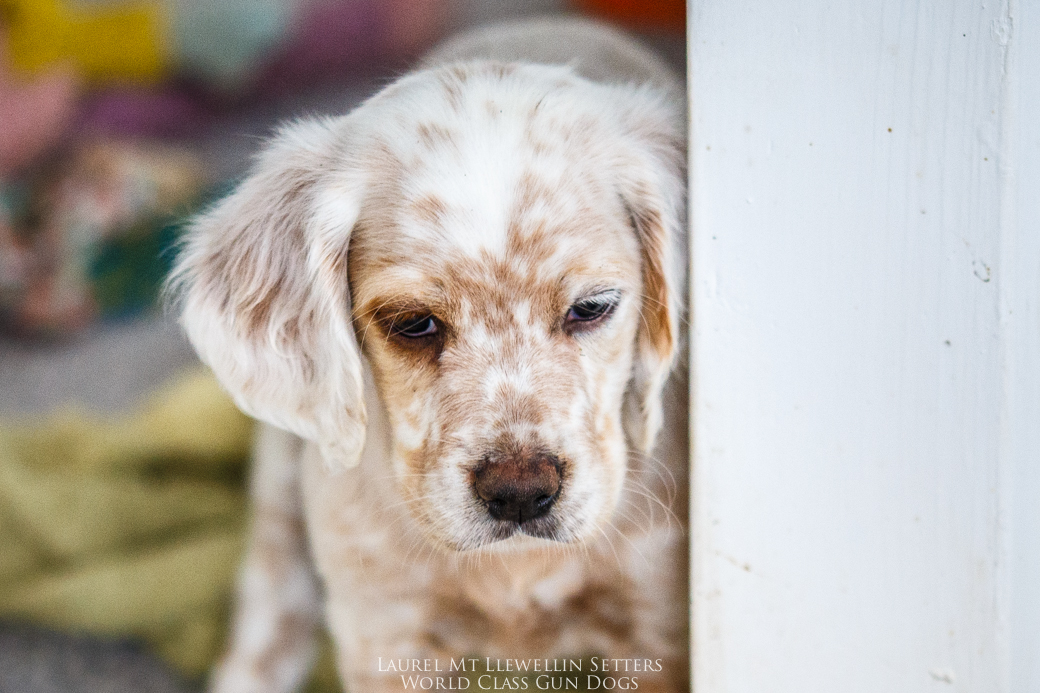 The very handsome Pontiac (renamed Finn) will be flying off to his new home in Kentucky this week.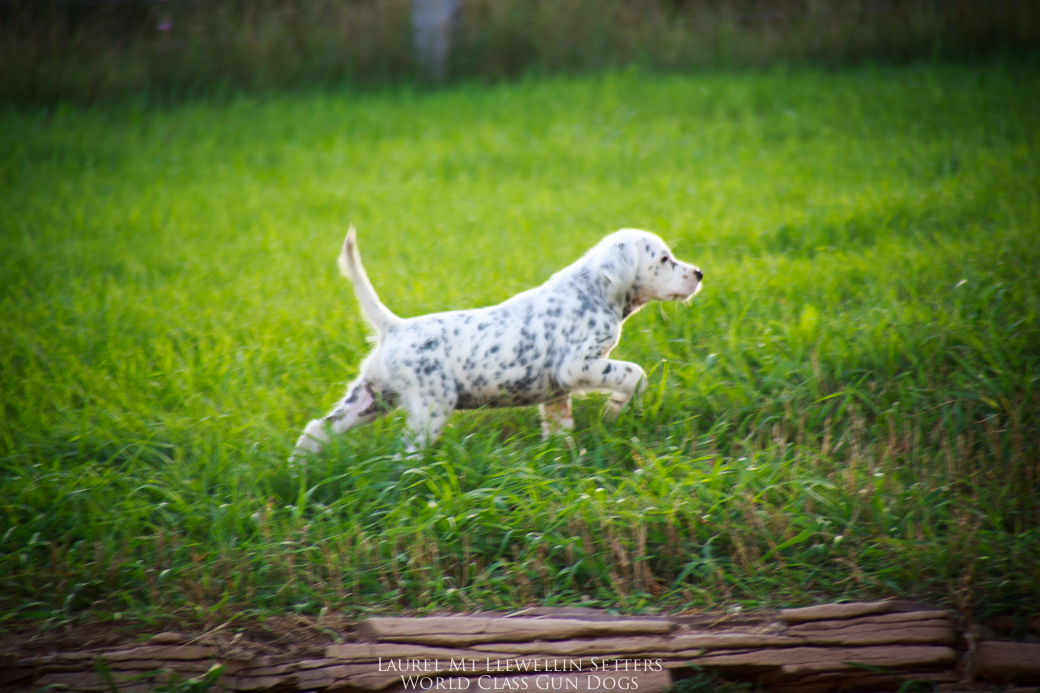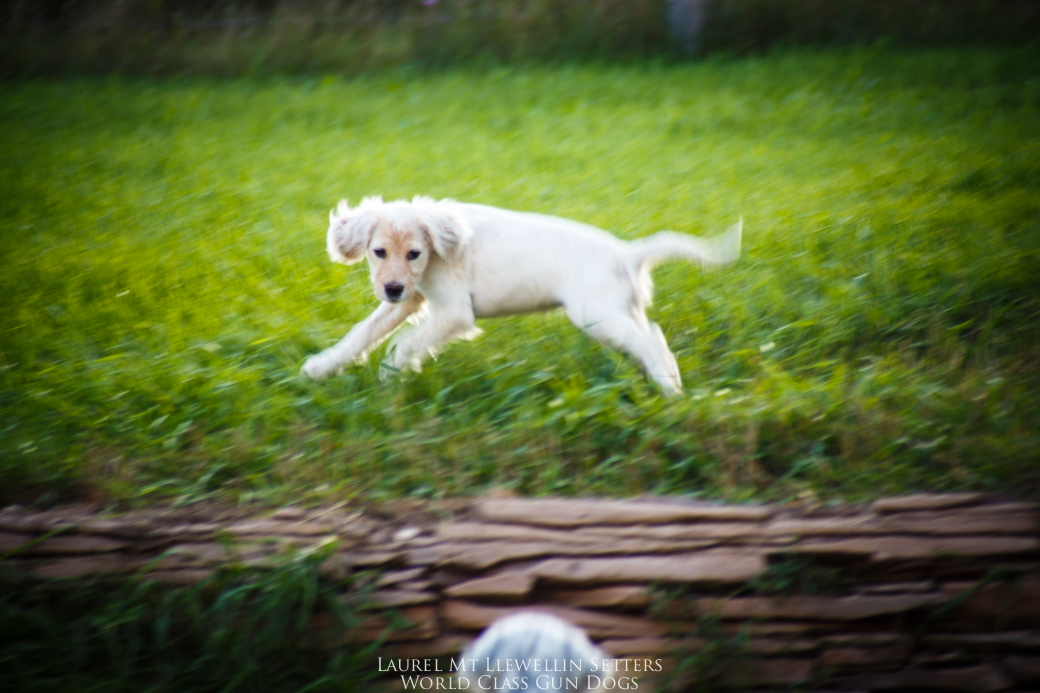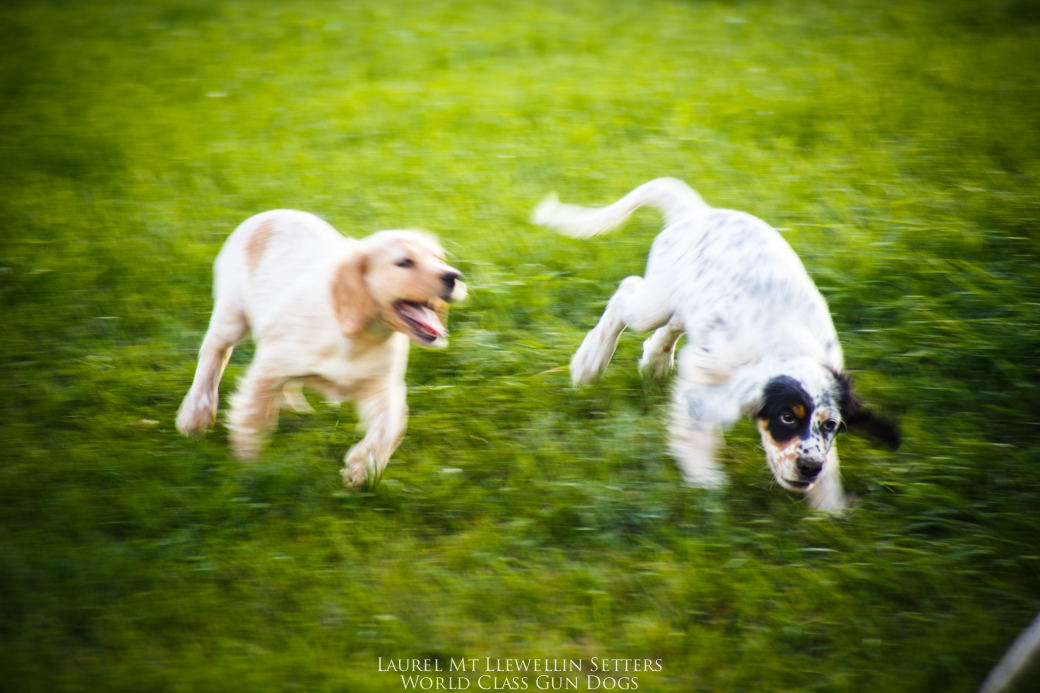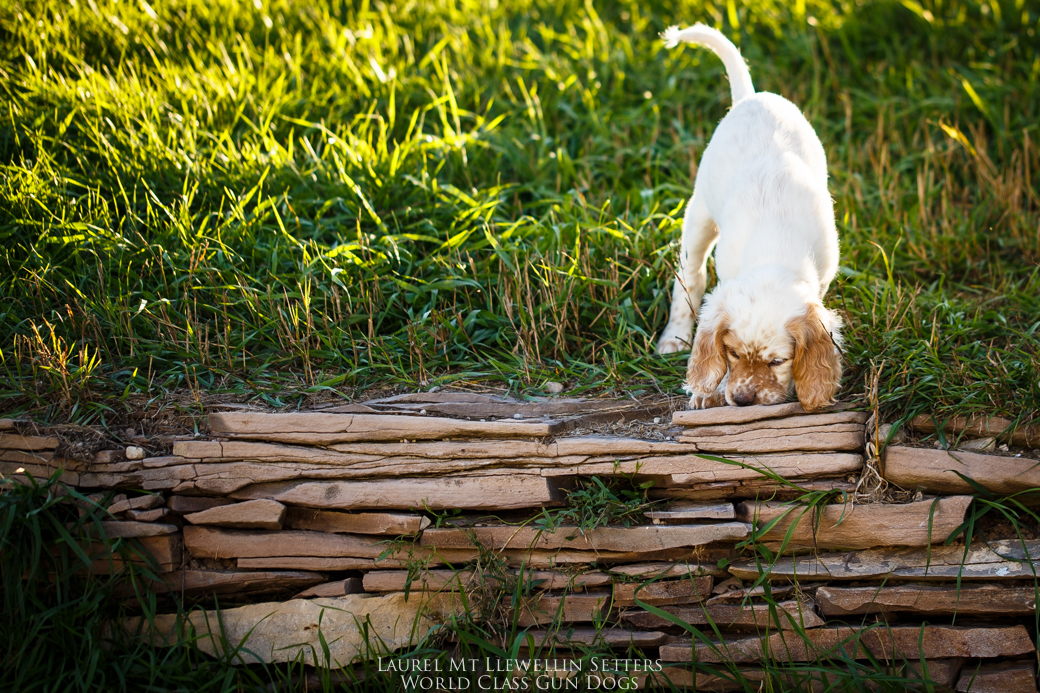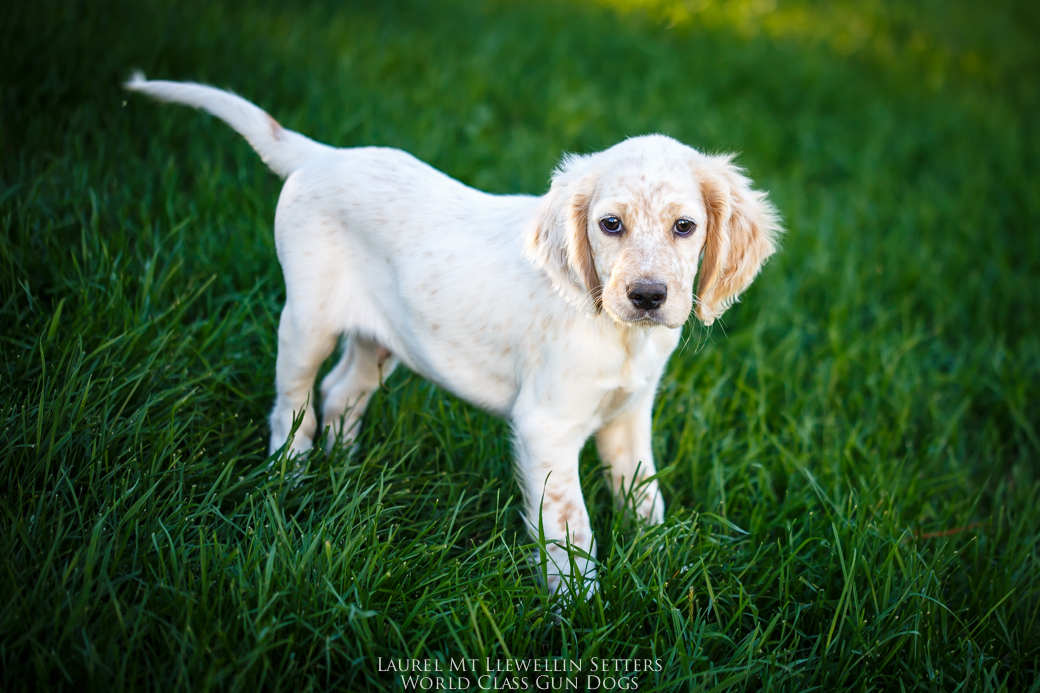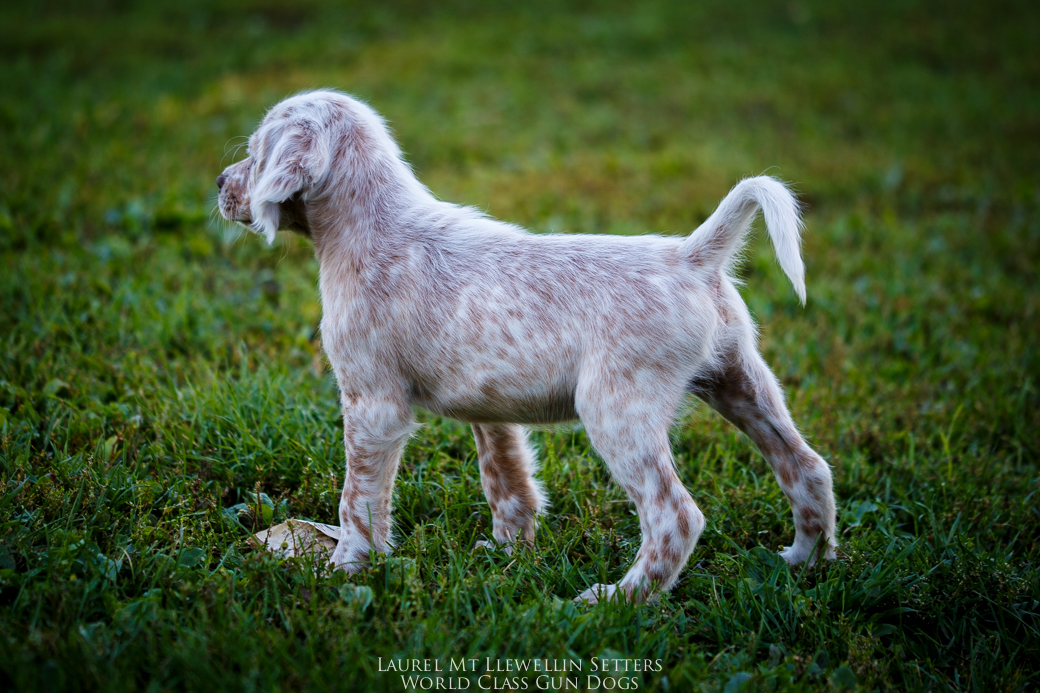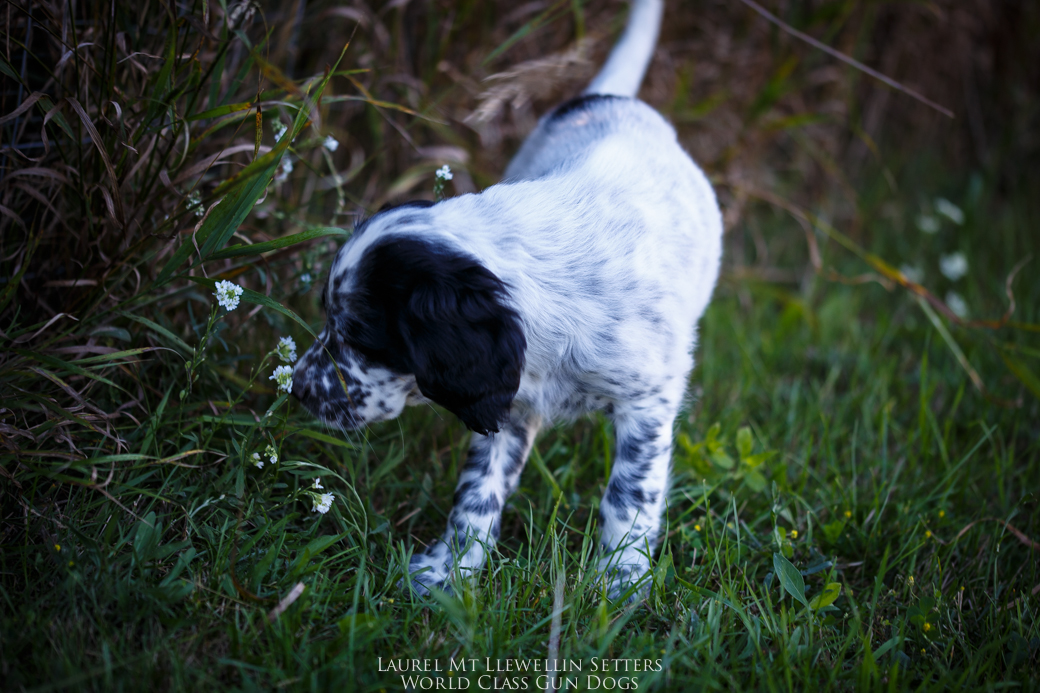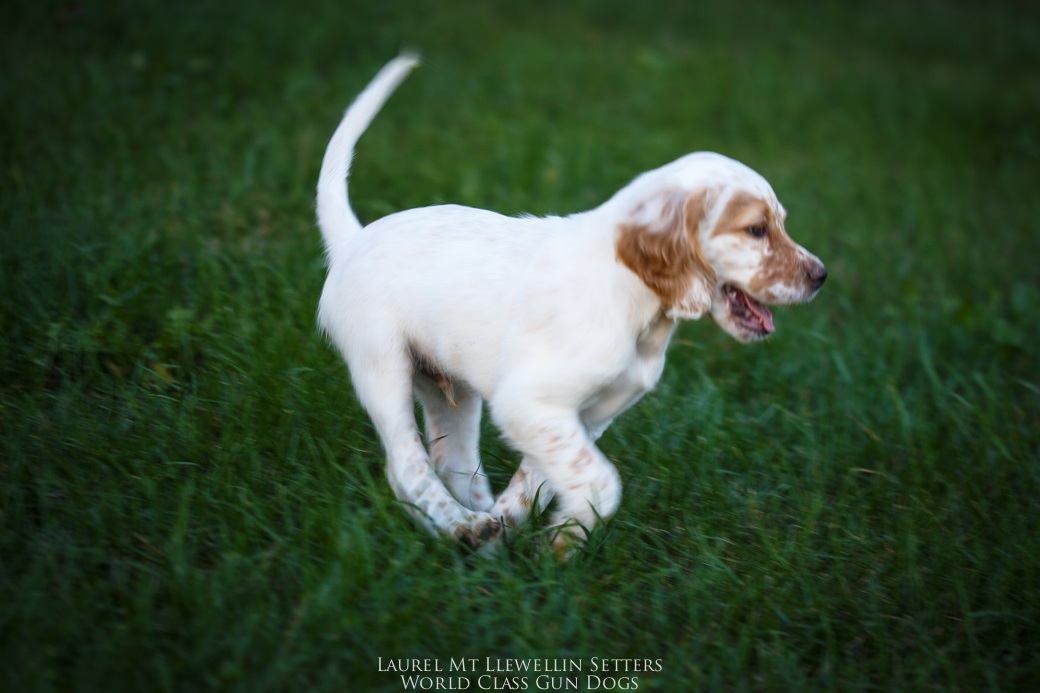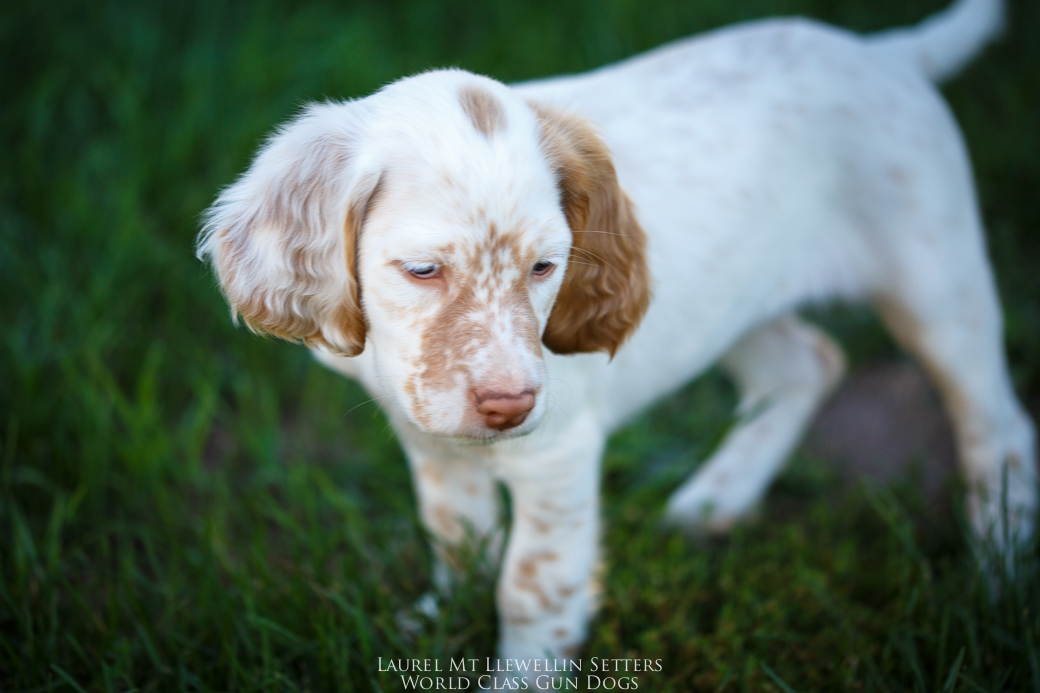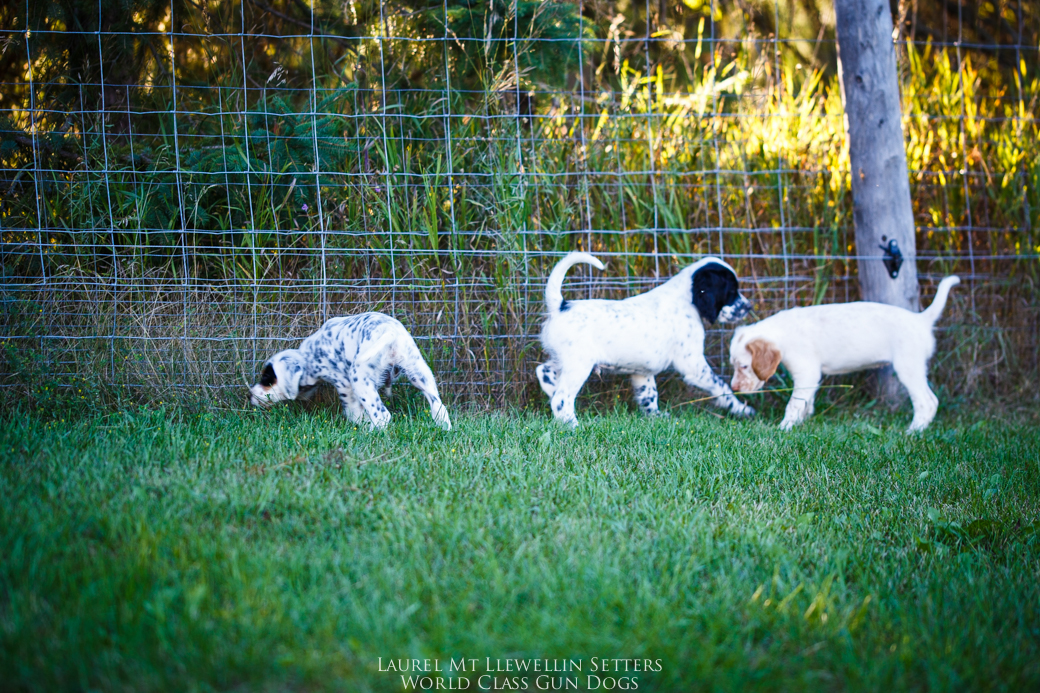 Hope you enjoy the pictures. As soon as Scott is able to return I'll get a lot more–and better quality–photos for you.
If you would like more information on any of the available pups, here are the links:
Oh, and many requests are coming in now concerning our planned Fall/Winter litters. It's hard for me to think about it right now with the summer pups just starting to leave, but I am trying for you. Tori started her heat this week, meaning puppies going home the end of December. Mia and Rue will probably be soon to follow in starting theirs. I have to think about it.
That's all for tonight folks. I hope you are moving into fall with all the anticipation and excitement of the Upland Hunting season with your Llew!
Hug your Llewellin Setter.
-M.