The "Medalists" Turn Four Weeks Old
My mission is to help you have a healthier dog and breeders to raise healthier Llewellin Setters puppies through educational content based on over twenty years raising, training, and breeding Llewellin Setters. To help support these efforts, this page may contain affiliate links. I may earn a small commission for qualifying purchases at no cost to you.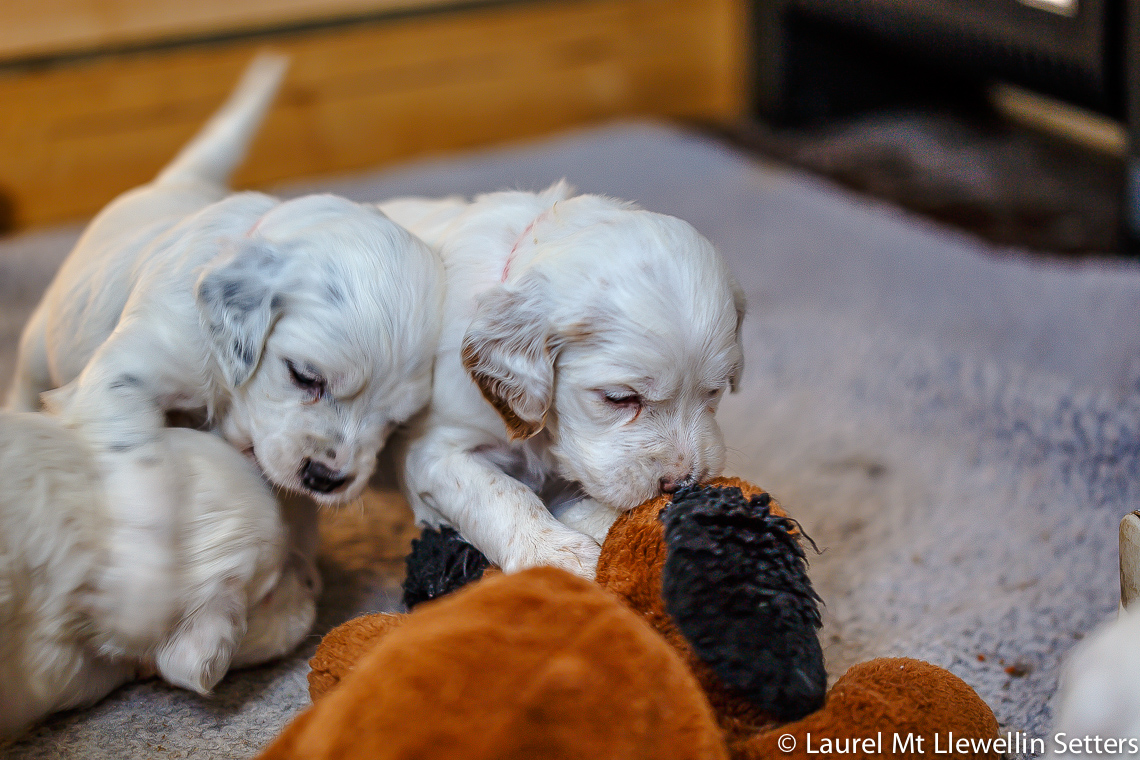 Warning: There are so many pictures on this post, it might crash your device. 😉
Well, the Medalists are finally 4 weeks old and my, oh my, are they something else. I feel like they skipped the drunken sailor walk and went straight to running. They are the cutest little tail-wagging bunch. Every time I walk into the room, they wake up and tails start wagging and they start crying and carrying on to either have their puppy mash or get let out of the box for some special play time. Fun, fun, fun!
They love to play with toys. They love their puppy mash. They love getting out of the box to explore and get into everything. Major overhaul to the puppy room in the next few days as it's time to take the side off and allow them full access to the room. I'll be able to move the puppy cam to a different location, too, so all can have a better, wider view. At least I hope so. They have their ID collars on now to help identify them on the puppy cam and in photos. For now here is the list/colors:
Bode – Green Collar
Curt – Yellow Collar
Gus – Orange Collar
Ligety – Blue Collar
The girls, Sage, Alana, and Meryl all have pink collars for now. There aren't enough different colors for all of them.
The ticking is really come out now and now we can see that Sage is a tricolor belton. Tan spots on her feet just appeared over the past few days. I can really start to see the ticking under the white coats coming out. They are getting more and more beautiful everyday.
Enjoy the photos and as always, see the latest pictures in the Flickr gallery, as I don't get to post here too often lately. The link is also on the right-hand column all the time. Link to the litter page for the pedigree, etc., is here (not currently very up-to-date with photos). There is one male reservation currently available. We don't know which pup that will be of course, but seriously, which one wouldn't you want?
Anyway, I hope you enjoy the photos.