My mission is to help you have a healthier dog and breeders to raise healthier Llewellin Setters puppies through educational content based on over twenty years raising, training, and breeding Llewellin Setters. To help support these efforts, this page may contain affiliate links. I may earn a small commission for qualifying purchases at no cost to you.
Hello all!
There is so much going on at LML and I haven't had the opportunity to make an update for way too long.
First, the puppies are doing fantastic and are now 3 weeks old. They are now on their third day of the special puppy mash that I start all our pups out on. It is a mixture of the same puppy food that Santana has been eating with a bit of whole yogurt, goats milk, and water. They love every lap of it and took to loving it immediately! They had it once for two days and today have had it twice. They seem to be taking it on very well.
If you have peeked in and watched them on "Santana Cam," you have seen how much they are playing with one another. They are also escaping the whelping box! I have put a new puppy bed outside the door, so when they bale out, they land softly. I haven't put the door up yet, because when I tried, Santana would not jump in the box and pawed at the door until I opened it. She's not comfortable with jumping in and out of the box at the moment. So, I won't make her.  🙂
The puppies are doing a great job of using the pee pad on one side of the box and keeping the other side—where they sleep, nurse, and play—dry. Good puppies.
They are growing by leaps and bounds and are a very healthy, plump lot of pups. The ticking is really coming out, now and they will be very nicely colored, I believe. That is except for the Doctor and brother Cane, who still do not have any indication of color at all!
Okay, I know, pictures! So, here are a lot. And, speaking of pictures, the entries for the Calendar Photo Contest are coming in–Yahoo! I will start to share the entries in this blog area, soon. You can always check them out in the Flickr group, here and don't forget to enter your photos!
Okay, now, puppy pictures!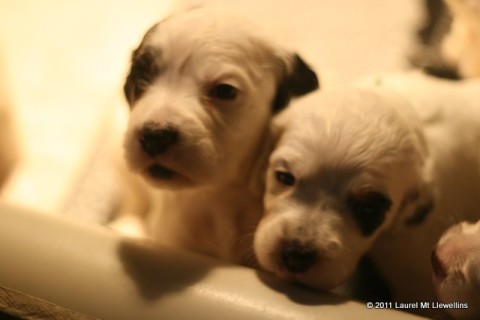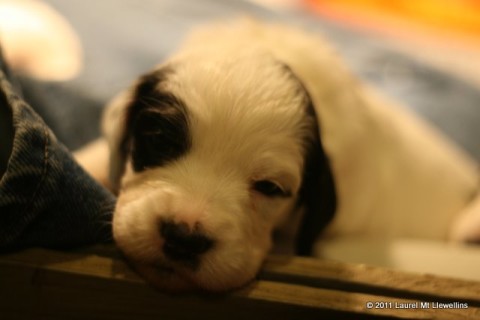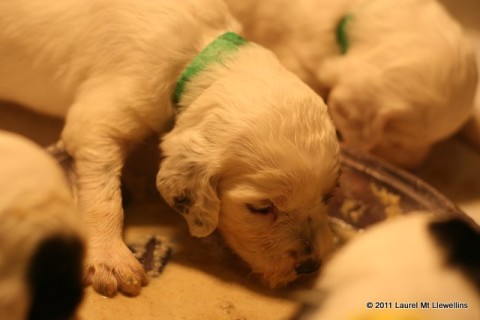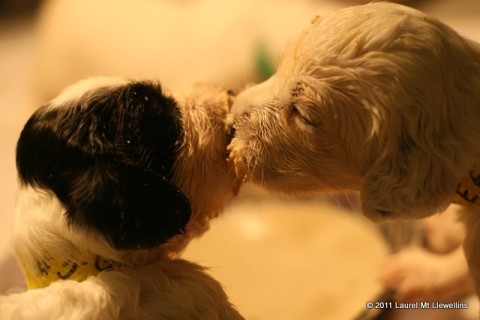 Sorry, will add lots more later, the doggies need out again and I must go take care of them!