My mission is to help you have a healthier dog and breeders to raise healthier Llewellin Setters puppies through educational content based on over twenty years raising, training, and breeding Llewellin Setters. To help support these efforts, this page may contain affiliate links. I may earn a small commission for qualifying purchases at no cost to you.
Santana x Steele Pups Two Weeks Old
The pups have turned 2 weeks old tonight are doing fantastic. If you have peeked in on the Puppy Cam, you have seen how great they are getting around, now. All eyes were opened completely by day 9-10. Quite a bunch of very strong, beautiful pups. When I took them out of the box this evening, they walked right off the blanket. Willy put his nose in the air and went straight for Santana's food bowl. Kona joined him. I took the dish away! They received their first round of deworming meds tonight. I still cannot see any color at all on Doc and Cane. Enjoy the photos.
All else is going well. Trying to run all the dogs as much as possible so we all can start getting back in shape (I am the worst). We are crazy busy with work, training, etc., etc., just as is the rest of the world, I'm sure!
Got this shot of Luke yesterday on a lone point on a lone grouse: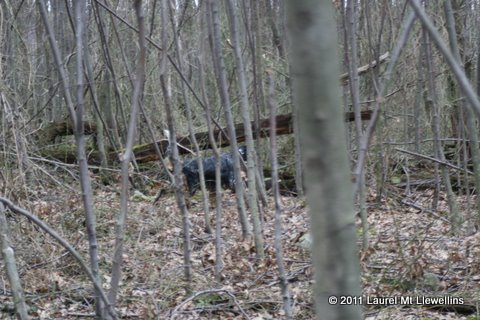 And Scott got some great video of a bobcat on his trail camera.
Over and out for tonight.