My mission is to help you have a healthier dog and breeders to raise healthier Llewellin Setters puppies through educational content based on over twenty years raising, training, and breeding Llewellin Setters. To help support these efforts, this page may contain affiliate links. I may earn a small commission for qualifying purchases at no cost to you.
The "Winds" are now a week old–Yahoo! I just updated their photos last night (you can view the slideshow in the post from yesterday). Santana's hunger has really kicked-in and I can barely keep enough food in her. It is no wonder as much as the puppies are eating and growing. She is doing great, though.
I can barely keep the whelping box clean and have to change it several times a day. I don't remember having to change things as much with previous litters, but perhaps I am just not remembering clearly (most likely). I must try to order another pad or two, maybe the two I have are wearing out and just not keeping things dry as well any longer.
They are a very lively, strong lot of pups. Maybe I just never get over how strong and wiggly a 1-week old pup can be, but gosh, they are quite a bunch. You should hear them when they are all nursing–Scott calls them our Spring Peepers and they do sound just like the nightly singing from the pond down the road. Too cute.
Trying to hold true to getting back to some serious working sessions, Mia, who turned one-year old yesterday (from the Muscle Cars litter out of Jenna by Steele), got out for a nice run today. She had a fantastic point on the only grouse we encountered. It was a sight to behold. Mia is very stylish, high-headed and tailed and worked beautifully and slammed that point on the grouse and stood steady to the flush long after it flew. Good girl! The picture is only in the mind, however! Battery went dead!!! Scott did get this shot of the grouse's tracks in the snow with his phone. He also took a bit of video, but it didn't turn out well enough to use.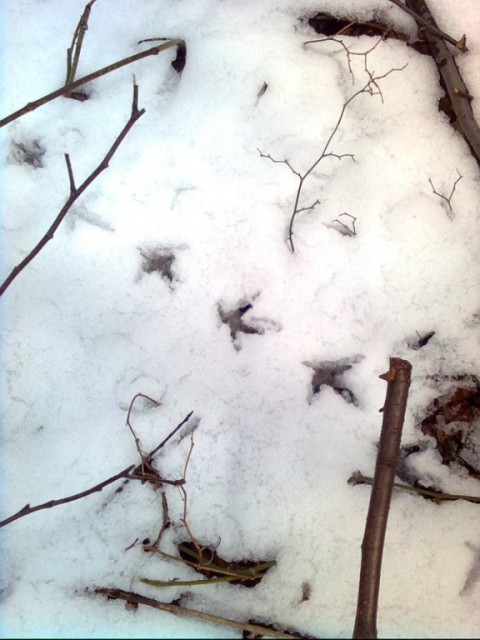 We heard that Grace and Ellie are doing well and seem to have settled into their fabulous new home without a hitch… except for the older dog maybe not liking the two little biting and chasing puppies taking over her peaceful home! New Mom and Dad think it will work out just fine, though. It just takes a little time.
I thought I had more to report, but that is about it for tonight, folks. Exhausting week it has been and it's time to get ready for the next… on and on it goes!
Sleep well and hug your Llewellin tonight!
-LML