Announcing the Arrival of Mia x Count Puppies
My mission is to help you have a healthier dog and breeders to raise healthier Llewellin Setters puppies through educational content based on over twenty years raising, training, and breeding Llewellin Setters. To help support these efforts, this page may contain affiliate links. I may earn a small commission for qualifying purchases at no cost to you.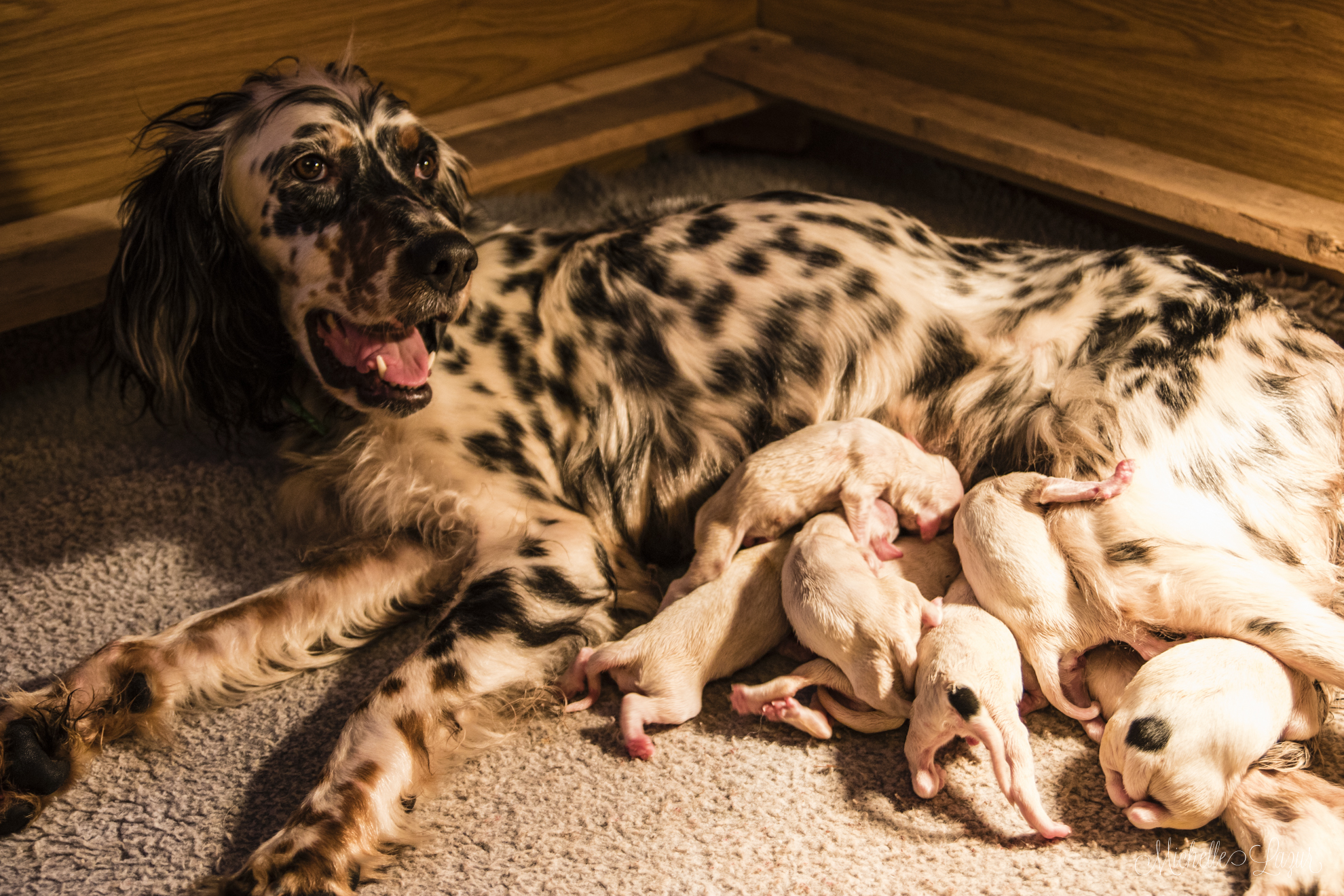 Mia and Count puppies have arrived!
It was a long 26-hours with Mia. Her temperature dropped yesterday and she started the usual heavy panting by 3:00 PM. The way she was acting, I was certain she would begin delivering last night. But, the first pup did not make his entrance into the world until 1:30 PM this afternoon. Mia barely took a break from the panting and digging all-night-long. She wanted outside every 20-30 minutes and she could not go out alone while in labor (you never want to risk them delivering a pup outside somewhere). Not to mention it was one of those nights with very active coyotes and the wolves making their presence very well known. She would have no part of me leaving her, either. If I tried to leave the room just for a minute to get a coffee or pillow, she would get very, very upset and cry, bark, and then try to crawl over the half-door! It was a long night and day on the floor of the puppy room. Did I say that already?
I piled a few blankets on the floor and tried to at least lay down. Mia ended up liking my pile of blankets better than her pile in the whelping box, so we sort of snuggled and tried to nod off between trips out side.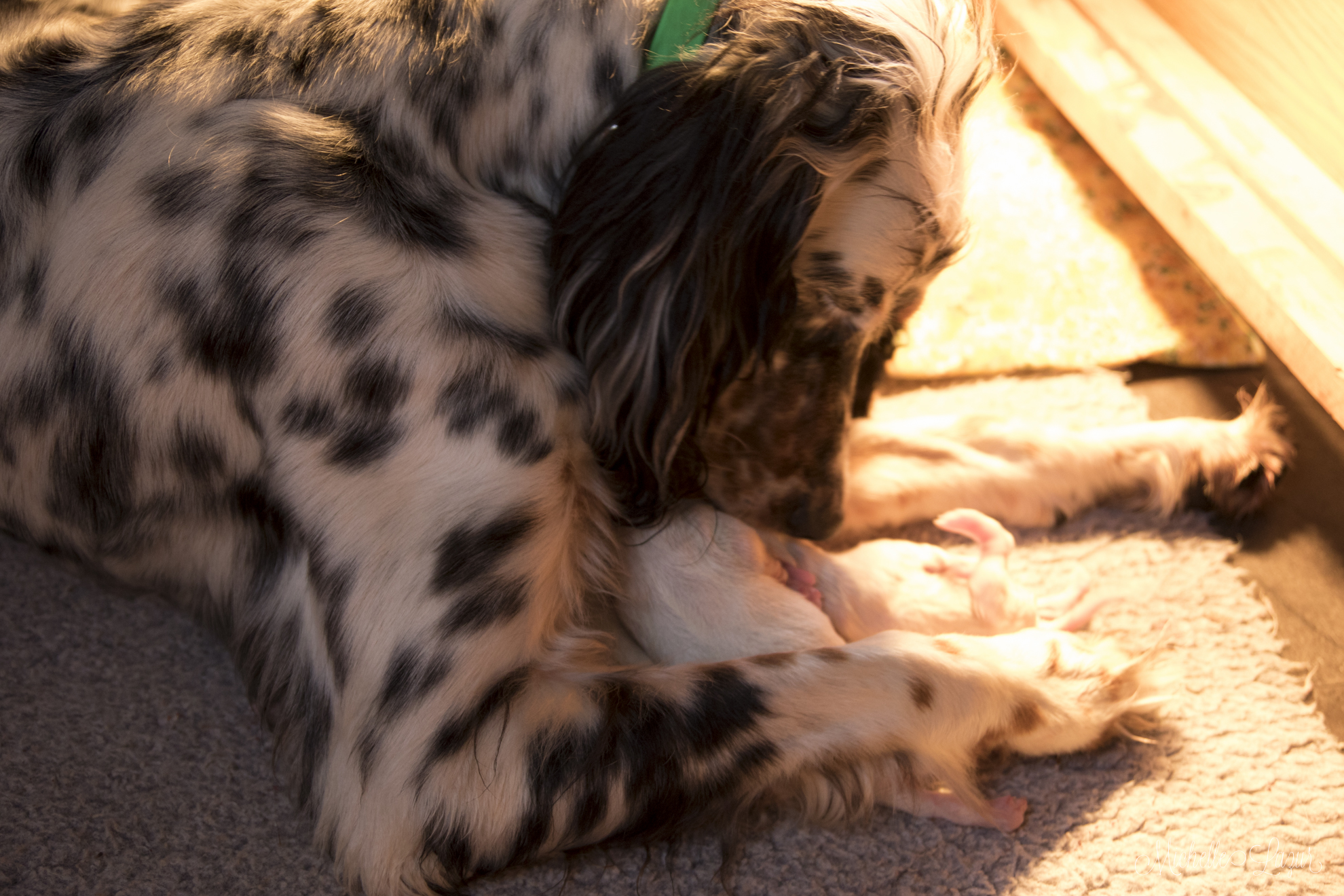 Once the contractions and pushing finally started, she had a bit of a time with the first pup (which is not unusual). And once the first one–a large, 12oz male–was finally safely delivered, the rest of the pups were born rather quickly with about an hour and a half break after the first three. It went: male, male, female, break and nap for Mia, while I cleaned up the room, got a load of that whelping laundry into the washer, got to change clothes, grab a bite, then she woke up and delivered male, male, male, female.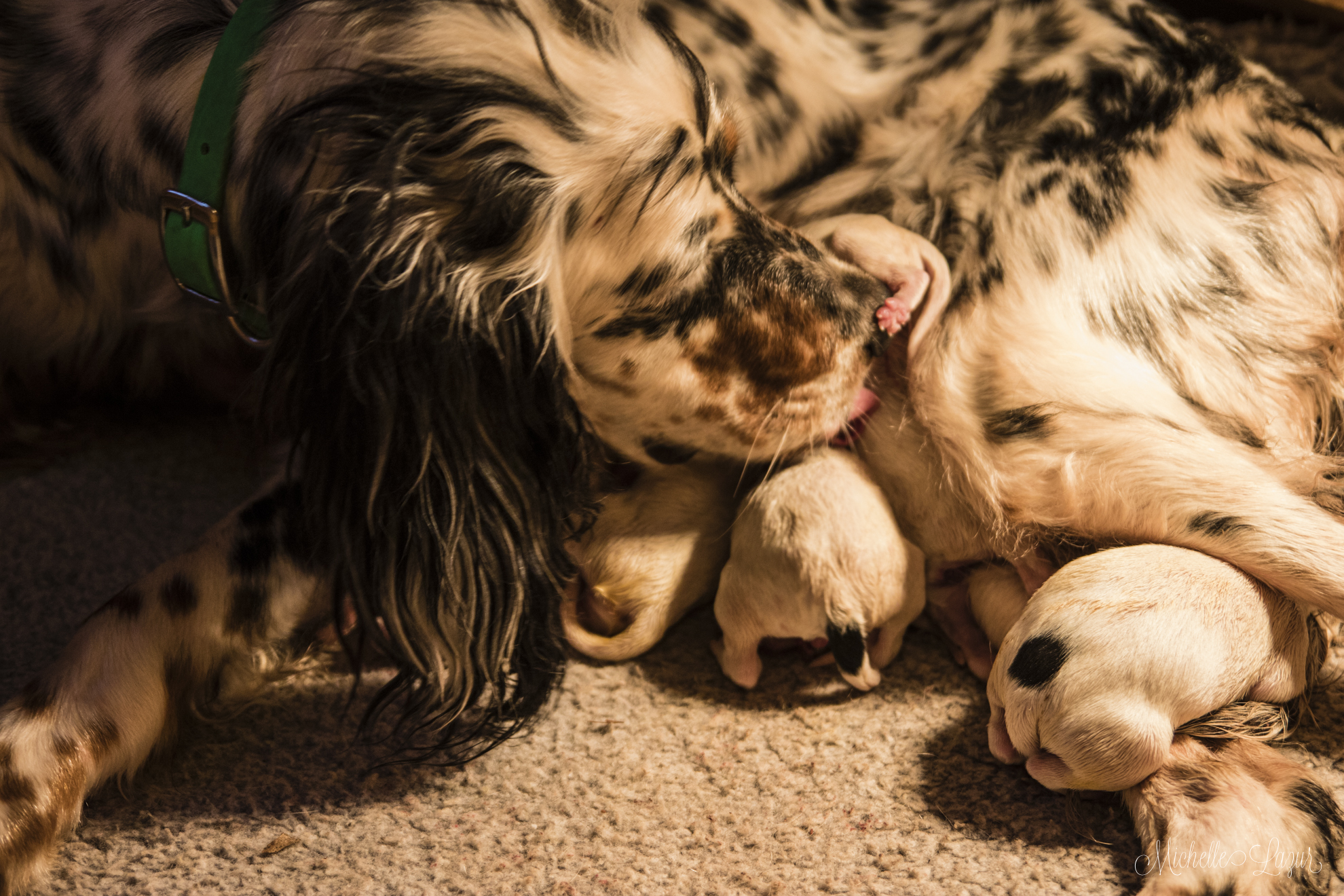 So, we have seven beautiful darlings–five males and two females. The weights range from 9 – 12 ozs. All were vigorous and nursing straight away. All good signs. 🙂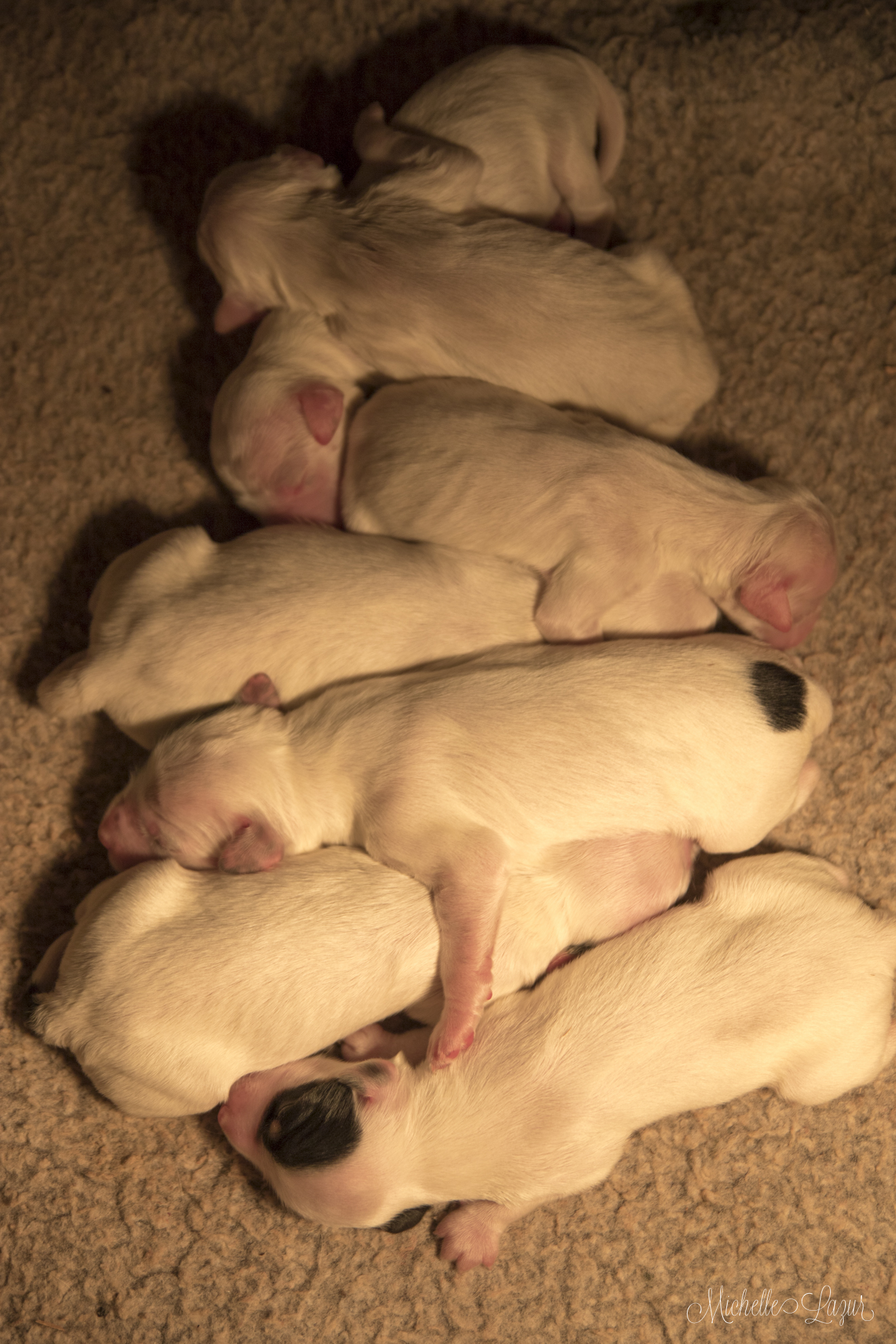 Mia did get up briefly and ate a large dish of food with the usual post-delivery goodies I add for all our mommas and she went outside. This is good as sometimes the mommas will not eat or go outside right away. Good girl, Mia! 🙂
Scott got back from hunting and took over the watch so I could take a drive to find a crate to fly Maker. He is taking tonight's watch, sleeping next to the whelping box. The first week can be very nerve-racking as a pup can easily get under the mother and get squished. 🙁 So, one of us sleeps in the room so we can hear a puppy crying.
OH and I have to look, but I think there will be one male reservation available and, of course, we will not know which one that is until the pups are picked after they are 6-7 weeks of age.
That's all for tonight–now we are getting ready for Addie's pups to arrive!
Hug your Llewellin Setter tonight (or I'll hug yours for you if you are waiting for one). 😉
-M.