Returning From NWBC 2013 and Update on Santana
My mission is to help you have a healthier dog and breeders to raise healthier Llewellin Setters puppies through educational content based on over twenty years raising, training, and breeding Llewellin Setters. To help support these efforts, this page may contain affiliate links. I may earn a small commission for qualifying purchases at no cost to you.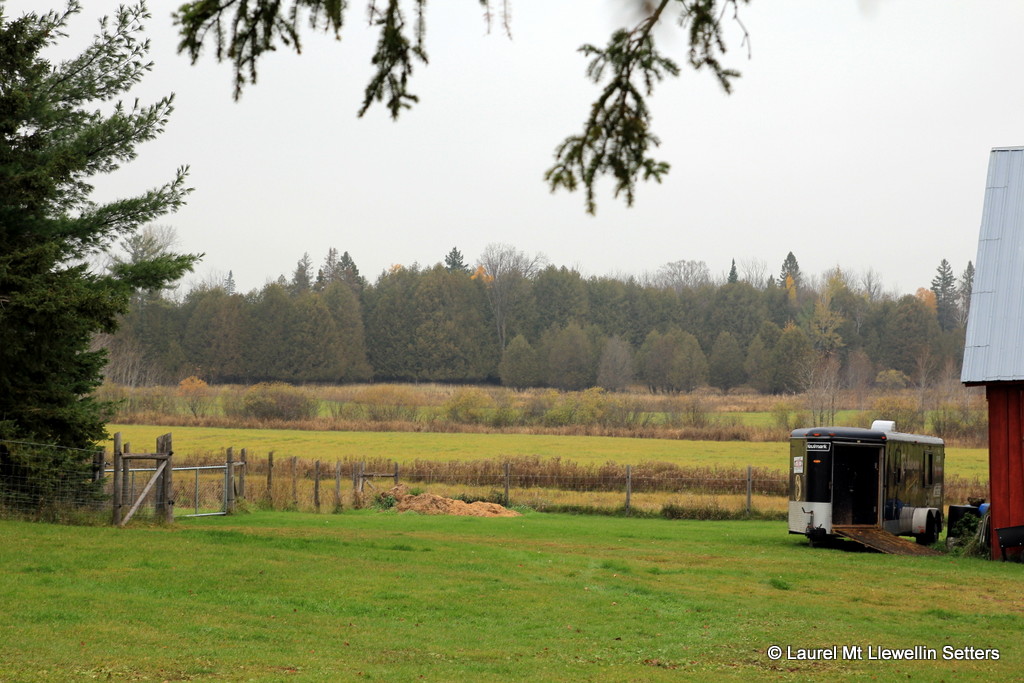 Well, half of us have returned from NWBC 2013. I pulled out late yesterday afternoon kicking and screaming and made the drive back—it's only 2.5-3 hours— with the "big" trailer through some snow and rain, but nothing too bad. Back to reality as the saying goes. There are still plenty of opportunities for me to get the dogs on birds from here (in Menominee County, MI). It's just not the same as "camp." I'm so fortunate to have been able to be there so long and should stop complaining, right? I know, I know. I live here now, how on Earth could I complain? I can't. I just love it there at camp. It's where I fell in love with the UP. It will always and forever hold my heart and soul. The goal is to buy it and live there. One day at a time, eh?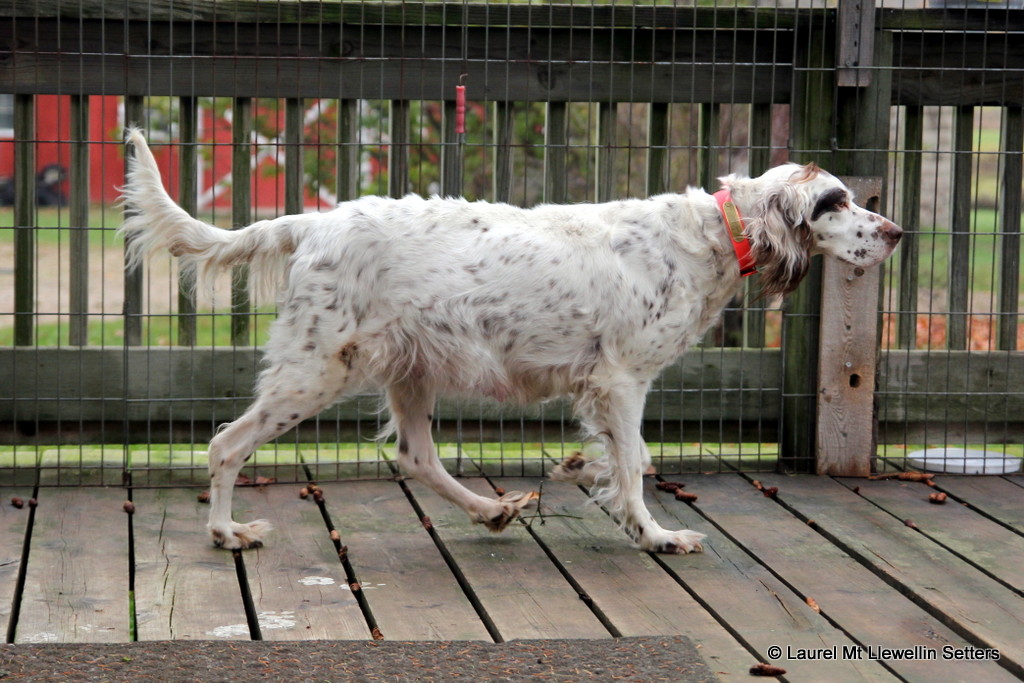 I could have stayed a few more days, but really felt the need to get Santana settled in the house and whelping area and let her rest. Although now instead of dying to hunt Ruffs and Timberdoodles all day, she spent most of this morning pointing the pigeons on the barn roof. At least she is resting comfortably between "hunts" on the bed now instead of in the dog trailer. But she doesn't mind the dog trailer at all and wanted back in it this morning—she just wants to go hunt Ruffs! The dogs love to go on the road just as much as I do.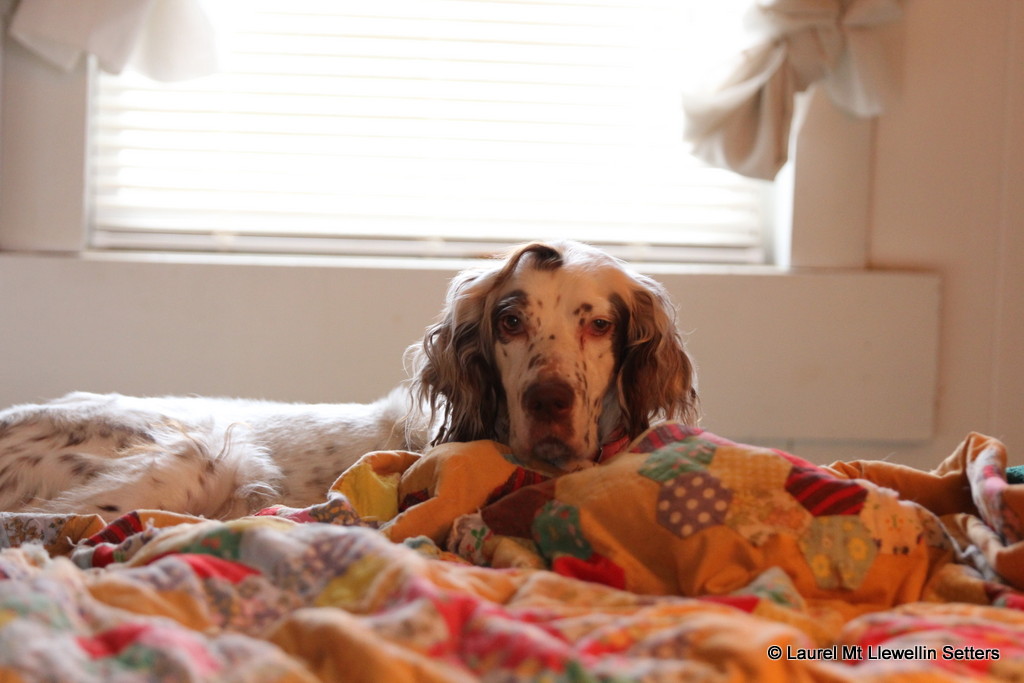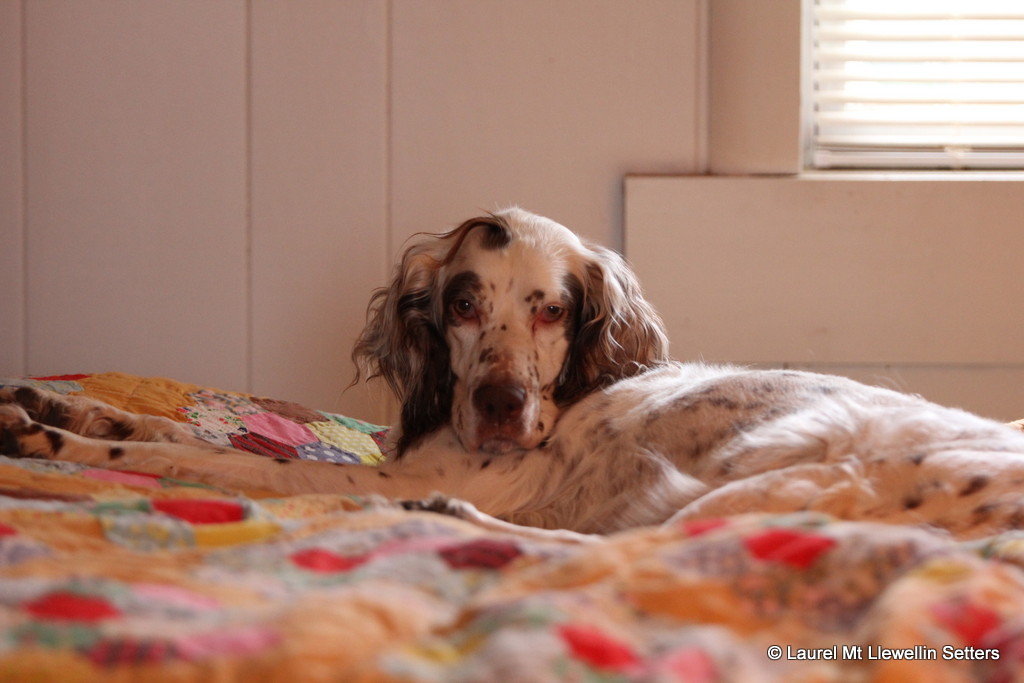 After returning last night, Santana "helped" me get the kennels readied with warm, dry straw, scrub and fill all the water buckets, unload the dog trailer, get the rest of the dogs settled in the barn, helped me feed, unload the truck, start on the month's worth of really, really muddy laundry (while taking anything out that might have the scent of grouse on it and taking it to the bedroom to snuggle up on!), get the whelping box and whelping room and supplies in order, then she promptly made herself at home on my bed while I got to work on the work projects that came in while I was driving yesterday. Smart girl. 🙂 She'll have a few days all to herself in the house before the rest of the gang returns.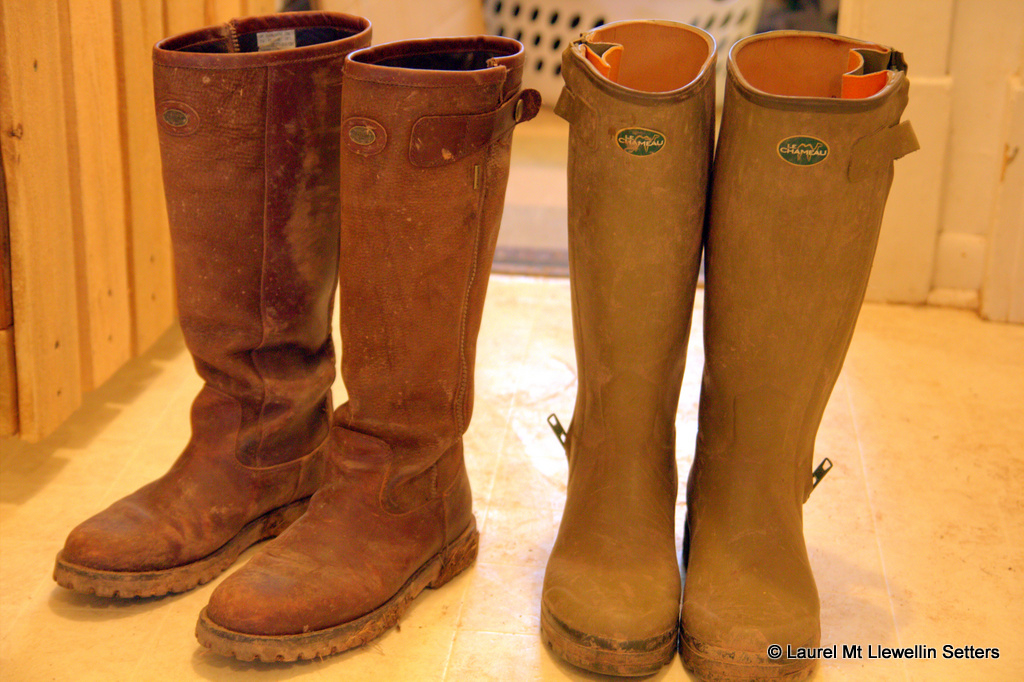 For now, I have a lot of cleanup and catching up to do and then get everything ready for the other half of the dogs and my hubby to return (at least he'll be here for a few days while we get the place somewhat ready for winter). I have a lot of dog grooming to get caught up on, clean the dog trailers, and hopefully start on the new puppy suites in the huge upstairs space of the garage!
I am very excited about Santana's impending delivery of puppies and I also hope to get a lot more hunting in before the season closes for two weeks. Hey, that would be a fantastic time to head out for some quail hunting, right? Oh, nope, we will have newborn pups then… can't really take them on the road that young! Santana probably wouldn't mind at all though… 😉
Have a great day folks, talk to you, soon.
-M.