Santana & Steele Puppies Have Arrived!
My mission is to help you have a healthier dog and breeders to raise healthier Llewellin Setters puppies through educational content based on over twenty years raising, training, and breeding Llewellin Setters. To help support these efforts, this page may contain affiliate links. I may earn a small commission for qualifying purchases at no cost to you.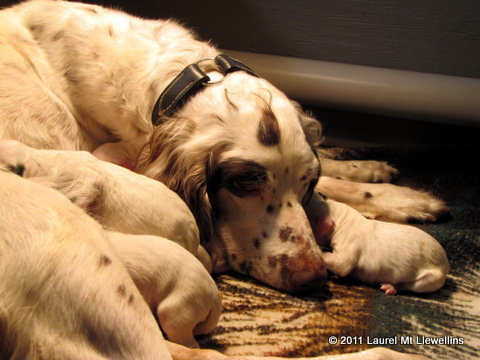 Well, folks, Santana's temperature dropped yesterday and the first pup was delivered at 3:30 AM and the tenth was born at 8:13 AM. Santana did fantastic and I must say, it seemed (to me, not giving birth to them, of course) to be the easiest delivery ever.
There are 5 girls and 5 boys! Black/whites, Tri-color, and Beltons. . I'll get all the details posted over the next few days. Lots of eye patches!
Update: Monday, March 28th: Sadly, we lost one of the female pups this evening.
All seem very well, very lively, and have been a very noisy bunch until the past few minutes and all are content and sleeping… shhhh…
"Santana Cam" is live–see the menu at the top of the page for the link or click here. Two rounds of laundry have been done, all pups have been weighed, whelping box cleaned/changed, Santana ate and went outside (but I didn't get to give her a "rear-end" bath, yet). It's been a long 24-hours. Santana and I are ready for some sleep and the rest of the house is bursting with excitement (Addison is currently crying and has been non-stop all night to get out and flirt with Jess, who also has been crying in response to her most of the night! Dora has been barking and whining and Luke is barking and whining to her calls all night as well–crazy!!!!).
Over and out for now and congratulations to the very excited folks that have waited for this litter for almost a year!
Oh, and I will have to decide on that litter theme…