More Excellent Llewellin Work on Upland Birds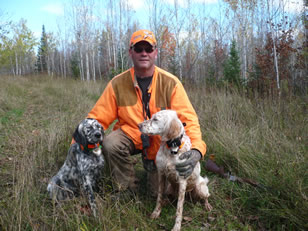 Our good friend, David Witner, from Nimisila Creek Kennels joined us three nights ago.  He brought his Llewellins, and the past three days were a blast! A couple of the group hunted over his dogs, a couple hunted with Scott over our dogs, they hunted a few dogs together, and I worked the pups mostly alone, but sometimes Ron came along with me. All the dogs did fantastic and we had uncountable points and flushes on grouse and woodcock!
Dave seems thrilled that he made the l-o-n-g drive to join us and we were thrilled he made it!
We had a lot of activity at the trailers throughout the past few days, also. Every time we would return to change dogs, there would be friendly folks waiting to talk to us about the dogs. The beautiful Lynnhill trailer has attracted much attention. Many want to see the dogs, many have never heard of Llewellin Setters, and there was even a fellow that had dogs from Lynnhill there, too. It was a fun couple of days! We all shared our hunting stories and lots of dog talk!
The only bummer was when, brilliant me lost the remote to my new Sport Dog e-collar! I still had the lanyard around my neck, but no remote… I had the guys take me back t0 a couple of the last spots we hunted in and I groped around searching and praying that I would find it. I got to thinking that it could not just have fallen off the clip on the lanyard and that it had to have fallen off when I was working with the very young puppies on a check cord that kept getting caught up in the brush. I figured that when I bent over to untangle the check cord, it must have unclipped.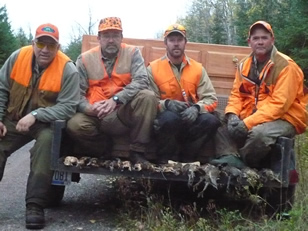 Low and Behold, believe it or not, I found it! Hooray! My hubby was still slightly upset with me over the whole ordeal… but, the guys fixed me up with some zip ties and a new lanyard and I don't think I'll be losing it again any time soon. Many thanks to Bob Mastandrea of Chiausi Ridge Setters for offering to loan me an his back-up e-collar if I couldn't find my remote!
Many thanks to David Witner for fixing me up with a new lanyard and for making the trip up to hunt with us…not to mention his fine cooking!.