My mission is to help you have a healthier dog and breeders to raise healthier Llewellin Setters puppies through educational content based on over twenty years raising, training, and breeding Llewellin Setters. To help support these efforts, this page may contain affiliate links. I may earn a small commission for qualifying purchases at no cost to you.

In the midst of the incredible amount of pain and sadness of this week, there is so much to be thankful and joyous for so I will try to concentrate on those things now and share some good news, instead of sad news!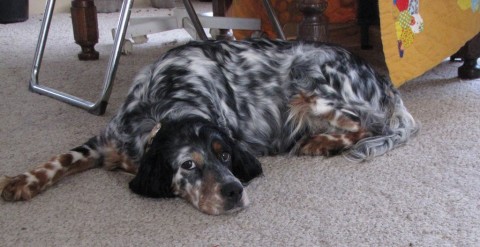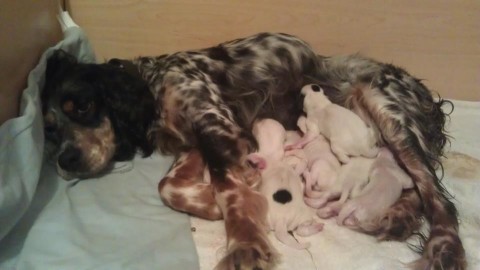 First, after a few very restless and sleepless nights, Addie delivered her beautiful litter of nine puppies yesterday! There are 5 girls and 4 boys. All are doing well, but there is one I am a little worried about. Scott says I always worry too much, but I slept (sort-of) next to the whelping box last night and they've done well today. Addie is doing just great. She acts like it's nothing at all to have just given birth to nine puppies. And, while some mommas are a bit difficult to get to eat after giving birth, she is an animal and eating ravenously. That is fantastic! She is a pro and getting situated in the whelping box just right without stepping on puppies. I miss the live puppy cam so much and wish you could watch her and the puppies–and Nash and her puppies, too. I am so mad at AT&T!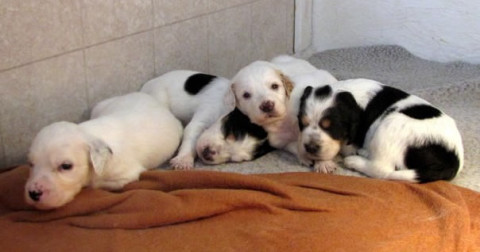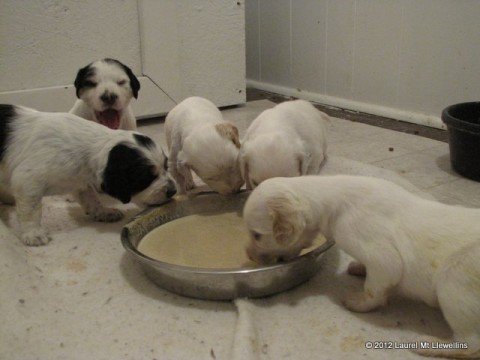 Next, Nash and her sweet boys are doing fantastic. Four weeks old now, they enjoy their puppy mash 3 times a day. They have moved themselves out of the whelping box and enjoy sleeping in either the puppy bed, Nashua's bed, or in the crate. They are getting really good at using the newspapers to do their business and I keep thinking I've not had a litter this neat and tidy before! Nashua is a fantastic mum and takes very good care of them. She is very gentle and tolerant. As soon as I can, I will move them out to the kitchen and Addison's pups into the puppy room. And, of course, I am very behind on photos this week and I am so sorry!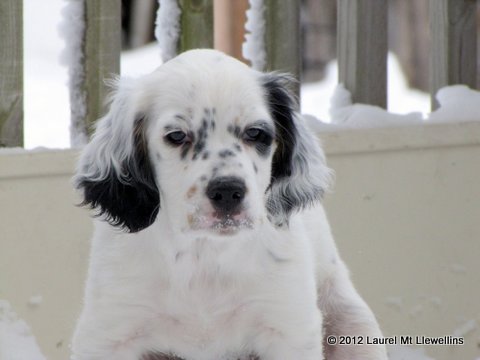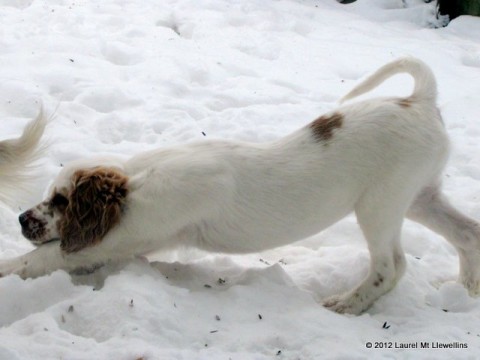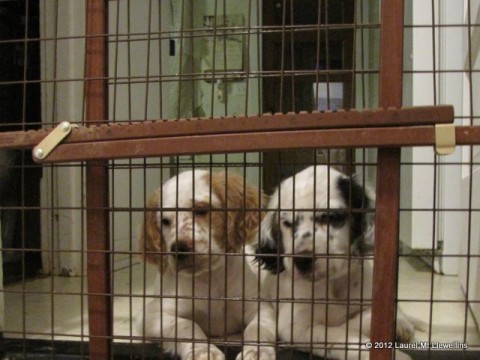 Then, the two darling pups of Dora's–Crystal and Drum. They are the best puppies and really are enjoying the outdoors as much as I can let them. They are absolutely obsessed with the doves, pigeons, and tweetie birds. They are both very bright pups and are soooo good. They love to lay at the gate and watch the Cowboys in the other room. They want to play with them so bad! 🙂 Too cute!!!
Crystal will be flying to her new home in Kansas this Sunday. Drum buddy will be all alone! No, I won't let that happen, of course! He'll join the girls and I in the rest of the house, I'll get even more attached, and keep him forever! 🙂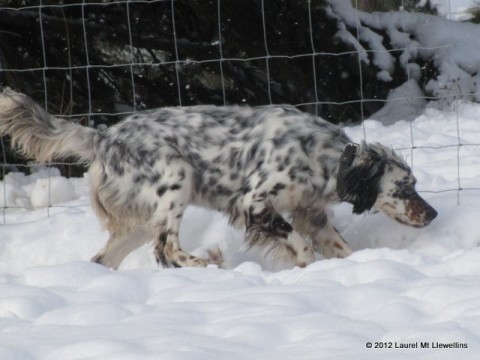 And next we have the impending delivery of Mia's pups. She doesn't look very big at this point, but has a few weeks to go. Mia is out of Jenna and Steele. She is very much a blend of both. I will be very tempted to think there just might be a pup very much like Jenna from Mia. Jenna was one of a kind. She can never be replaced or forgotten… and our hearts are so broken and longing for her to bark, paw us to death, or push us out of bed… we would give anything to have her back.
Sorry… I really didn't mean to go there. I really meant to keep this upbeat and to concentrate on all of our blessings! And, I am so grateful for all of our blessings and for everyone of our Llewellins. And each one is so special and all have such incredibly unique personalities that fill our lives in different ways everyday, and it's very, very hard to have any one of them gone. Just as it is so to have lost a family member, my father-in-law, Scott's dad, Ron. We have wonderful memories, but it is very difficult to function this week. Things will never be the same. But, we are left behind and are forced to move on rather we want to or not. We have to. And that can just stink. But, it's just the way it is and makes me once-again realize how truly powerless we are.
Okay, out to let the pack out again and then I hope to just sit on the floor and get mauled and licked and chewed on by all the puppies, and snuggle with Addie's puppies. And, yes, try to take some photos for all of the wonderful and excited families waiting on their puppies! I'll get it together.
Hug your Llew tonight. Treasure every minute with your best friend and with your human friends and family. Don't take one minute with them for granted.
-M.