Kimber Flies to Warm, Sunny Texas
My mission is to help you have a healthier dog and breeders to raise healthier Llewellin Setters puppies through educational content based on over twenty years raising, training, and breeding Llewellin Setters. To help support these efforts, this page may contain affiliate links. I may earn a small commission for qualifying purchases at no cost to you.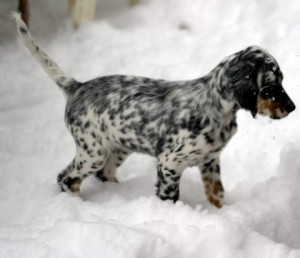 Kimber was supposed to leave yesterday, but the weather delayed the flight a day. So she spent her last day romping and playing in yet another snow storm.
I love when I let the pups outside in the morning–as soon as the door opens their noses start. It is the coolest thing to hear puppies noses taking in the cold morning scents. The pups are alert and full of desire to explore. Makes my day right off.
The little darling spent most of the ride being car-sick. This was my fault because the first thing I do in the morning is feed the puppies! I let the pups out of their crates, and went outside with them (brrr….said my toes inside of slippers full of snow)… We came back inside and they are very very anxious to get their breakfast! They were going crazy while I got it ready–geesh, like they never ate before!! I put their food down, got my freshly perked cup of java, a dry pair of slippers, and went on my way to get ready to go. Then, I suddenly remembered—DON'T FEED KIMBER!!! OH NO! Well, I guess it was too late because the poor thing was pretty miserable all the way to Pittsburgh. Poor thing. Bad mommy. I felt just awful for her.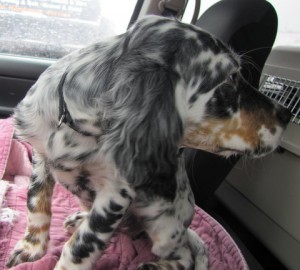 I got my pay-back, though… I was sitting at a traffic light and noticed I couldn't see my side mirrors because the side windows were all fogged and yucky. I decided to put my window down to clear it up. As luck would have it, just as I put the window down, a huge truck comes flying by and I get sludged! Oh my gosh! Completely covered me, the truck, the seat, the dash–everything. It was something for the funniest videos, let me tell you. What a shock! I was suddenly completely covered with gross and slush—my head, face, and clothes, the steering wheel, dash, windshield. Woah. It was awful! If I would have been able to see, I'm sure everyone sitting at the intersection was having a very good chuckle! They were kind enough to give me a moment to collect myself, wipe slush from my eyes, turn on the windshield wipers and move along. So much for a good hair day!
Okay, okay, you don't have to laugh that hard…
We finally, safely arrived at the airport cargo area about 20 minutes before check-in. I took her for a little walk in the parking lot so she could start to feel better and take care of any business. So, she is doing great on the leash, but starts prancing around. Oh my gosh, the funniest thing you've ever seen–besides me getting completely sludged earlier–until it dawns on me that she is doing this because they probably used salt to melt the parking lot! UGH! No wonder she keeps trying to run toward the areas where there is snow–the salt was burning her feet!!!! Bad mommy… So, I get her all warmed up with towels in the truck and we have our last cuddles and kisses and a little teary eyes. She goes into her crate with newspapers and her blanket and in we go to get her on her way.
Saturday mornings at the cargo office are very upbeat and friendly. The folks there are very nice and help make the experience go off without a hitch. Kimber was contently snuggled in her crate. I waited around to make sure all was well and to see them load her into a nice, warm van and take her to the airplane and as she went off to her new home, I started back to mine.
As a side note, I would like to mention that I am now a huge fan of Continental Airlines. All pet holding areas, transport, and planes are climate controlled. While other airlines have restrictions on flying when too hot or too cold (and rightfully so), Continental does not because ALL areas are temperature controlled! I have discovered that so far Continental seems to have excellent flight options and short connection times if they do not have a direct flight. No more pups sitting waiting for a connecting flight on a cold or hot tarmac somewhere! And, Continental Cargo's rates are less expensive! I am a huge new fan! While they do not accept a pup for shipping COD, that's fine, we'll work around that. They have much better service, much better flights, and take excellent care of the pups. Yahoo!
So, Kimber, now named, "Rain," arrived safely in sunny Houston just a few hours later. The flight was delayed 30 minutes out of PIT, but none the less, she got there safe and sound. She got to see grass for the first time! For the 11 short weeks of her life, there has been only tons of snow here in PA and temperatures never much above freezing. She is enjoying her new family this afternoon and getting acquainted with her companion, Storm.We wish you well darling—you have been a complete joy and your twin brothers, Rossi and Griffin miss you already—not to mention Ben, Rizzi, and Remi! But, you'll have a warm, wonderful life and get to hunt lots of quail! Hooray!
How about they even have pigeons?
All the best little one..