Jenna & Steele Puppies are Here!
My mission is to help you have a healthier dog and breeders to raise healthier Llewellin Setters puppies through educational content based on over twenty years raising, training, and breeding Llewellin Setters. To help support these efforts, this page may contain affiliate links. I may earn a small commission for qualifying purchases at no cost to you.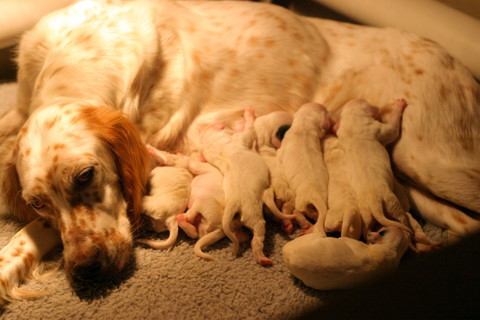 Jenna had a long labor and did a fantastic job of delivering the puppies. It has been a very long 24-hours. Jenna is exhausted and resting at the moment and I think I must try to have a wee nap myself.
The puppy cam is live and you can use the link in the sidebar to check it out.
I will update the site with all of the details over the weekend.
Congratulations Jenna, Steele, and all of the excited folks waiting on a pup!
Update:
Oh, by the way, there are 9 pups–5 girls and 4 boys.
I am working on trying to figure out naming them. There is quite a nice list to choose from, but deciding which ones to pick and/or use for the girls or boys has been difficult today. Any comments? I would love some feedback! I am a bit brain-dead!
The theme is Muscle Cars (thank you, Ron!):
Polara
Galaxie
Malibu (Female)
Fury (Male)?
Pontiac GTO (Male)
Nova (Female) ?
Belvedere
Mustang
Barracuda
Catalina (Female)
Firebird
Camaro
Shelby
Rambler
Chevelle
Super Bee (Female)
Coronet
Dart
Fairlane
Torino (Female)
Cougar
Javelin
Rebel
Charger
Challenger
Cyclone (Male)
I am having a hard time. Maybe with your help, I can have them all named before Sunday. Or maybe when there is just a little time to relax and really enjoy the little darlings tomorrow afternoon, I will be able to think a bit more clearly.
Okay, over and out for tonight, I have to get Rizzini all ready to head to the airport early tomorrow morning. 🙁