My mission is to help you have a healthier dog and breeders to raise healthier Llewellin Setters puppies through educational content based on over twenty years raising, training, and breeding Llewellin Setters. To help support these efforts, this page may contain affiliate links. I may earn a small commission for qualifying purchases at no cost to you.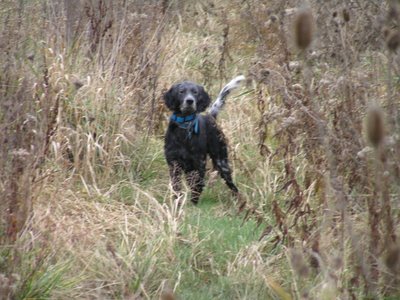 We received a horrible phone call Friday morning. Blue, littermate to Midge, Count, Boone, and Maddie, was hit by a snow plow early Friday morning. It cleanly removed his foot, but the surgeons felt it would never properly heal so it was necessary to take the leg. Blue had surgery in Pittsburgh last night. All went well and Blue's family visited him this morning and he was doing great. Blue will get to go home tomorrow or Tuesday.
The surgeon said in a short time Blue will be able to do just about anything asked of him. Many many dogs live a full life with just three legs. He'll be able to continue hunting! I will keep the site updated on his progression. We love you, Blue. Our hearts go out to him and his wonderful family.
Update on Shay's Pregnancy
Shay is doing fantastic. She is certainly pregnant and has just about a month to go until she whelps her and Ike's puppies. We haven't had a litter here for about 7 months and are ready. Shay is eating two smaller meals a day and still gets plenty of exercise. She's enjoying life on the sofa and in front of the woodstove. She's a natural at this and pregnancy doesn't seem to affect her one little bit. She is a great momma and we look forward to another litter from her. She makes excellent puppies!
That's all the news for today. We've received more snow over the past few days and I hear more is on the way–hooray! Having a blast hunting grouse in the snow and I'll try to post more updates about the hunts, soon. It has been a troubling few days with all our thoughts, prayers, and emotions thinking of Blue and his family. Please keep them in your thoughts and prayers.
Over and out for now.
–LML