Monday, January 10th, 2011
My mission is to help you have a healthier dog and breeders to raise healthier Llewellin Setters puppies through educational content based on over twenty years raising, training, and breeding Llewellin Setters. To help support these efforts, this page may contain affiliate links. I may earn a small commission for qualifying purchases at no cost to you.
Geesh, already 10 days into a new year, can you believe it? I thought I would start some new things this year, but I have already forgotten what they were! Well, ok, I haven't forgotten everything. I must get back to the photo contest, photo of the day, and writing more, that is for sure. I do recall wanting to finish all the articles I have started and publish them here–building a pigeon loft, dog-trailer project, planning a self-guided bird hunt, and other interesting topics I thought you might enjoy. I must get them completed!
Update on Blue
The biggest news for today is to report on Blue. He can home from the hospital today and is doing fantastic! It is amazing to me he is doing so well and is lifting the spirits of all those that care about him! We are all so sad this wonderful dog lost a leg and he is the one lifting everyone's spirits with his "can do" attitude. Amazing. Sometimes I really think we need to be more like our canine friends (not sniffing bums and eating poop, though, no way) in the way they take on the world and handle anything that comes their way. They are always happy to see us. They are so forgiving and accept us no matter what. I could spend all night going on about that. The point is simply that we are supposed to be that very way with one another and in our relationships, our attitude, and our lives. But we are not. Not even close. I want to be more like them.
Santana is in Heat!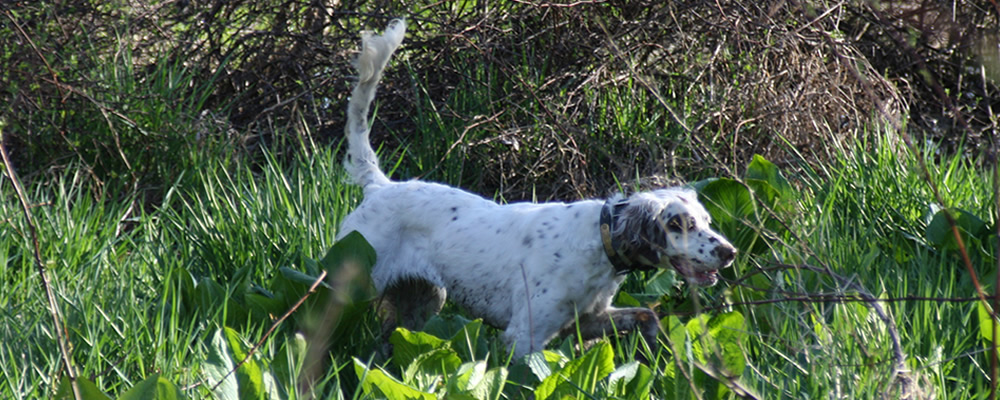 In other news, Santana is starting her heat–hooray! She is to be bred to Steele and this will be one amazing litter. Stay tuned for the news in the coming weeks. I anticipate the breeding to take place between January 19th–23rd, making puppies due sometime around March 26th, and then being able to go to their new homes around May 21st or so. Some reservations available.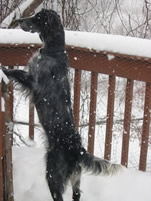 Shay x Ike Wind'em Litter
I believe I reported that Shay is doing well and looking mighty pregnant at just half-way through her term. I can't wait for Shay's puppies because not only is Shay a great bird dog, but she has beautiful, smart, excellent bird dog puppies and loves taking care of them. This breeding with Lynnhill's Ike Wind'em promises to be magnificent! Some reservations for both males and females are available.
Looking for Retired Racing Pigeons
I mentioned we have lost all but four of our pigeons and I am looking high and low for retired racing pairs to get our training loft built back up before spring. If anyone knows of anyone, please let us know.
That is all for today. I found my battery charger and will be better at taking and posting photos (another one of those things I wanted to do better this year).
Have a wonderful day!
-ML