Ion and Nika Flew the Coop; Quin Takes Off Thursday
My mission is to help you have a healthier dog and breeders to raise healthier Llewellin Setters puppies through educational content based on over twenty years raising, training, and breeding Llewellin Setters. To help support these efforts, this page may contain affiliate links. I may earn a small commission for qualifying purchases at no cost to you.
After a week of delays and embargos, Ion and Nika finally made the trip to the airport and their new homes.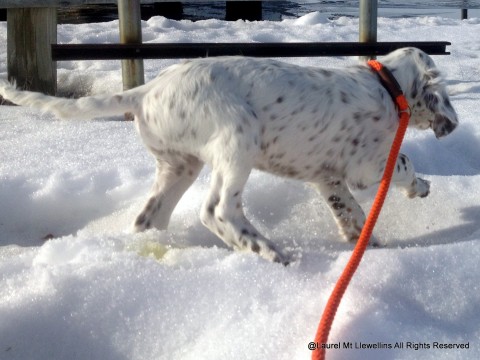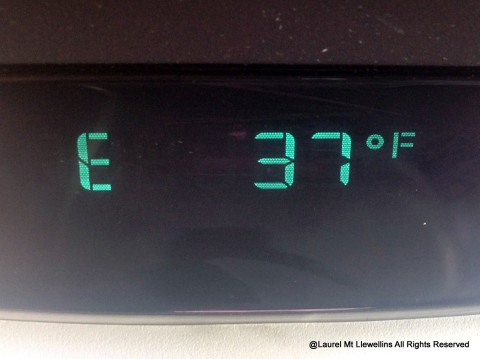 It was perfect weather and a lot warmer than the pups and I have experienced lately.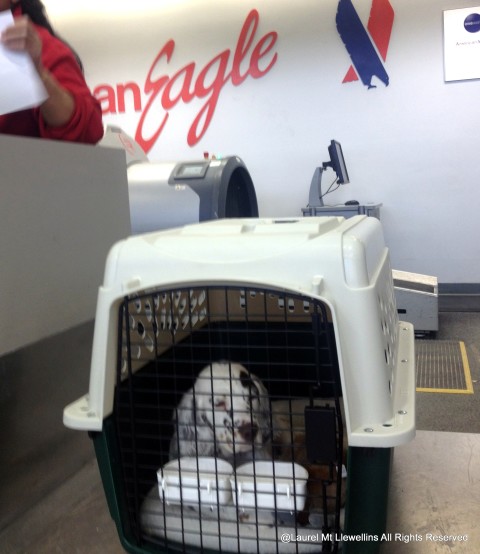 Ion and Nika were perfect little angels in their crates (lots of practice makes this no big deal for the pups).
Everyone at the airport went bonkers over them—how good-looking, how well-behaved, how good they smell. And, there was even a gal behind the counter that knew they were Llewellin Setter puppies! She has a Llewellin that she took in after the owner, her uncle, passed.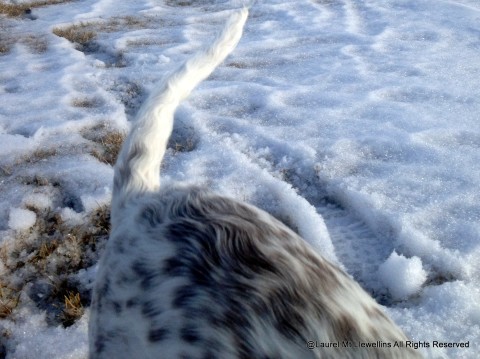 Sorry for the lousy cell-phone photos.
I bombed trying to get good pictures and that is the best I could come up with of Nika! In my defense, I had a puppy leash in one hand… and am not good at taking photos with the phone one-handed. I dropped the phone in the snow a few times… and then the battery went dead. 🙁
Sorry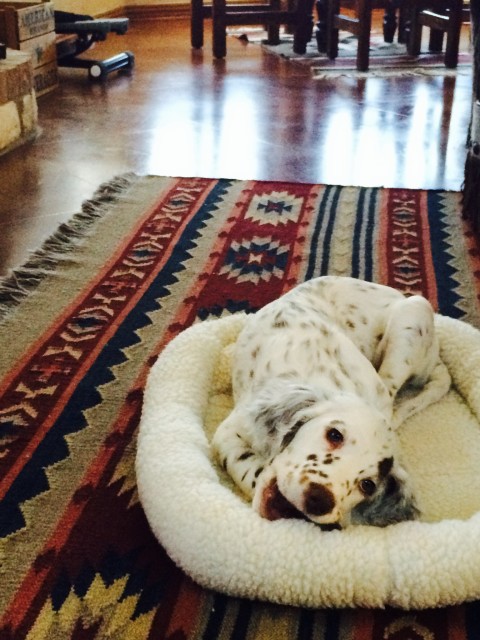 All went great and the pups are now in their new homes. Their first night went very well. Both pups did great and I hear they are adjusting quickly.
I wonder what Ion thought of seeing grass for the first time—he'll probably never see snow again!
And now, there are just two puppies in my kitchen! Going from four to two might not sound like much, but it is very different. And very quiet. It's always an adjustment for me, the remaining pups, and the dams when puppies leave us.
Santana looks for the newly missing pups when I let her back in with the remaining ones. She looks under blankets, looks in the crates, pulls the puppy beds out… paces, and goes from room to room looking—It's really something and pulls at my heart-strings. Santana is a fantastic mother and a complete joy to care for and have a litter with, except maybe when she wants out 3-4 times a night during the first few weeks of having a litter, but they all do that. She takes excellent care of her pups, keeping them very clean and tended to. Some dams are not so good at this part for the entire 8 weeks (who can blame them?). Santana teaches her pups gently, but firmly. Some are not so gentle in their patience or teaching of 9 rough-housing, needle-toothed nipping attacking puppies (I call it entering the alligator pit)! I adore her and her puppies. It took every ounce of me to let Nika and/or Electra go.
Quin will now be flying to his new home in MA Thursday! He was going to go via a l-o-n-g car ride, but will now be flying. He's going to have a fantastic home and will get to hunt and travel a lot.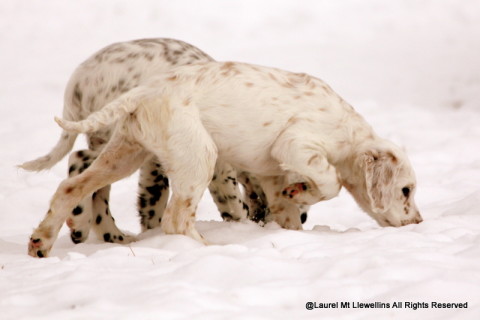 Quin flash-pointing a dove that flew as he rounded the corner of the old barn.
So, this leaves Orion!
He's the last pup and you all know what that means here…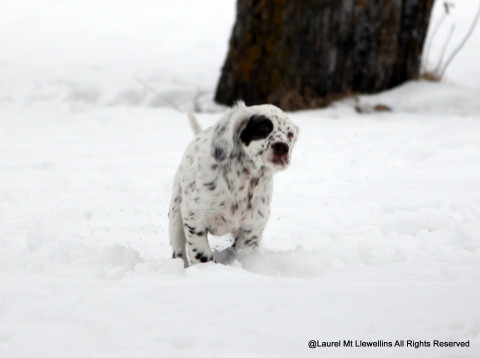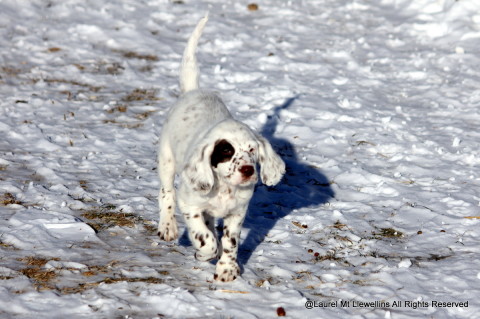 And, I don't have a Count son or a Chestnut male…
I should take this as a sign and keep him, right?
I know, I know, I can't.
But, I really, really want to.
And you know how much I love my boys.
😉
If he's still here in a few days, he'll most likely have to stay forever.
Okay, that's all for today.
Sorry for the thin posts, lately.
Keep safe and warm and hug your Llewellin Setter tonight.
-M.