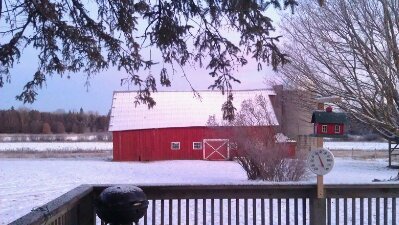 Happy New Year all. Hope everyone is safe and warm this morning.
Reporting a light snow and 32 degrees from Menominee County in the the UP (Upper Peninsula of Michigan) … I hope to see a bit more snow before the day is over, but it isn't looking too promising. Darn it. The winds have kicked up and my goodness, it made doing chores very difficult this morning when my hat kept blowing off, gloves would blow away when I had to take one off, and I think it was difficult for the dogs to hear me when I would summon them back into the barn (or at least they were acting like they couldn't hear me! 🙂 )
We ushered in the new year quietly in our corner of the UP, grateful for all of the blessings that brought us here to this magical, beautiful place. It is hard to believe that a year ago today, the thoughts and dreams of being able to live here with the dogs was just that.  It could not have happened without the help of some very special people and it is quite humbling all they have done for me! I still can't believe we get to be here although it has proven very difficult for me to be away from my children and family over the holidays.  We'll see if I can survive it, but I frankly don't think I can go thru it ever again.
We are absolutely going insane to get back out and hunt! And while Michigan's grouse season has ended, Wisconsin's is open until the end of January and I plan on getting out every possible chance I have.  I have some products to review and fantastic Llewellins to hunt and photograph for you and for next year's calendar. It's going to be a blast!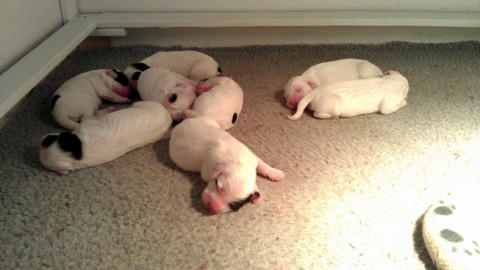 Dora and pups are doing great. The dew claws were removed. All are gaining weight.  Names and photos any minute I promise!
I hope to get out and about today and venture north to see how much snow is there. We'll see if I can get my work done, first.
That's all for now.