My mission is to help you have a healthier dog and breeders to raise healthier Llewellin Setters puppies through educational content based on over twenty years raising, training, and breeding Llewellin Setters. To help support these efforts, this page may contain affiliate links. I may earn a small commission for qualifying purchases at no cost to you.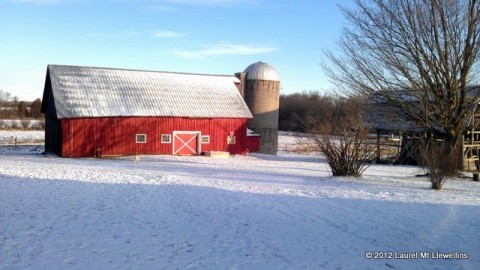 It was a very cold, blustery day here at the UP Kennels. The weather report predicts the wind-chill temperatures to be around -20°F overnight. Hmmm… I like the cold and all, but that's really cold. As much as I fret about it, the dogs seem to be just fine. It's amazing, really. I take fresh water to them and instead of drinking it, they prefer when I break the layer of ice from the bucket from a few hours earlier. They take a piece of ice and off they go crunching away, then rolling around in the snow, romping, playing, eating icicles, eating the snow, and having a grand time. They look fantastic and don't mind the snow and cold at all. They push the straw out of their boxes. Really? Yep. I put fresh straw in their boxes twice a day and they go in their box and kick it out. They make a nest and kick out the rest. (rhyme was not intentional) So, why do I keep putting it in? I guess it makes me feel better. They are inside the barn (inside kennels, not inside/outside—yet) and out of the wind and it's really quite cozy in there, but it is still cold you know? They like it, I tell you. Happy as can be.
Me, well, I don't mind it all that much, either. I look like Ralphie's kid brother, Randy, in A Christmas Story when I go out with so many layers on that I can barely walk (maybe a slight exaggeration).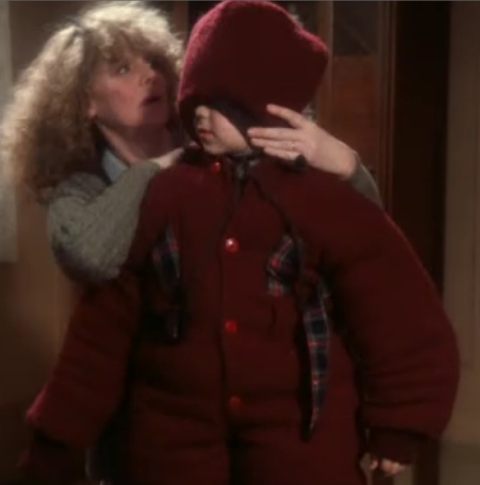 I have to tell you that base layers (you know, "long johns") are my new favorite thing. Dan, my fence and firewood guy, says he doesn't start wearing them until it is 0°F. Well, I didn't wait until it got that cold to start wearing mine. I rarely have worn long johns since my bow-hunting days of sitting in a tree all-day-long. Now when I am outdoors, I am doing chores or walking and hunting, and I haven't felt the need for them, until now. I sure do like them now, though. Must be the age thing, eh? And something really cool—it seems like folks here consider long johns appropriate lounge wear for company! 🙂 Seriously, I had to visit to some people one evening a few weeks ago. They were expecting me. I was a little startled when the gentleman answered the door in his long-johns (white and the thermal-type cotton ones for sleeping)! His wife in hers as well. And then, it was a day or so later that I had to "go to town" and, while sitting at a stop light (there are a few here), I noticed a couple standing in a doorway welcoming visitors and they seemed to be adorned in long johns, too! I am not even sure why this surprises me so much. People wear less at the beach, right? I mean, they are like sweats or pj's, right? So why am I surprised? I don't know. Anyway, I completely get it and love mine. I think I'll start a collection of all different weights and colors. I especially love the silk set my children got me for Christmas. Dreamy. So luxurious, super-toasty warm, and so thin you can wear them under anything. How did I live all my life to this point without a silk base layer? Okay, enough about long-johns. You get the point.
If you are bored this time of year, interesting news was most likely the weather over the past few days. We didn't receive much snow here, but the snow belt areas a bit further north certainly did, or so I hear (actually, I didn't hear it at all (no TV), but the weather reports via the Web and my cell phone were calling for that and more). As much as I love snow, I suppose I am grateful not to have to be dealing with a foot of it at the moment. I have enough to do right now and I sold the plow and Scott still didn't make it here, yet, with the atv w/plow. I suppose I'd be up a creek if I had received a foot of snow! Or so my father keeps reminding me… I say, snow, snow, snow!
So, speaking of other things keeping me busy–how about these puppies? Not only are they really cute (I know–every puppy is cute), but I think they have very nice conformation among other attributes I like. Every one of them are very keen to the presence of their mother. As soon as she enters the box, they smell her and zoom to her. I like to see that. Smart, with good noses, and good conformation. Good puppies, just as they should be.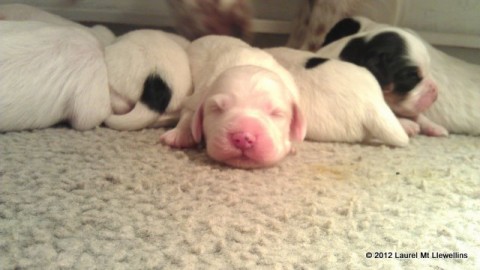 They are doing fantastic and are gaining weight like mad–little porkers! Dora is a great momma and keeps the pups very clean and content. They are really getting around great and some are trying to get up on all fours. I'll upload some new video if I can, tonight (I can't do anything else on the Internet while video is uploading, so I have to wait to start the upload until I am done working for the night). They will be in the Web albums (top, left-hand column) or I will add a link in the morning. And, I promise to try to get the individual photos posted soon. I am having such camera trouble as well as a hard time deciding on the names. I keep changing them. And right now it seems the camera that is working the best at photos and video is the one on my cell phone. Quite amazing, really that phones can take such great photos and video these days.
The calendar is coming. Seriously. Just a few loose ends to tie up (I am waiting on some original photo files to come in) and it should be out and available by next week. I can't wait!
Well, that is all for tonight. I wish I had some great hunting and training news to share, but I just haven't been able to get out. I am beyond anxious to get out and explore and run the dogs and put a few more partridge in the freezer before the season ends. And I love hunting the late season. 🙂 I moved here for the hunting opportunities and you better believe I am going to continue to take advantage of every opportunity.
That's all for now.
Hug your Llewellin tonight!
-ML