My mission is to help you have a healthier dog and breeders to raise healthier Llewellin Setters puppies through educational content based on over twenty years raising, training, and breeding Llewellin Setters. To help support these efforts, this page may contain affiliate links. I may earn a small commission for qualifying purchases at no cost to you.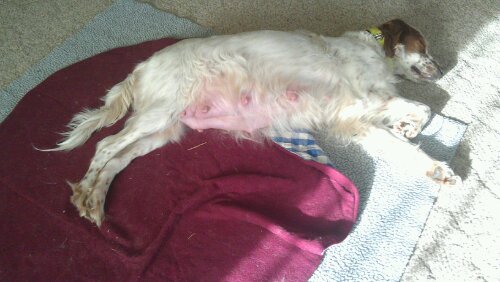 As the world counts the days until Christmas and/or the New Year, I am pretending as though it isn't so (obviously because I am not ready and havent even started for that matter) and just acting like its life as usual and focusing attention on darling Dora and her huge bumpy belly! I apologize for the really bad photo that I just took with my phone.
The poor girl seems so uncomfortable and could barely get up onto the bed tonight (and it is a very low-to-the-floor bed). I will start taking her temperature tomorrow. She isn't eating much and needs out constantly. Poor thing!
I am hoping to get a few more days of hunting in before the litter arrives. It is cold, but no snow and rather lovely weather for bird hunting! I can't wait to get Raini, Kea, and Ol out for more fun. I am having a blast with them. They are quite a trio in the woods!
That is all for tonight, folks.  I must get some things done and it is a bit creepy tonight with the coyotes really howling and yipping–seemingly right outside my window. I hear them often, that isn't a big deal, but not usually this late and not inside the fence!  I think Dora will not be allowed out for a while! Something has the 'yotes and my own pack really wound up tonight!
Hug your Llewellin tonight.
-LML